Jobs there, not right skills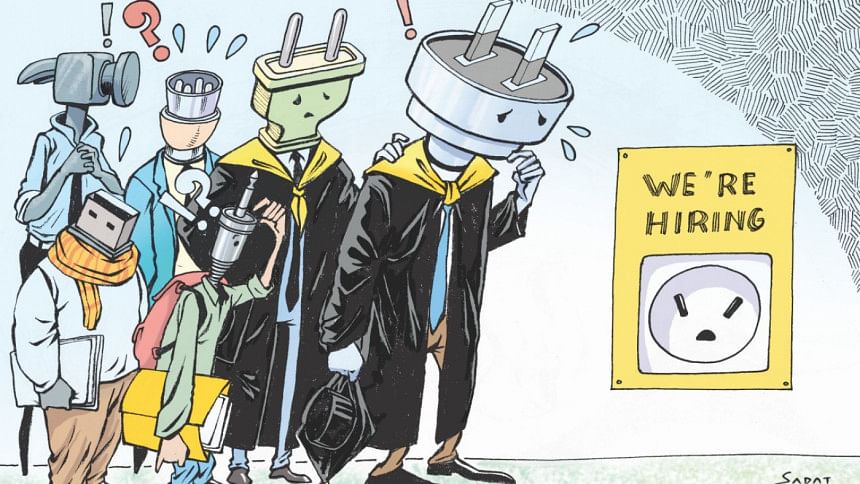 Samidul Haque obtained a BBA degree from a private university a year ago.
His family had to go through financial hardship to bear his educational expenses of around Tk 5 lakh over a four-year period.
He wished to study further to enrich his curriculum vitae and get a decent job.
But his academic plan was cut short when his parents -- both school teachers -- said they were unable to pay the tuition fees for his MBA degree, as they already exhausted all their savings for his education.
Samidul then had no other choice but to look for a job. But a year has gone by and he is yet to get a job.
Like him, around five lakh people graduate from public and private universities every year but many of them fail to find jobs.
At the same time, many employers complain that there is shortage of skills among graduates, which discourages them from hiring such jobseekers.
"This is a structural mismatch. When we talk to relatives, they say there are not enough jobs. But when we talk to entrepreneurs, they say where are the people for hire?" said Zahid Hussain, lead economist at the World Bank's Dhaka office.
It shows that the quality of education from the existing system does not match the requirements of the job market, he told this newspaper.
In yesterday's budget speech, Finance Minister AMA Muhith said the middle and high-level management positions are being manned by experts from neighbouring countries because of skill deficiency of local manpower.
Their replacement will require substantial skill enhancement of local manpower. If it can be done, a huge amount of foreign currency will be saved. This will also create opportunities for productive and decent employment of local manpower, he added.
Other than university graduates, 20 lakh young people enter the job market every year, and they too do not fare any better -- a worrying development for a country with a sizeable young demographic.
The rate of unemployment among people with education up to the tertiary level increased to 11.2 percent in fiscal 2016-17 from 9 percent in the previous year, according to the latest labour force survey by Bangladesh Bureau of Statistics.
Unemployment also grew among those with other levels of education in the last fiscal year. Only those with no education saw a rise in employment opportunities.
The rate of unemployment has increased at a time when higher number of graduates are coming out of universities and the economy is registering steady growth.
Some 4.55 lakh students graduated from public and private universities in 2015, up 8 percent from a year earlier, according to Bangladesh Education Statistics 2016.
"If you don't use your demographic dividend, the youth can go on to become a liability for the nation," Zahid said.
Demographic dividend is the economic growth potential that can result from shifts in a population's age structure, mainly when the share of the working age population (15 to 64) is larger than the non-working age share of the population (14 and younger, and 65 and older).
About 65 percent of Bangladesh's population is between the age of 15 and 64, which is considered the working age. Bangladesh's demographic dividend started in 2001 and will end in 2051. However, the window will start narrowing after 2031.
The recent quota reform movement can be seen as culmination of grievances among young jobseekers.
"I had no wish to join the government service when I got enrolled as a BBA student. But I joined the anti-quota movement out of frustration ...," said a heartbroken Samidul.
The situation is more worrying for women. The unemployment rate among female graduates is 16.8 percent though there is a quota for them in the public service.
Like Samidul, many youths will be disheartened this year too, finding no new measures in the budget for expanding the job market.
"Reforms are needed to create an enabling investment climate for new jobs, but it is not there in the proposed budget," said Sadiq Ahmed, vice chairman of the Policy Research Institute.
Reforms, however, cannot be done with a single budget, he said.
"The country needs a policy consistency to improve the quality of education, training and skills."
Investment by the private sector, which accounts for about 80 percent of employment, remained stagnant at 23 percent of the GDP for the last several years.
In his budget speech, the finance minister only admitted the big problem of unemployment, but did not acknowledge the actual causes of the problem. Rather, he shifted the blame onto technological development.
"Despite the availability of sufficient manpower in the labour market, their employment opportunity is not expanding as expected because of automation and the use of advanced technology in the industrial sector," he said.
In fiscal 2010-11, the industrial sector accounted for 22.3 percent of the total employment, which declined to 20.3 percent in FY 2016-17.
Yet, Muhith has given a flicker of hope, such as development of 76 economic zones.
Once the zones are complete, about one crore jobs will be created, he said.