No Bangladeshis among them
Says foreign minister about those excluded from final NRC; BGB steps up security along Assam border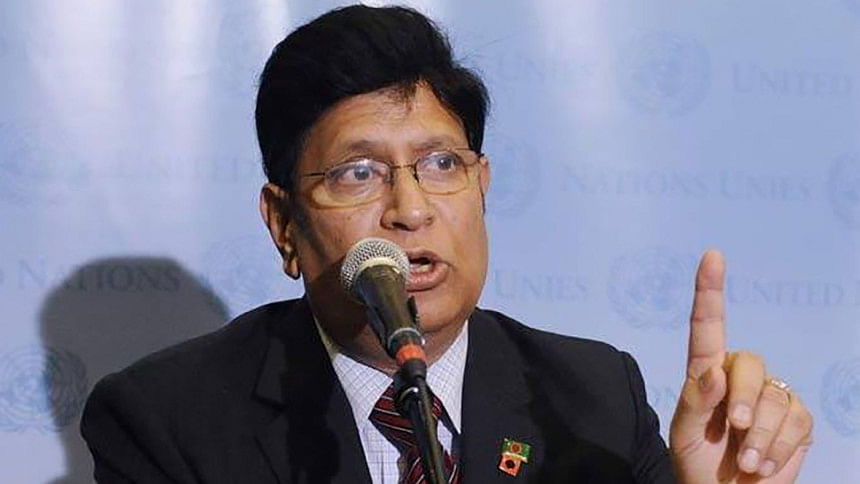 Foreign Minister AK Abdul Momen has said he does not think those excluded from the final list of Assam's National Register of Citizens (NRC) are Bangladeshis. 
He also said the NRC is an internal issue of India.  
"Talking before you [journalists in Dhaka], Indian external affairs minister [Subrahmanyam Jaishankar] said this [Assam's NRC] is their internal issue, and we have nothing to worry about it," the foreign minister told The Daily Star over phone yesterday. 
"We trust them. We leave it that way. This is their internal issue," said Momen, also a lawmaker from Sylhet which shares border with Assam. 
Meanwhile, Border Guard Bangladesh officials said they stepped up vigilance along borders with India, especially with Assam, after the final NRC list was released yesterday. 
The final NRC, made public at 10:30am (Bangladesh time), excluded names of about 19.07 lakh applicants. Indian media reported that most of them were Bangla-speaking people. 
Talking to Indian news channel Times Now later in the day, Momen said, "Indian Foreign [external affairs] Minister Dr Subrahmanyam Jaishankar told me that this [NRC] is purely an internal issue of India, and Bangladesh doesn't have to worry about it. Under no circumstances, Bangladesh would be affected, he said. We leave it that way." 
Asked whether those left out of the list were from Bangladesh, the minister said, "I don't think so." 
He said, "There is no reason why Bangladeshis should move to India. Bangladesh is doing much better and therefore it does not look like there is any interest in any Bangladeshi to go to India. In Bangladesh, even the per capita income is higher than the cost of living. There is no possibility of [their] moving to India." 
Jaishankar visited Dhaka last month and held a joint press briefing after a meeting with Momen on August 20. 
Asked about concerns that some four million Bangla-speaking people were at risk of losing Indian citizenship for failing to be in the draft NRC, Jaishankar had said, "This is an internal matter of India." 
On that day, Momen told reporters that India asked Bangladesh not to worry about the NRC issue. "We said we are already in serious trouble with 1.1 million Rohingyas … They [Jaishankar] said 'you don't worry at all about it'." 
Talking to The Daily Star about the NRC issue, Jahangirnagar University's International Relations Professor Shahab Enam Khan said, "This is a worrisome development. The obvious question is what will be the future of these people if they fail to prove their citizenship."  
Former foreign secretary Humayun Kabir said the NRC has no implications for Bangladesh at this moment and that it was still an internal issue of India.
Talking to this correspondent over phone, the former diplomat said those left out of the list still have access to legal assistance. 
"We don't need to worry. What we need to do is closely observe the situation there [Assam]. Depending on the situation, we can make our position clear when needed," he said.
INCREASED BORDER VIGILANCE
The BGB has increased vigilance in border areas of Sylhet which shares frontier with India's Assam and Meghalaya states.
BGB officials in the district said they had been alert since the draft NRC list was announced last year. The vigilance was stepped up yesterday, they added. 
Sylhet's Zakiganj, Kanaighat and Beanibazar upazilas and Moulvibazar's Barlekha, Kulaura and Kamalganj have border with Assam. Companiganj, Jaintiapur and Gowainghat upazilas of Sylhet shares frontier with Meghalaya. 
Lt Col Sayeed Hossain, commanding officer of Zakiganj BGB Battalion-19, said, "We have alerted all our regular patrol teams to be more vigilant.  We have also asked the locals to inform us about any irregular movement in the border area."  
Lt Col Ahmed Yusuf Jamil, commanding officer of BGB Battalion-48 near the border with Meghalaya, said they were also on alert.   
Our correspondents from Rajshahi, Nilphamari, Thakurgaon, Panchagarh and Kurigram also reported that BGB members there were asked to keep watch on the borders.