Mamata, Jayalalithaa set to retain power, BJP takes Assam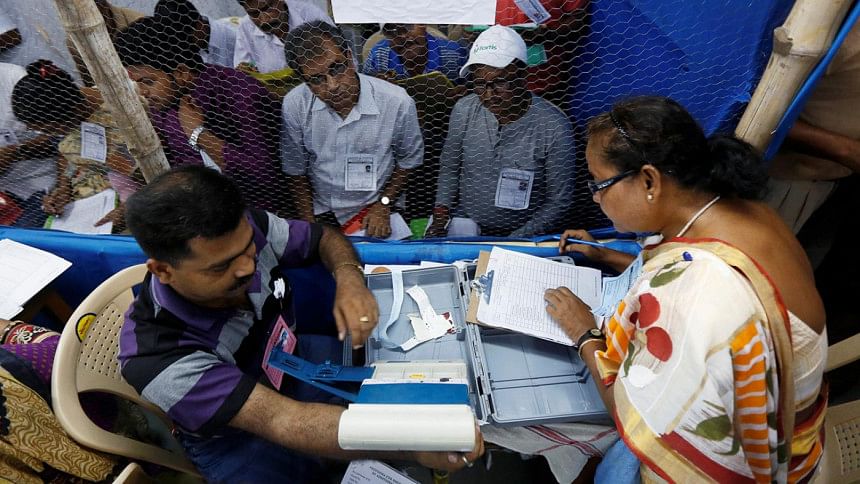 For the first time in India, the ruling Bharatiya Janata Party (BJP) today appeared all set to form government in the northern state of Assam.
Meanwhile, Mamata Banerjee-led Trinamool Congress was way ahead in West Bengal as counting of votes in April-May elections to five state legislatures progressed, reports our correspondent from New Delhi.
In a setback for India's main opposition Congress, the party appears ready to be voted out of power in Assam as well as in the southern state of Kerala.
While in Tamil Nadu, another southern state, Jayalalithaa seemed to be holding on to power, the correspondent said.
 
BJP is making inroads into both Kerala and West Bengal where it had negligible presence in the past.
 
Trinamool Congress, which came to power in West Bengal for the first time in May 2011 dislodging 34 years of uninterrupted Left rule, raced way ahead in 180 out of total seats of 294 in West Bengal while Congress and its alliance partner the Left are trailing far behind. BJP is leading in eleven seats in West Bengal.
 
Mamata herself is leading in Bhavanipore assembly constituency in the heart of Kolkata constituency against her nearest rival Deepa Dasmunshi, wife of former Congress leader Priyaranjan Dasmunshi, of Congress and Chandra Bose of BJP.
 
According to various exit polls shown on TV channels on May 16, Assam, Tamil Nadu and Kerala appeared to have voted for change giving BJP its first government in the northeastern state dislodging Congress which may also lose Kerala.
 
BJP is ahead in 63 of Assam's total 126 seats. It needs 64 seats to form a government in the state, where it projected Union Sports Minister Sarbananda Sonowal for chief minister against Congress' Tarun Gogoi who was Chief Minister for the last 15 years.   
In Tamil Nadu too, there are worries for the Congress and its partner Dravida Munnetra Kazhagham led by 93-year-old M Karunanidhi as they trail Chief Minister J Jayalalithaa's All India Anna Dravida Munnetra Kazghagham which is ahead in 112 of the states' 234 seats.
In Kerala, BJP is leading in two seats and if it is able to win them the party will open its account in the state where it has never won an assembly or parliament seat before.