Ambulance for the poor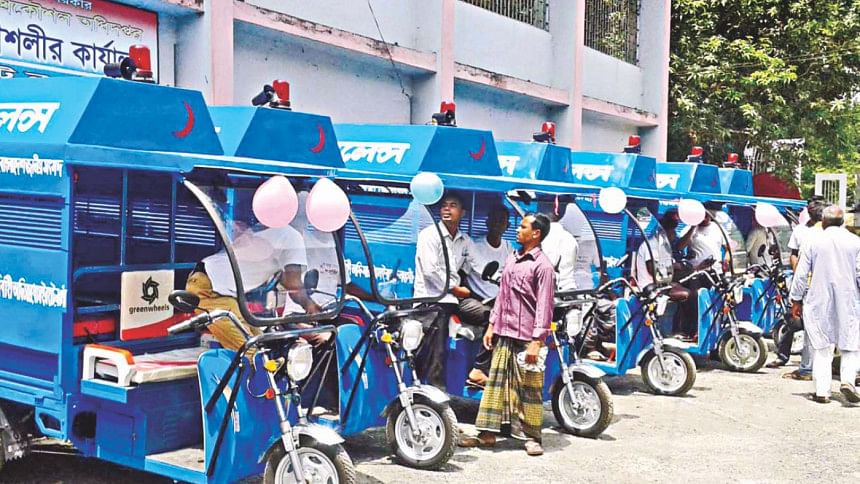 Two years ago, when Rawshan Ara Begum of Naogaon's remote Saraswatipur village became pregnant for the first time, she sought no antenatal care.
It was not the lack of awareness that stopped Rawshan Ara from visiting the Upazila Health Complex in Mohadevpur, about 10km from Saraswatipur, for check-ups during her pregnancy. Rather, she dreaded the hour-long bumpy ride on a rickshaw-van.
"It was quite a hassle to hire a rickshaw-van whenever I wanted to take her to the health complex, because vans were not always available in our neighbourhood," said Rowshan Ara's husband Sirajul Islam.
The situation would turn worse at night, when almost no transport was available, he added.
"But those days are gone. Now the villages have an ambulance," Sirajul said.
Upazila Nirbahi Officer AKM Tajkir-Uz-Zaman, who until recently was in charge of Mohadevpur upazila, is the man to be credited with introducing a unique ambulance service in remote villages like Saraswatipur in Bhimpur union of the upazila.
To help ease the sufferings of pregnant women, Tajkir-Uz-Zaman came up with the idea of modifying a battery run easy bike into an ambulance. It has a siren atop and an oxygen cylinder inside the cabin, where patient can lie down easily on one side-seat while two to three attendees of the patient can sit on the other side-seat at the back of the vehicle.
A mobile phone number is printed on the vehicle's body so that people can call in the ambulances.
Rajshahi Divisional Commissioner Helaluddin Ahmed inaugurated the service on January 11 this year.
Talking to The Daily Star over the phone, Tajkir-Uz-Zaman said, "Considering the suffering of patients, I tried to find a solution within a reasonable cost. When I shared my idea with other people, including Bhimpur Union Parishad Chairman Ramprosad Bhadra, everyone supported it positively."
The UNO contacted suppliers of three-wheeler easy bikes and local lathe workshop operators and within three months they developed the vehicle.
"It only costs us Tk 1.60 lakh and we named it 'Matriseba'," he said.
Matriseba is now attached with Bagachara Community Clinic under Bhimpur union. A single phone call and it turns up at the doorstep of any villager in the union.
"Because of Matriseba, the hour-long journey on a rickshaw van has been cut short to 20 minutes," said Sirajul.
The charge for each trip is also fixed. During daytime, each trip costs Tk 100 and after sunset the cost per trip is Tk 150.
Eight unions of Mohadevpur upazila now have eight ambulances.
But people of Bhimpur are not the only ones who benefitted from Tajkir-Uz-Zaman's idea.
Villagers of Pathailhat in Chatmohar upazila of Pabna's Chalan Beel area now also have their own ambulance.
When the condition of ailing nine-year-old Mariam Khatun of Pathailhat worsened, her father just called for an ambulance over the phone. Within three minutes, a battery-run modified easy bike with a cabin appeared at his door and Mariam reached Chatmohar Upazila Health Complex within 15 minutes.
The ambulance could reach the patient's house so quickly because it was at Mulgram Union Parishad office, half kilometre from Pathailhat.
Eleven union parishad in Chatmohar upazila had introduced the ambulance service on June 11 to carry patients from remote areas of the upazila in Pabna.
"Patients, mostly pregnant women and children, often cannot reach hospital on time due to a lack of ambulance facility in the remote areas of Chalan Beel's Chatmohar upazila. Sometimes patients' condition turns critical because of the delay in getting to the hospital," Chatmohar UNO Shoheli Laila told The Daily Star.
The UNO said 2.87 lakh people of 244 villages in 11 union parishad of Chatmohar receive the ambulance facility.
The cost of modifying each ambulance in Chatmohar was Tk 2 lakh. Unlike the Bhimpur ambulances, they are not equipped with oxygen cylinders yet.
The ambulances are kept at union parishad offices in Chatmohar, and "choukidars" (village police) of the unions are given the charge of driving them, Shoheli added.
The fund for this endeavour came from Local Government Support Project (LGSP), said Mohadevpur UNO Tajkir-Uz-Zaman.
Due to a shortage of funds, he could not introduce the service in other unions under his upazila, he said.
However, like Chatmohar, upazila administrations in other districts took up the idea.
So far 26 unions of different upazila administrations of Joypurhat, Naogaon, Natore and Pabna introduced these special ambulances for the remote villages.
Like Rawshan Ara, many women of the 26 unions now reap the benefit of the service, said Bhimpur Union Parishad Chairman Ramprosad Bhadra.
Though the initiative has helped many villagers in remote areas in getting better access to healthcare, some people are apprehensive about the continuity of the ambulance service.
"The good initiative may fail if proper monitoring is not ensured," said Shahin Rahman, a resident of Bahadurpur village in Chatmohar upazila.
However, Chatmohar Upazila Parishad Chairman Hasadul Islam Hira asserted that all chairmen and secretaries of the union parishads in the upazila would monitor the service and take immediate steps to make sure the service is not hampered.