Air pollution killed 1.23 lakh in 2017
Latest global survey says about Bangladesh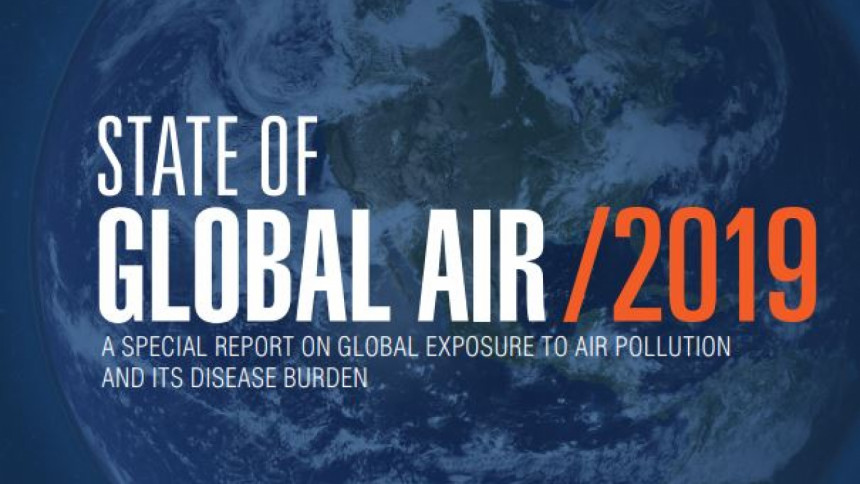 Indoor and outdoor air pollution led to 1.23 lakh deaths in Bangladesh in 2017, according to a new study on global air pollution.
It says the life of a South Asian child will be shortened on average by 30 months as they grow up in current high levels of air pollution.
The State of Global Air 2019, which used data from the period 1990 to 2017, observed that life expectancy in Bangladesh would have seen the highest expected gain of nearly 1.3 years if air pollution levels met the World Health Organization (WHO) guidelines.
The report, released on Wednesday by US-based organisations Health Effects Institute and Institute for Health Metrics and Evaluation, said South Asia was the most polluted area in the world.
Air quality in Asia remained stubbornly poor, especially in Bangladesh the entire population has remained exposed to PM2.5 levels above 35 microgram per cubic meter (µg/m3) since 1990, said the third annual State of Global Air report.
The major sources of pollution, as per the study, are household solid fuels, dust from construction, coal power plants, brick production, transportation and diesel-powered equipment, among others.
Prof Abul Kalam Azad, director general of Directorate General of Health Services (DGHS), said there was air pollution in Bangladesh, but he didn't know how the deaths were counted in the study.
"There are many diseases, including cardiovascular disease, cancer and Chronic Obstructive Pulmonary Disease, which have direct and indirect links with air pollution. So it is natural that some people die from air pollution and the life expectancy decreases also," he told The Daily Star.
The DGHS chief said exposure to air pollution is high in Bangladesh as a lot of development projects are underway.
"Bangladeshis are getting exposed to air pollution as a huge number of people are living in a small area. We are aware of it and the environment, forest and climate change ministry should come forward with a specific action plan to reduce air pollution," he observed.
In 2017, air pollution was the fifth highest mortality risk factor globally and was associated with about 4.9 million deaths and loss of 147 million years of healthy life, the report added.
In that year, annual PM2.5 exposures were highest in South Asia, with Nepal at 100 μg/m3, India 91μg/m3, Bangladesh 61 μg/m3, and Pakistan 58 μg/m3.
Particulate matter (PM) is the sum of all solid and liquid particles suspended in air, many of which are hazardous. This complex mixture includes both organic and inorganic particles, such as dust, pollen, soot, smoke, and liquid droplets.
The study found that 3.6 billion people (47% of the global population) were exposed to household air pollution from the use of solid fuels for cooking in 2017. These exposures were most common in sub-Saharan Africa, South Asia and East Asia.
Long-term exposure to outdoor and indoor air pollution contributed to nearly five million deaths from stroke, diabetes, heart attack, lung cancer and chronic lung disease in 2017.
Building on a fundamental understanding of how air pollution affects health, researchers quantify the burden of disease from air pollution by calculating how air pollution exposures translate into numbers of deaths and years lived with disease or disability.
A BIG THREAT
According to the report, air pollution is responsible for more deaths worldwide than many better-known risk factors such as malnutrition, alcohol use, and physical inactivity. Each year, more people die from air pollution-related diseases than from road traffic injuries or malaria.
Air pollution reduces average life expectancy by almost as much as active tobacco smoking does.
The report for the first time mentioned type-2 diabetes as a major health risk of air pollution.
In 2017, about 1.5 million people died in Bangladesh, India, Nepal and Pakistan due to air pollution-related reasons, the study said.
It also mentioned that nearly half of the world's population (3.6 billion people) was exposed to household air pollution in 2017.