16th Bangladesh Business Awards: Acclaim for excellence
DHL, The Daily Star honour 3 businesspersons, 2 institutions
Two companies and three individuals were honoured yesterday at the 16th edition of the prestigious Bangladesh Business Awards for their superlative success as well as contribution to the economy.
Kutubuddin Ahmed, chairman of Envoy Group, was crowned as the Business Person of the Year, while Meghna Group of Industries took home the Enterprise of the Year award.
City Bank won the accolade in the Best Financial Institution category. Luna Shamsuddoha, founder and chairman of Dohatec New Media, a leading software company of Bangladesh, won the award in the Outstanding Woman in Business category.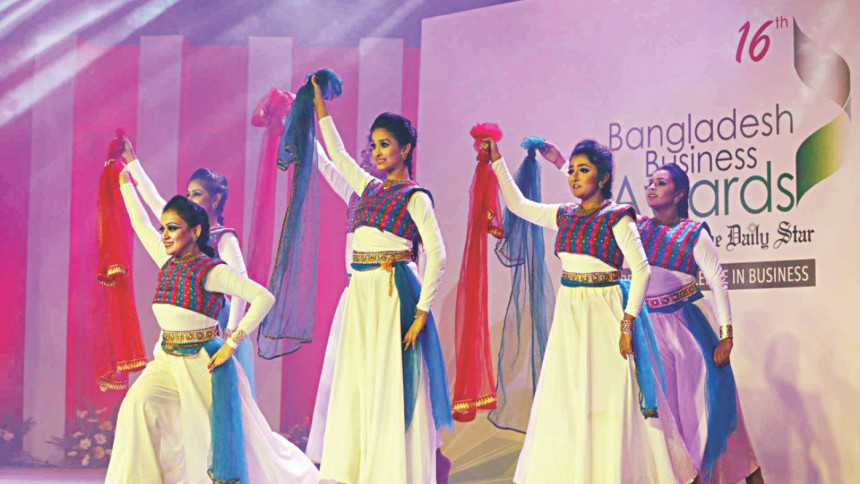 The Lifetime Achievement Award went to Harunar Rashid Khan Monno, a pioneering industrialist of Bangladesh.
DHL Express, the world's leading logistics company, and The Daily Star, Bangladesh's leading English language newspaper, hosted the awards night at the capital's Radisson Blu Dhaka Water Garden.
Anisul Islam Mahmud, water resources minister, handed over the trophies to the winners at the ceremony, which was attended by politicians, business leaders and corporate chiefs.
Speaking as chief guest, the minister, said: "The award is not only honouring the businesspeople; it is also recognising the contribution of the business community as a whole."
Bangladesh was written off as a basket case at the time of its birth but today, the country's progress is lauded by the people all over the world, he said.
The country has become a role model for development -- and the businesses, workers, farmers and the expatriates all have made this possible.
Mahmud also lauded the role of entrepreneurs, saying their life stories are full of struggles.
"They have succeeded because they have struggled."
The minister noted the government is trying hard to eliminate the bottlenecks related to land, gas, electricity and infrastructure.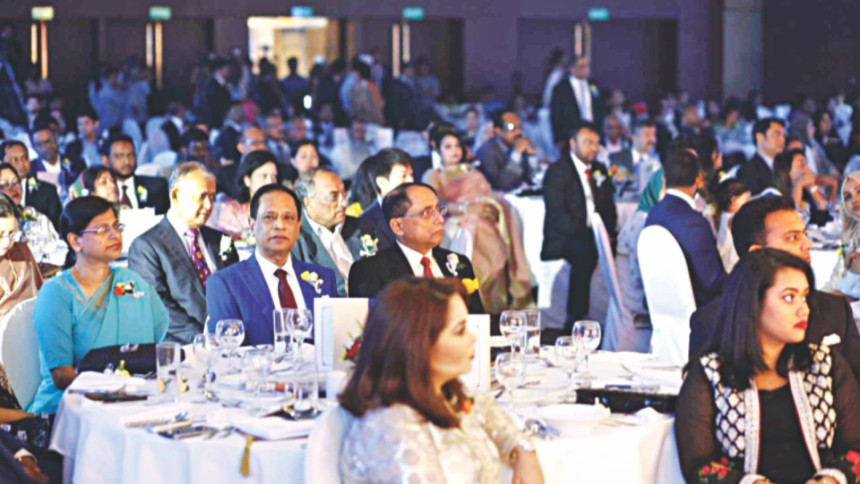 He also urged the award organisers to hold such events at the divisional level for small and medium enterprises as they are the bedrock of the economy.
Desmond Quiah, country manager of DHL Worldwide Express (Bangladesh) Pvt Ltd, said amid the global uncertainty, Bangladesh's business community has shown itself to be more than capable of punching above its weight.
"Exports have been pushing higher and higher since the start of the decade, resisting global contractions with a consistency that is as commendable as it is rare too. Bangladesh's businesses and workers have much to smile about," he added.
Mahfuz Anam, editor and publisher of The Daily Star, said the efforts that the businesses put in to log profits are often overlooked in Bangladesh.
"So, I strongly feel that this value judgment has to be challenged and changed. This was the idea behind the awards."
He said businesses take risk, create jobs, foster creativity and create wealth for the nation. "So, their success stories need to be told over and over."
In his keynote speech, Chandra Shekhar Ghosh, founder and chief executive of Bandhan Bank, India's fourth largest private bank, praised Bangladesh for its progress on both economic and social fronts.
"As an economy, Bangladesh has also come a long way. You are likely to achieve 6.9 percent GDP growth in 2016-17, according to the International Monetary Fund. You are also moving up the ladder of Human Development Index. So congratulations, Bangladesh," he said.
Bandhan Bank is the first and only microfinance entity in India that has transformed itself into a universal bank. It is also the first bank to be set up in the eastern part of India.
Ghosh, who completed his education and started his career in Bangladesh, said his time in Dhaka University and Brac gave him the chance to have a ringside view of poverty.
"People's sufferings shaped my approach to life. Even now, when I close my eyes I could still see those faces and re-live those moments. Those were the days which shaped my thoughts and strengthened my conviction that we could fight poverty. And the journey began," he added.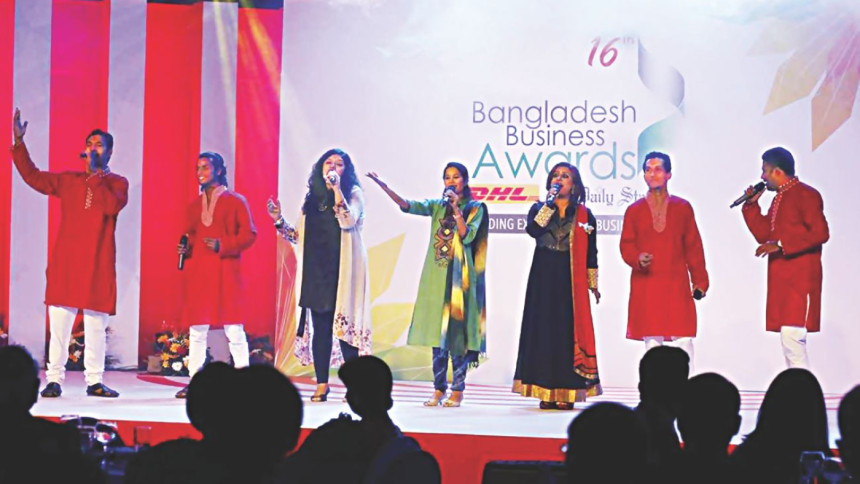 Mostafa Kamal, chairman of Meghna Group of Industries, said entrepreneurs need better infrastructure and peaceful law and order situation to do business smoothly.
"If it remains favourable, we, the entrepreneurs, will be able to do better than even developed nations," he said, while calling for easing bureaucracy.
Luna Shamsuddoha of Dohatec New Media said: "I am greatly honoured and humbled."
It occurred to her 25 years ago that IT is the sector that she should focus on. "I saw the opportunity and took the risk. Throughout the journey, I had to face difficulties -- there is no short-cut to success."
She went on to advise budding entrepreneurs to continue to be confident in their abilities to reach their goals.
"Unless you have confidence in yourself, belief in yourself, you cannot move further."
Kutubuddin Ahmed of Envoy Group said if one is courageous, honest and sincere, he/she can be successful in any business.
Mohammed Shoeb, chairman of City Bank, said the bank had gone through a lot of changes in the last one decade. A new generation of management -- motivated, IT-driven and very focused -- has taken over.
"We have a digital agenda in our mind. We want to be able to grow very fast as the most IT-driven financial institution. We also want to maintain transparency."
Afroza Khan Rita, managing director of Monno Group of Industries, who accepted the award on behalf her hospitalised father Harunar Rashid Khan Monno, requested everyone to pray for him.
The Bangladesh Business Awards were introduced with the specific objective of creating an environment of excellence and competitiveness, one that would drive the members of the business community to scale greater heights of productivity, efficiency, financial discipline and modern management.
"This is a very good initiative by The Daily Star and the DHL for brightening the image of the country's businesses," said Siddiqur Rahman, president of the Bangladesh Garment Manufacturers and Exporters Association.
He said the awards will encourage good entrepreneurs to be more responsible in their respective business.
"An event like this is seriously encouraging for all the women entrepreneurs because the society hardly recognises women's work," said Rubana Huq, managing director of Mohammadi Group, who received the best woman entrepreneur award in 2014.
Quiah of DHL said the garment industry would continue to power the country's exports, but other industries have also begun to make their mark.
Bangladesh's economy is undergoing significant transformation and the opportunities for both established businesses and rising entrepreneurs loom larger than ever before.
To make the most of the opportunities, businesses need free and flexible trade policies that support, rather than obstruct, growth and expansion, he said.
Some of the next steps that DHL is focusing on include introducing immediate release of certain consignments, simplifying the release processes and improving risk management standards throughout the supply chain -- all of which will have major flow-on benefits to industries throughout Bangladesh.
Mahfuz Anam, The Daily Star editor, said when a business makes profit while taking care of workers, it is better.
"But when a business makes profit while taking care of its workers as well as maintaining social responsibility, it is even better," he said, adding that it would be the best if a business can protect the national interests as well.
He said it pains him when factories located on the bank of a river become well-known exporters but their river pollution is swept under the carpet.
"Bangladesh is the gift of rivers. So, if we destroy the rivers we will destroy Bangladesh in the process," he said, while calling on corporate leaders to launch a campaign to save the rivers.
Mahbubur Rahman, president of the International Chamber of Commerce Bangladesh; M Matiul Islam, the country's first finance secretary; Geeteara Safiya Choudhury, former adviser to a caretaker government; Mohammad Sayeed Khokon, mayor of Dhaka South City Corporation; ATM Shamsul Huda, former chief election commissioner; Abdul Matlub Ahmad, president of the Federation of Bangladesh Chambers of Commerce and Industry; Rokia Afzal Rahman, former caretaker government adviser; and Abrar A Anwar, CEO of Standard Chartered Bangladesh, and Anis A Khan, managing director of Mutual Trust Bank, were also present, among others.
Riya Akhtar, Sohel Arman, Faruq Hasan, Tanvir Ahmed and Samar Kanti Das, who work for garment factories at positions such as swing machine operator, helpers and cutting assistant, sang a song along with celebrities Elita Karim and Alif Alauddin at the event.  
---


Business Person of the Year
Kutubuddin Ahmed started a garment business in 1984, a year after quitting his job at the Janata Bank.
He struggled to manage the initial capital needed to start the business.
After trying to raise capital from his friends and families, he mortgaged his father's house to a bank in Dhaka.
Kutubuddin also found a partner, then a renowned footballer, Abdus Salam Murshedy.
They set up a small factory with Tk 10 lakh and 200 workers in the capital's Khilgaon. Initially, they supplied products to other garment factories as they did not get direct orders from buyers.
The situation changed when they were able to get direct orders through an agent, Akbar Lakhani, for a Swedish retailer.
Within 16 months of the start of the business, it made a profit of Tk 1 crore.
After a journey of 33 years, Kutubuddin is now chairman of Envoy Group which has 27 garment, textile and other related businesses. The group employs 32 thousand workers and earned $210 million in exports last year.
---


Enterprise of the Year
Meghna Group's journey dates back to the 1970s when its founder Mostafa Kamal started commodity trading. After Independence, he began retailing in essential commodities.
After a short stint at Mohammad Hossain & Company, a major commodity trader at old Dhaka's Moulvibazar at the time, he floated his own venture Kamal Trading Company in 1976.
Now Meghna Group of Industries is a diversified conglomerate, and its consumer product brands such as Fresh and Pure have become household names. In Bangladesh, one in every three households uses Meghna Group's brands and products, according to the company.
The group has 36 manufacturing units that have created jobs for 20 thousand people. The group's sales turnover was over $2 billion (Tk 16,000 crore) last year.
---


Best Financial Institution of the Year
City Bank's journey began at a time when only four private banks were operating in Bangladesh along with some nationalised and a few foreign commercial banks.
In 1983, 13 visionary entrepreneurs joined hands to set up a commercial bank with Tk 3.40 crore as paid-up capital. They named it City Bank.
In its first year, the bank incurred a loss of around Tk 1 lakh. But it made a turn around the next year and clocked a profit of Tk 1.2 crore. Since then the bank never looked back although it had faced difficult situations in its journey.
City Bank is now the fourth largest private sector commercial bank in the country in terms of profit after tax, which stood at Tk 359 crore at the end 2015. Its total capital is now about Tk 2,500 crore.
The bank is the first bank to have issued dual currency credit card in Bangladesh. It is the top player in credit card segment by holding 30 percent market share.
---


Outstanding Woman in Business 
Luna Shamsuddoha started her journey 25 years ago as an IT entrepreneur – an almost uncharted area for most of her male contemporaries.
She set up an outsourcing company to cater to clients in the US.  Over the years, the company has grown from strength to strength.
In 2007, Dohatec developed Bangladesh's voter identity registration system and later, the biometric registration system.
The firm set up the government's electronic procurement system, known as e-GP.
The company has been supporting the government's birth and death registration projects as well.
Earlier, in 2001-02, Dohatec developed the United States Postal Service's online mail-tracking system with Harte-Hanks Inc, another milestone for the company.
Dohatec provides software solutions and services to institutions, government agencies and corporations in the US, Canada, Germany and Switzerland. The firm is now set to develop the e-GP system for Bhutan.
---


Lifetime Achievement Award
Harunar Rashid Khan Monno, who was born in 1933, studied chartered accountancy in the 1950s at Price Waterhouse.
Monno started a business with an eye to cater to the mass market in Bangladesh.
He started with printing business. His success gave him confidence to expand to other areas such as ceramics, textile, fabrics, agriculture, real estate, packaging, trading, and restaurants.
Monno Group of Industries employs more than 6 thousand workers and officials. Its ceramics products are exported to over 100 countries, including the US, Australia and many countries in Europe.
Monno, a former lawmaker and minister, is also a noted philanthropist. He set up a medical college and hospital, a technical university, a nursing college and a nursing institute. He has made generous contributions to help set up schools, madrasas, mosques, graveyards and temples.