'Abduction' for money?
Utpal's captors called his family 13 days after his kidnap to demand ransom; never said how and where they wanted the money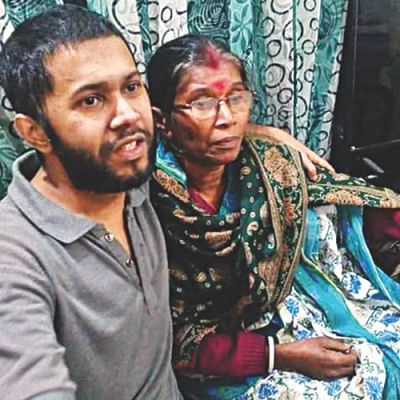 The captors of journalist Utpal Das had demanded ransom from him and his family several times, but it seems they never really wanted the money.
During the 71 days of his captivity, the kidnappers repeatedly asked Utpal to pay money for his release. His father too got phone calls from Utpal's phone twice after his abduction from the capital's Dhanmondi area, but the caller did not say how and when they want the money to be sent.
The senior reporter of Purbopashchimbd.com, an online news portal, was found in Narayanganj on Tuesday night.
A black microbus dropped him off blindfolded in front of Shahjalal filling station in Aduria of Bhulta. Police briefly took him to Bhulta outpost before handing him over to the family members who reached there around 2:30am yesterday.
His return home comes amid a series of cases of disappearance of a number of prominent figures, including former ambassador to Vietnam Maroof Zaman and North South University teacher Mubashar Hasan, in recent months.
Since August 22, at least 12 people had gone missing from the capital alone. Four of them, including Utpal, have since returned home while police later said to have arrested three others. The fate of five others, including Maroof and Mubashar, is not yet clear.
THE ABDUCTION
Utpal, 27, received a call from a relative between 2:00pm and 2:30pm on October 10 when he was in front of Star Kebab in Dhanmondi.
The relative asked him to get a job done and Utpal said it would require Tk 5 lakh, he told The Daily Star at his village home in Narsingdi's Raipura yesterday.
"Soon a white microbus stopped before me. Four to five people got down from the vehicle and blindfolded and gagged me with black cloths. They then whisked me away," said Utpal.
In the microbus, they slapped him twice in the head and demanded money, he said.
"Give us money, you have a lot," he quoted his kidnappers as telling him.
But they never said how much they wanted, he added.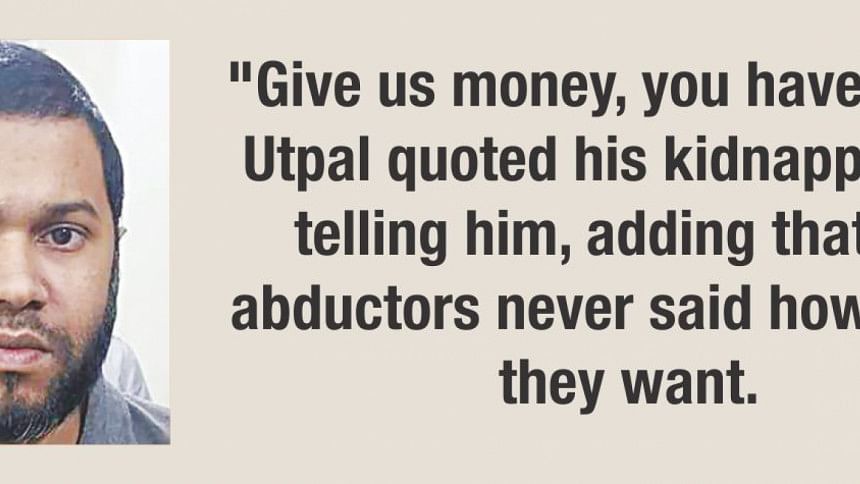 After about three hours' drive, he was taken to a tin-shed house in a secluded place where he was kept confined for 71 days.
"I had to sleep on a mat on the floor. It had an attached toilet. There was no cot or any other furniture," he said.
His captors slipped food under the door in a platter regularly, he said.
Periodically -- sometimes after four to five days and sometimes after about 10 days -- someone would ask him from behind the closed door if he managed the ransom.
In reply, he would say he was a mere journalist and did not have much money.  
"At times they would rebuke or even threaten me, but they never entered the room," he said.
Just two days before he was freed, some people came again and asked for ransom from behind the door. Moments later they whispered that Rab and police came to know about the incident, Utpal said.
Finally on Tuesday evening, a group of masked men entered the room, blindfolded him and forced him into a microbus.
After three to four hours, they stopped the microbus in an isolated place, and said, "We are letting you go. They also gave my cell phone back and asked me to uncover my eyes only after they honk the horn, or else they will kill me."
As the abductors left, he went to a shop near a CNG filling station and came to know that the place is called Bhulta in Rupganj. He then had his phone charged from the shop and made the first call to his mother.
IS IT FOR MONEY?
In a conventional case of abduction for money, kidnappers usually demand ransoms immediately after the incident.
But Utpal's father Chitta Ronjan Das said he first got a call from his son's cell phone 13 days after the abduction.
 "Without identifying himself, the caller demanded Tk 1 lakh for our son's release," said Chitta Ronjan, principal at a kindergarten in Narsingdi.
The next day, the man called again, making the same demand, he said.
"When I told him that I want to talk to my son and asked him how and where to pay the money, he hung up.
"They did not make any call ever since and we found my son's phone switched off," said Chitta, who retired from a government primary school in 2010.
The abductors assertion that Utpal has a "lot of money" is also puzzling.
The family lives in a tin-shed rented house in Narsingdi. With his father's income from teaching far from adequate, Utpal, who lives and works in Dhaka, sends money home every month. 
RAY OF HOPE FOR OTHERS
Following the return of Utpal and before him businessman Aniruddah Roy, family members of other missing people now hope that their loved ones too will come back home.
"We still have hope of getting my son back like journalist Utpal and businessman Aniruddha who returned to their families. We are waiting for his safe return," said Jamal Uddin Ahmed, father of missing Ishrak Ahmed Fahim, 19, a student at McGill University in Canada.
Ishrak went missing from Dhanmondi area on August 26.
Motaher Hossain, father of missing NSU teacher Mubashar Hasan, told this newspaper yesterday that he became hopeful about his son's return after he heard the news of Utpal.
"We cannot sleep at night as nightmares haunt us," he said.
[Our Narsingdi correspondent Benazir Ahmed Benu contributed to this report]