Family seeks PM's intervention to find out missing journo Utpal Das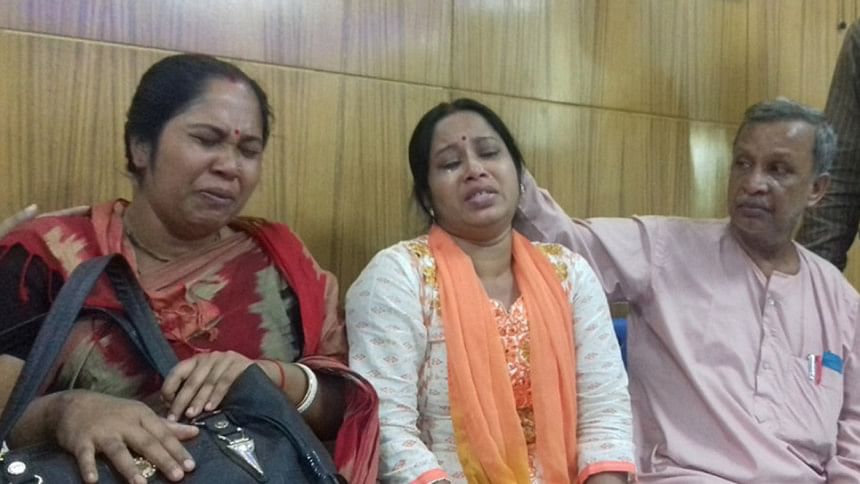 Family members of Utpal Das, a journalist who has been missing for over two weeks, today sought Prime Minister Sheikh Hasina's intervention to find him out and ensure his safe return.
Utpal's father Chittaranjan Das and sister Bobita Rani Das were talking to reporters at a press conference at Bangladesh Crime Reporters' Association office in Dhaka.
Read more: Journo Utpal missing for two weeks
Utpal, a senior reporter of online news portal purboposhchimbd.news, went missing on October 10 and his phone was found switched off since he talked to his mother the same day.
Bimola Rani Das, mother of Utpal, has been bedridden since hearing the news of her son and stopped taking meals for the last four days. 
"Ma [mother] will die unless Utpal returns soon," Bobita said as she lamented for the safe return of her younger brother.
"She does not respond well. At times, she just opens her eyes to enquire about Utpal," Bobita said with teary eyes.
Utpal's family and Khugesta Nur E Naharin, editor of the purboposhchimbd.news, filed two general diaries with Motijheel Police Station after Utpal went missing, but police are yet to trace his whereabouts.
Chittaranjan, fsther of the victim, at first tried to console her two daughters -- Bobita and Binita -- but finally broke down in tears.
"Please try to bring back my son to me," Chittaranjan, a former headmaster of a primary school, appealed.
He also requested Prime Minister Sheikh Hasina to take steps in this regard.
The victim's family members were unaware of any reports that may anger any quarters against Utpal.
Omar Faruk, officer-in-charge of Motijheel Police Station, said they are trying to trace the journalist.
Meanwhile, human rights body Ain o Salish Kendra (ASK) expressed deep concern over Utpal's going missing and demanded the law enforcers to take proper steps to trace him.