Annisul blames homegrown mosquitoes
Says he can't tie mosquito nets in people's homes, but is 'sorry' for their sufferings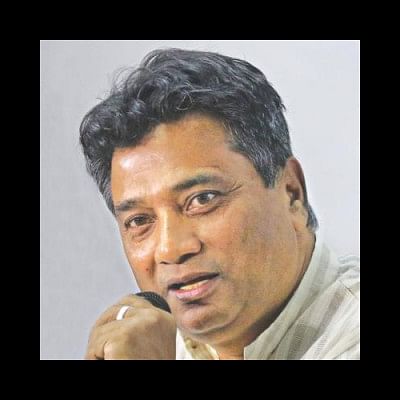 Dhaka North City Corporation Mayor Annisul Huq has blamed the mosquito population inside people's houses for the chikungunya outbreak.
He claimed the viral disease was spreading fast because of the mosquito populations inside households, rather than those growing in the city's drainage system.
"Aedes mosquitoes breed in clear water that is mostly kept inside residences. We cannot go inside people's homes to stop mosquitoes from spreading," he told a press conference at the DNCC Nagar Bhaban yesterday.
"I cannot go to your home and tie mosquito nets for you," he said for the city dwellers, shrugging off the blame that the city authorities are doing too little to tackle the menace. 
But he said he was sorry for the suffering of the city people, and extended his "sympathy" for them. 
"We've taken all measures for mosquito control and chikungunya prevention but some factors are not under our control," he said.
People's awareness and participation is very crucial to destroy the breeding ground as it is not possible for the city corporation to destroy the breeding ground in a house, he added.
Epidemiologist Prof Mahmudur Rahman and entomologists Tauhid Uddin Ahmed and Dr Manjur A Chowdhury were present at the conference to share information on the recent spread of chikungunya.
Mahmudur and Tauhid said the present chikungunya situation could be termed as an epidemic. But it is for the government to decide whether it would declare it so.
In response, the mayor said epidemic or not, his city corporation was not responsible for this. 
Mahmudur and Tauhid Uddin suggested keeping chikungunya patients isolated, by keeping them under mosquito nets to prevent further spread of the disease among family members through infected mosquito bites.
"Though Aedes mosquito is responsible for chikungunya, culex mosquito also can be a bearer of the virus. This is why it is very important to keep a patient under mosquito net for five days since his infection," said Prof Mahmudur.
Manzur A Chowdhury said an infected mosquito could spread the disease for the next eight to ten days for which killing these mosquitoes is important through aerosol, mosquito coil or using other methods.
DSCC MAYOR
In Dhaka South City Corporation, Mayor Sayeed Khokon claimed the outbreak of the disease in his area did not reach an epidemic level and that they would be able to fully control chikungunya in three to four weeks.
He also urged people to destroy the breeding grounds of Aedes mosquitoes in their houses and allow city corporation crews to go inside the house to destroy the mosquito.