4 'thieves' killed in mob beating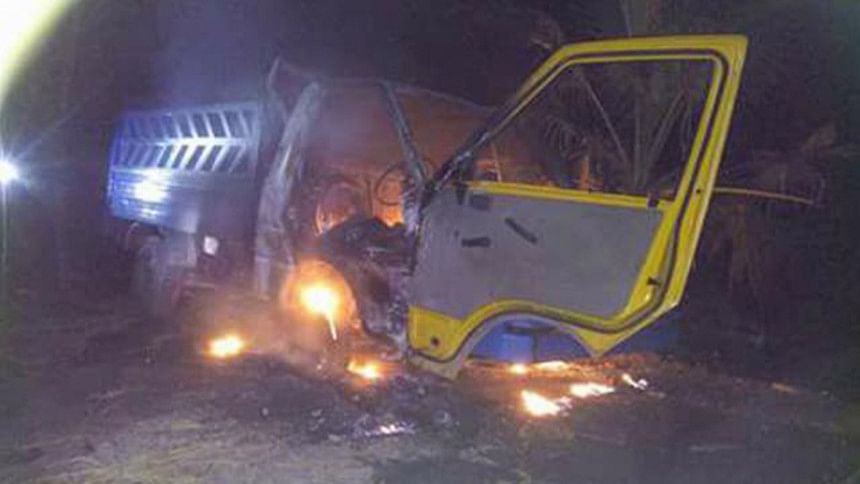 Four suspected cattle thieves were beaten to death and two others injured in Subarnachar upazila of Noakhali early yesterday.
One of the deceased is Zakir Hossain, 28, of Katabunia village of the upazila. The identities of the three others could not be known immediately.
The injured are Helal Uddin, 22, and Jahangir Alam, 30, of Char Jubilee union of the same upazila.
AKM Zahirul Islam, additional superintendent of police in Noakhali, said some people in a pickup were moving suspiciously in Uttar Kachhapia village around 3:00am. When locals asked them to stop, they abandoned the vehicle and jumped into a canal.
Locals caught and beat them up, leaving four dead on the spot and injuring two others. Angry locals also set fire to the pickup.
The injured were being interrogated at Char Jabbar Police Station.
Nizamuddin, officer-in-charge of the police station, said locals were enraged by frequent incidents of theft in the area. They beat up the six, suspecting them as robbers.
During interrogation of the injured "cattle thieves", police came to know that the six had entered the village to steal cattle.
Deceased's bodies were sent to Noakhali General Hospital morgue for autopsies.
A murder case was filed against 300-400 unknown people in this connection.
On July 27, 2011, six alleged robbers were killed in another mob beating at Teker Bazar in Companiganj upazila of the district.