3 killed as gas cylinder of microbus explodes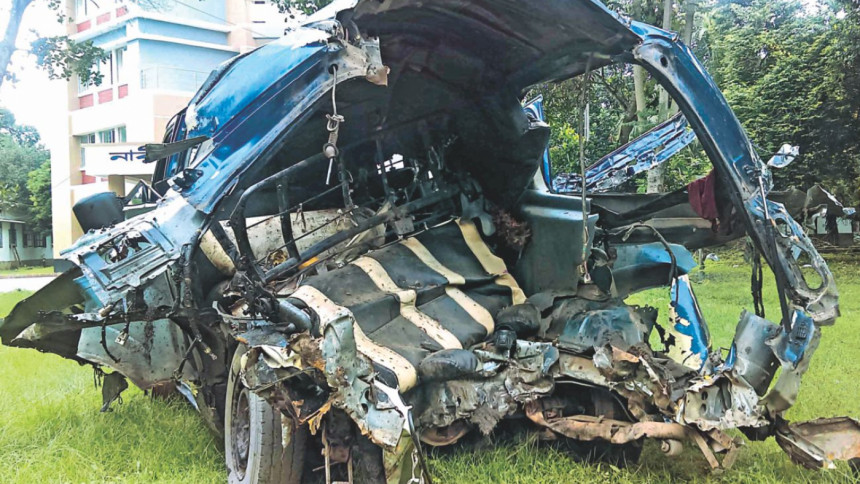 Three people, including a woman, were killed and four others, three of them policemen, injured in a microbus gas cylinder blast in Tangail town early yesterday.
The deceased are Jannatul Ferdous Bonya, 19, her maternal uncle Sirajul Islam, 55, and cousin Faruk Miah, 40. They are residents of Narayanganj's Sonargaon upazila.   
The injured are: Tanvir Ahmed, sub-inspector of Sonargaon Police Station, Habibur Rahman Habib, assistant sub-inspector, constable Azahar Ali, and microbus driver Akter Hossain, of Munshiganj's Gajaria upazila.
The policemen are undergoing treatment at Dhaka Police Lines Hospital, and the microbus driver is receiving treatment at Dhaka Medical College Hospital, said Ramzan Ali, a sub-inspector of Tangail Model Police Station.
The accident happened when a police team of Sonargaon Police Station was returning in the microbus after rescuing Bonya, an abduction victim, from Rajshahi's Bagmara, said Sanjit Kumar Roy, superintendent of Tangail police. 
One of the two gas cylinders of the microbus, carrying the seven people, exploded in Kumudini College Gate area around 4:30am, killing Bonya, her uncle and cousin on the spot, the police official added.
After the blast, firefighters recovered the bodies, rescued the injured people and took them to Tangail General Hospital, said Abdur Razzak, senior station officer of Tangail Fire Service and Civil Defence.
"The woman and her two relatives were killed in the blast as they were sitting on the back seats near the cylinder, while the policemen and the driver sustained injuries as they were on the front seats," he said.
The cylinder blasted when the microbus was going over a speed breaker with speed, he added.    
"The driver might have not seen the speed breaker as the speed breaker has no marking," said Abul Bashar, a traffic inspector in Tangail.   
Shamsul Alam, chief inspector of the Department of Explosives, said they would investigate the incident to find the reason behind the fatal accident.
"In most of the cases involving microbus cylinder blast, we see that fire originated after accident due to poorly installed high pressure CNG pipes and cylinder remain intact," he told The Daily Star, adding that "Such incident could be avoided if the cylinder is regularly checked."