4 Daily Star journalists assaulted
Journos from other outlets also attacked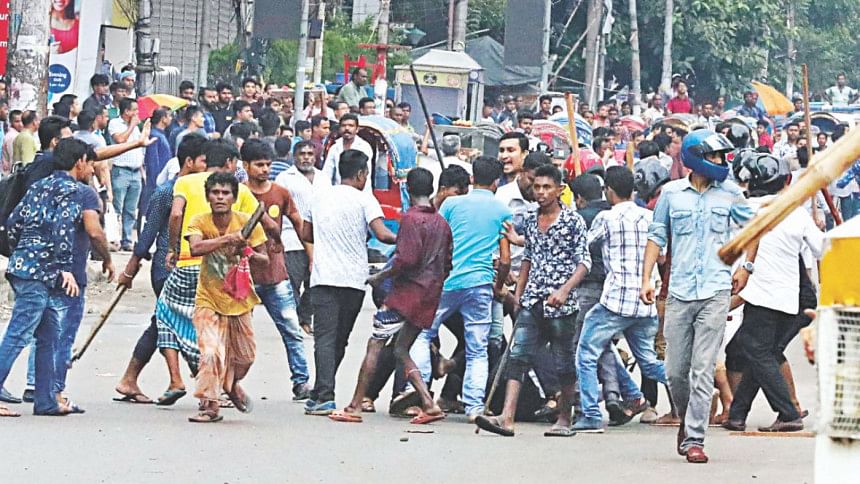 Police and alleged BCL men beat up three journalists of The Daily Star and molested another in the capital's Jhigatola yesterday afternoon.
One of them, Shaer Reaz, was taking pictures of a clash near Dhanmondi 3/A around 6:00pm when a man, who did not appear to be a law enforcer, started beating him up with a stick, kicked him and punched him and handed him to police.
His phone was snatched away and smashed.
Shaer said the man along with a police official beat him up and then took him to Dhanmondi Police Station. He was later beaten up on the police station premises.
He had been locked up at the station for about four hours until reporters of this newspaper went there and requested police to release him.
Another journalist Selim Sadman Somoy, a contributor to The Daily Star, was also detained at the police station and beaten up. He was held while taking pictures of yesterday's clash at Jhigatola. 
Policemen, requesting anonymity, told The Daily Star that Shaer was handed to them by Bangladesh Chhatra League activists.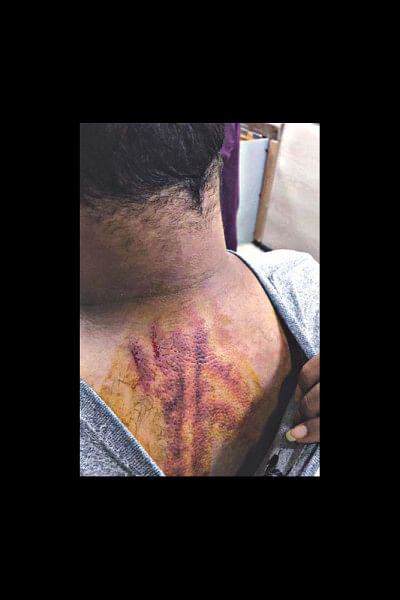 Sushmita S Preetha, editor of this newspaper's Star Weekend magazine, said that she was molested allegedly by some ruling party men on Mirpur Road at Science Lab intersection around 5:30pm.
They were in a procession, chanting "Joy Bangla" slogan and carrying sticks on the road. As she was filming the procession from the footbridge, they climbed up stairs of the footbridge, shouting, "Catch her".
Preetha tried to get down from the bridge but two BCL men got hold of her and began dragging her to the other side of the road.
She requested them to leave her alone, saying "If you people have objections to video footage, I will delete it."
Preetha eventually deleted the video but the BCL men were not yet ready to set her free. Amid the chaos, they touched and groped her and were hurling abuse at her, she said. 
They let her go only after being convinced that she had deleted the video of the procession.
Another journalist, Rafiul Islam came under attack by a BCL man while covering the clashes between students and ruling party men at Jhigatola around 2:00pm.
Rafiul Islam said two to three more journalists had come under attack for trying to get video clips of the events and 10 others harassed. 
He was hit in the head with a piece of wood even after showing his press ID. Other BCL men then stopped the attacker from hitting him further, he said.
In the same area close to a ruling  party office, journalist Faisal Hossain from Channel 24 along with camera person Krishna Sarker was beaten up around 7:00pm while doing live broadcast of the situation.