16 named in charge sheet
PBI to seek death penalty for all accused
Police Bureau of Investigation would be pressing charges against 16 suspects in the Feni madrasa student Nusrat Jahan Rafi murder case today and all of them could be facing the death penalty.
The 772-page charge sheet would be placed before a Feni court, said PBI chief Banaj Kumar Majumdar at a briefing yesterday. The PBI took a month and 18 days to probe and prepare the charge sheet.
The 16 would be charged with planning, executing, and aiding and abetting the murder.
Alim (HSC equivalent) examinee Nusrat was set on fire on the roof of the administrative building of a madrasa on April 6, minutes before her exam was to begin. She died in a hospital five days later.
Of the 16, the suspects named in the First Information Report (FIR) are: Sonagazi Senior Fazil Madrasa Principal Siraj Ud Doula, 57, Fazil (graduation) students Nuruddin, 20, and Shahadat Hossain Shamim, 20, Sonagazi municipality ward-4 councillor and expelled acting general secretary of the local Awami League unit Maksud Alam, 50, madrasa students Saifur Rahman Mohammad Zobayer, 21, and Jabed Hossan alias Shakhawat Hossain, 19, the madrasa's Hefzo teacher Hafiz Abdul Kader, 25, and English teacher Afsar Uddin, 33.
The others are: a niece of suspect Shahadat Hossain Shamim and also an Alim examinee Kamrunnahar Moni, 19, Alim examinee Umme Sultana Poppy, 19, Alim examinee Mohammad Shamim, 20, madrasa students Abdur Rahim Sharif, 20, Iftekhar Uddin Rana, 22, Imran Hossain Mamun, 22, Mohiuddin Shakil, 20, and Sonagazi upazila AL president Ruhul Amin, 55.
All the suspects are now behind bars and 12 of them, including Siraj, Shahadat, Nuruddin, Zobayer, Jabed, and Poppy made confessional statements giving details of the roles played by the 16.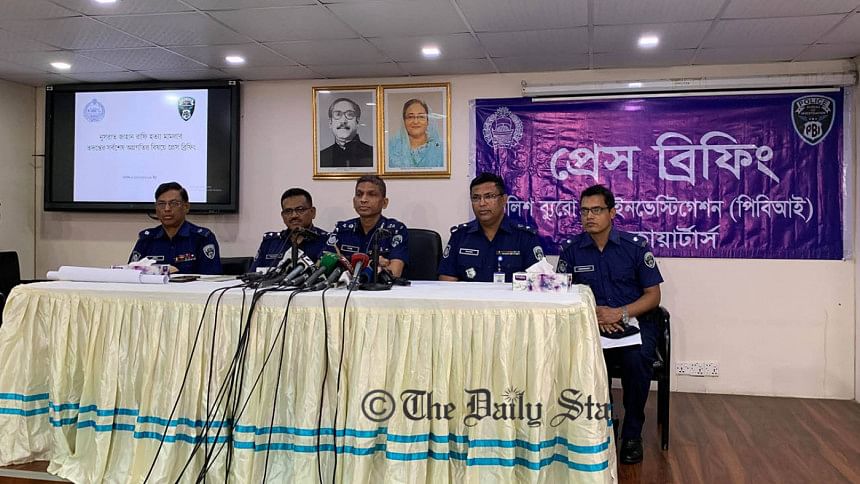 The court also recorded testimonies of seven witnesses. The charge sheet named 92 prosecution witnesses.
The plastic bag used for carrying kerosene, a glass used for pouring kerosene on Nusrat, match sticks, notes written by Nusrat about being sexually harassed by Siraj, three black burqas, and the mobile phone of suspect Shahadat would be produced as evidence, Deputy Inspector General and PBI chief Banaj said.
The phone has recorded conversation between suspects Shahadat and Sonagazi upazila AL president Ruhul Amin.
Peon of the madrasa and a witness of the case, Nurul Amin, found the glass on the roof. He kept it after washing it as it had the odour of kerosene.
The PBI chief quoting the finalised charge sheet said Nusrat was set on fire as Principal Siraj Ud Doula was arrested following a sexual harassment case filed by Nusrat's mother on March 27. The filing of the case irked some people loyal to Siraj.
"Nusrat irked all those who control the madrasa and enjoy its financial benefit. She also upset those who used to abuse madrasa girls," said the PBI chief.
PBI chief Banaj said even though just a Fazil student, Nuruddin was one of the two who controlled the madrasa. After the incident, he along with suspect Shahadat planned to cross the border and flee but the police were able to arrest them following a tip off.
Shahadat was annoyed with Nusrat as she had turned down his advances.
He said ward councillor Maksud on March 28 took part in the planning of the murder but went to Feni during the incident in his attempt to have an alibi.
Madrasa teacher Hafiz Abdul Kader was loyal to principal Siraj. He was guarding the madrasa gate on the fateful day. When Nusrat's brother Noman wanted to get inside with her that day, he was not allowed.
Noman requested Kader, who he had considered a friend, to enquire about his sister. The PBI chief said Kader a few minutes later told Noman that his sister was on fire.
Moments before the incident, English teacher Afsar Uddin had called Noman over phone and threatened him with consequences if he did not withdraw the sexual harassment case, DIG Banaj said.
He said six suspects gave details of Sonagazi AL president Ruhul Amin's role in the incident. They said Ruhul had assured that the police and the administration would be "managed". On March 28, Ruhul had asked all to intimidate Nusrat into withdrawing the case.
Nusrat's family alleged that after the incident, local police tried to make it look like a case of suicide. Without consulting the family, police tried to frame the case to save the culprits.
A committee formed by the Police Headquarters to probe the murder found four policemen, including suspended Feni superintendent of police SM Jahangir Alam Sarkar and suspended officer-in-charge of Sonagazi Police Station Moazzem Hossain, guilty of negligence in duty.
Sub-inspectors Abu Yousuf and Iqbal Ahmed of Sonagazi Police Station have also been suspended.
Ex-SP Jahangir had written to Police Headquarters that Nusrat's family was not cooperating with police.
A tribunal in Dhaka issued an arrest warrant against former OC Moazzem for taping a statement of Nusrat that ended up on social media. The PBI has submitted a report against the OC.
The police probe report also blamed the governing committee of Sonagazi Senior Fazil Madrasa for not taking any action against Principal Siraj despite allegations of him sexually assaulting students.
Attorney General Mahbubey Alam yesterday said the nation demands exemplary punishment of the people involved in Nusrat's murder.
"I hope the trial proceedings against the accused starts soon," Mahbubey said.