Mediterranean Shipwreck: 15 survivors return, kept at airport
Monowara Khatun had received a phone call from her son Rashed Mia early Monday. He said he was coming home from Tunisia.
This piece of information made her relieved.
"I just cried," the mother from Habiganj told this correspondent over phone. She was eagerly waiting for her son at home.
Rashed had left a year ago.
"I have been praying to the Almighty for his safe return," Monowara said.
Rashed and 14 other Bangladeshis landed at the Hazrat Shahjalal International Airport around 5:30am yesterday. They are the 15 Bangladeshi survivors of the tragic shipwreck in the Mediterranean off the Tunisian coast on May 11. The boat was trying to get them to mainland Europe.
Even though they landed in Dhaka, their ordeal was not over. Immigration police were not letting them leave the airport as of filing of this report at 1:00am today.
Immigration police officials requesting not to be named said they were conducting preliminary investigation into how they were trafficked to Libya and attempted to cross the Mediterranean to reach Europe.
Police at the airport were also verifying the survivors' identities with the help of police stations of their localities. Most of them are from Sylhet, Habiganj, Sunamganj, and Kishoreganj.
Mahadi Hasan Fahe was waiting for his cousin Monjurul Alam Himal outside the airport yesterday evening. He said he learnt in the morning from TV footage that his cousin landed and he had been waiting to receive since 10:00am.
Fahe left around 9:00pm as the immigration police did not allow Himal of Noakhali to leave.
The Bangladesh government, in cooperation with the International Organisation for Migration, brought back the 15 survivors.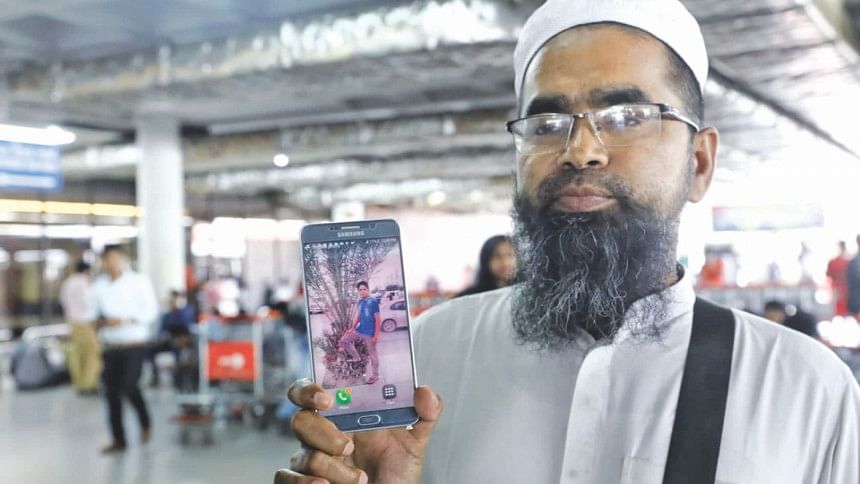 The boat they were on had around 80 migrants, mostly Bangladeshis. At least 60 of them are believed to have been killed. Bodies of four Bangladeshis have been recovered so far.
According to survivors' earlier accounts, they were in the sea for about nine hours before the boat went down. In the morning, Tunisian fishermen fished them out. They were later helped by the Tunisian navy and sheltered by the Tunisian Red Crescent.
Monowara last night said she had none who could go to Dhaka to receive Rashed from the airport.
"We spent more than Tk 9 lakh to send Rashed to Italy. We are totally penniless now," she told The Daily Star.
She said she has two school-going children and her husband is sick. Her husband had sold off land and taken out loans to manage the money for Rashed.
"Baba, please help me get back the money we spent," Monowara told this correspondent while crying.