11-year low
HSC success rate keeps falling thanks to students' poor performance in English, physics and ICT, strict evaluation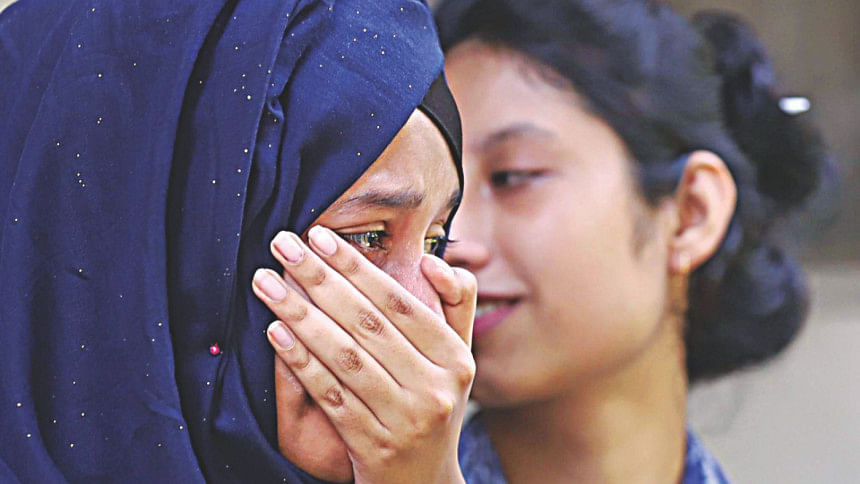 This year's HSC exam success rate is the lowest in 11 years and it dropped 2.29 percentage points from last year's 66.84 percent, owing to students' poorer performance in English, physics, and ICT.
Like in 2017, the Higher Secondary Certificate results, published yesterday, showed a drop in the number of GPA-5 achievers. The number of students who failed increased and schools with cent percent pass rate decreased.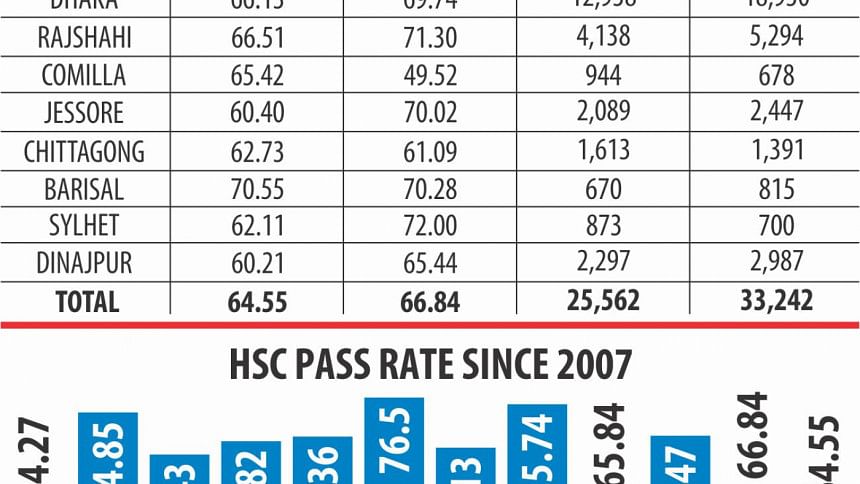 As many as 25,562 students got GPA-5 (Grade Point Average-5) this year, the lowest in eight years. Last year, there were 33,242 GPA-5 achievers.
Even with madrasa and technical boards included, the combined pass rate of HSC and equivalent exams under 10 education boards dropped -- to 66.64 percent from last year's 68.91 percent.
The number of GPA-5 achievers in the 10 boards is 29,262. Last year it was 37,969.
"The results may seem to have a negative trend, but to us it does not matter whether it's negative or positive as we've stressed on improving our standard of education," Education Minister Nurul Islam Nahid said while announcing the results at a press conference at his ministry around 1:00pm.
"Our target is to give the students better education," he said.
Replying to a query, he said, "We have published what the real result is. We asked our teachers neither to increase the marks nor decrease them. We asked them to evaluate the answer scripts properly and we're strictly following the evaluation method."
"A high pass rate draws criticism and so does a low pass rate," Nahid said.
The minister found some positive changes in the results, including the rise in the number of examinees, more students from science group, and better results by the girls.
Earlier, he handed over a copy of the results to Prime Minister Sheikh Hasina at the Gono Bhaban.
3 CRUCIAL SUBJECTS
The questions for English and physics were more difficult this year while the students of the humanities group performed badly in information and communication technology (ICT), dragging the overall success rate down, said board officials and teachers.
Analysing the data provided by the boards, it was seen that the pass rate of these subjects fell in most of the boards. Only students of Comilla Board did well in the three subjects.
In Jessore Board, the pass rate in English came down to 65 percent from last year's 72.95 percent. In Dinajpur Board, it was 65.51 percent from 70.30 percent of 2017.
The pass rate in English in Dhaka, Rajshahi, and Barisal boards also dropped and Sylhet remained unchanged.
Students of all boards, with Comilla being the exception, did worse in physics than last year.
The pass rate in physics in Dhaka Board dropped to 86.15 percent from 92.17 percent of last year. In Rajshahi, to 86.10 percent from 91.73 percent while in Chittagong Board, it dropped by around 10 percent.
Students of Comilla Board did better in physics than last year's students of the board -- pass rate 92.50 percent this year, 86.44 percent last year.
Comilla Board examinees' performance in ICT was similar. Students of Dhaka, Rajshahi, Jessore, Chittagong, Barisal, and Dinajpur boards could not do as well.
The pass rate in ICT in Dhaka Board dropped to 82.83 percent from last year's 88.54 percent. In Rajshahi, it dropped to 93.54 percent from 96.67.
Chittagong Board came out worst with the pass rate dropping by around 14 percentage points from last year's 97.89.
Students of Comilla Board did better in ICT too. The pass rate went up to 92.15 percent from 83 percent.
"All the boards were asked to look into why the students performed badly in these subjects," said an official of Dhaka Board wishing not to be named.
COMILLA SURPRISES; JESSORE, SYLHET DISAPPOINT
After performing not so well in the last two years, Comilla Board bounced back with the pass rate rising 15.9 percentage points. This made it fourth among the boards.
Md Asaduzzaman, exam controller of the board, told this newspaper that they took several measures this year following debacles of previous years.
"We had held workshops at every institution in our board and gave the students proper guidance. Besides, we did not allow students who had failed in the test examination, especially in English, to sit for the HSC exams."
However, around 27 percent still flunked English, he added.
The pass rates in Jessore and Sylhet boards dropped by around 10 percentage points this year.
The minister said apart from the respective boards, education ministry too would investigate to find out what went wrong.
Among the education boards, Barisal topped the chart with a 70.55 percent success rate.
JUBILATIONS
Colleges across the country wore a festive look ahead of the results yesterday. The results, published 55 days after the exams concluded, were available at the colleges, on the education boards' websites, and on mobile phones via text messages from 2:00pm.
Many students and their parents, who had been anxiously waiting for weeks, erupted in jubilation as soon as they received the results.
Some danced, some took selfies flashing the V-sign.
"After my father died during my SSC exams, I did not discontinue my studies. I was determined and worked hard as my father would have wanted me to," said Israt Jahan, who got GPA-5 in commerce group from Viqarunnisa Noon School and College.
Her mother Hasina Akhter was almost in tears. She said, "Although there was hardship, I wanted my daughter to pursue her studies. She received a scholarship from the college and finally her hard work paid off."
There were some gloomy faces too.
One of them was seen crying at the college. Her mother said she was crying because she had achieved GPA-5 in the SSC but got GPA-4.67 in the HSC.
"She worked hard but could not get her desired result. We don't know what went wrong. She might have done not so well in ICT," the mother said.
A total of 12,88,757 students -- 6,80,848 boys and 6,07,909 girls -- from 8,945 institutions sat for this year's HSC and its equivalent exams. Of them 8,58,801 students passed.
Of the 285 Bangladeshi students who sat for the tests in seven centres abroad, 263 passed and 16 of them with GPA-5.
WHO DID BETTER?
Like in this year's SSC exams, girls have done better than boys in HSC. Their pass rate was six percentage points better than that of the boys.
However, boys edged ahead in securing GPA-5s. A total of 15,581 boys and 13,681 girls got the highest grade.
In the eight general education boards, students from science group did the best with a pass rate of 79.14 percent, followed by 68.55 percent from business studies, and 56.46 percent from humanities.
"The number of students from science had been declining, which was alarming. But the trend has been reversed as we see the number of students studying science has been on the rise in the last five years," Nahid said.
For the students who passed, the concern now is getting into a reputed university or one of their choice. Like the previous years, there will be stiff competition as the number of spots available is lower than the number of students who passed the HSC.