100km rail lines damaged by flood
Railway requires Tk 20cr and 15 days to repair those, restore links with North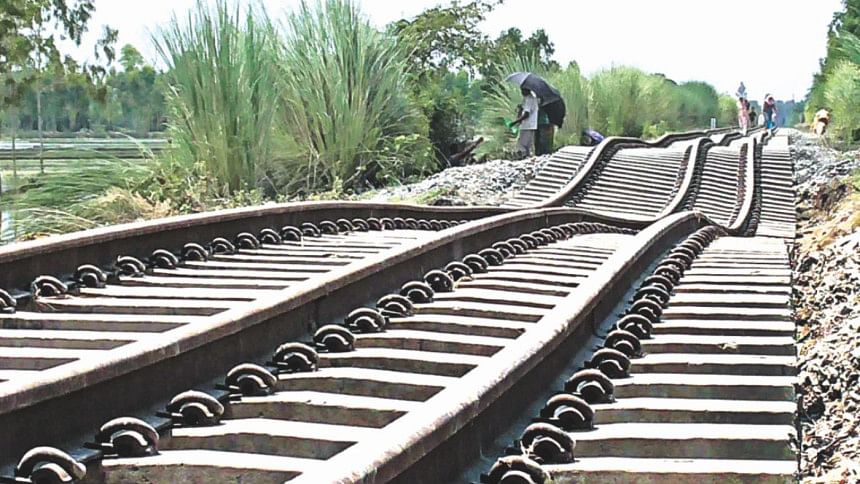 Western Railway Zone needs over Tk 20 crore to repair around 100km of rail lines damaged by the recent flood in Dinajpur, Rangpur, Lalmonirhat, Kurigram and Thakurgaon, said Bangladesh Railway officials on Monday.
They said sleepers at many points were displaced, trackbeds with stone were washed away, and rail bridges and culverts were damaged.
Services of 11 trains, two of which were intercity, remained suspended since August 13.
The officials said they required 15 more days to restore the rail communications in the affected districts.
According to the office of Western Railway Zone in Lalmonirhat, around 120-feet rail tracks were washed away in Lalmonirhat's Hatibandha, two rail bridges were damaged in Kurigram and sleepers were displaced at 20 points of 30km of rail tracks in Kaunia of Rangpur. Besides, sleepers and trackbeds of 22km of rail lines between Dinajpur Sadar and Parbatipur upazilas were either damaged or washed away, and sleepers of 4km of rail tracks between Kanchan and Baznahar in Dinajpur's Biral were damaged.
The 100km trackbeds need soil before repairs to the lines can be made, said the officials.
Officials of the Western Railway Zone said they had submitted a report on the damage to the railways ministry.
Belal Uddin, transportation officer of Western Railway Zone in Rajshahi, told journalists that operation of Dinajpur-Dhaka intercity trains, including Ekota and Drutojan Express, remained suspended since August 13 night.
Besides, rail communications in Panchagarh-Dinajpur, Teesta-Kurigram-Ramanabazaar and Lalmonirhat-Burimari also remained snapped, he added.
Ramjan Ali, chief engineer of Western Railway Zone in Lalmonirhat, said their assessment was going on. But so far they estimated that the damage to rail lines was around 100km in the five districts.
He said they were working hard to restore communications before Eid-ul-Azha.
Holidaymakers, especially from Dhaka, are likely to suffer a lot in reaching those districts to celebrate the Eid.