Fake Covid-19 certificates: Regent Group chairman, 16 others sued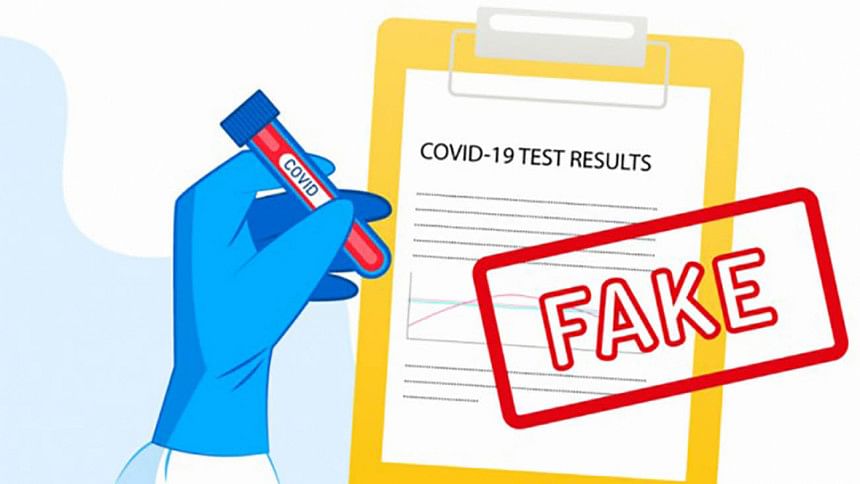 Regent Group chairman Md Shahed and 16 others were sued on charge of issuing fake Covid-19 test results and charging patients for the test and treatment.
Inspector Zulhas Mia of Rab-1 filed the case with Uttara West Police Station last night, said Sub-inspector of the police station, Yusuf Ali.
The other accused include Regent's Managing Director Masud Parvez; its Project Officer Rakibul Islam; Human Resources Officer Amit Banik; IT officers Mahbub, Shaikat, Palash; health technologists Ahsan Habib and Hatim Ali.
Yesterday, the Directorate General of Health Services (DGHS) directed the authorities of Regent Hospital to shut down their Uttara and Mirpur branches after a mobile court found discrepancies and sealed off the head office and Uttara branch of the private hospital.
The chairman, managing director and seven others are on the run while Rab arrested eight staffers during their drive at Uttara branch on Monday.
Executive Magistrate Sarwoer Alam, who led the drive, said the hospital authorities issued more than 10,000 Covid-19 test results. Around 4,200 samples were tested at different government labs, but they threw away the rest of the samples, prepared fake reports and handed those to people, he told The Daily Star.
The hospital authorities took Tk 3,500 for each test, meaning they embezzled more than Tk 3.5 crore, despite having an agreement with the government on conducting tests and providing free treatment, Sarwoer had said.
"The licence of the hospital expired in 2014. The ICU of the hospital is not up to standard, it was like a ward. We found surgical items, which expired five to six months ago, at the hospital's medicine store," he said.
The drive began after Rab received complaints about 14 reports provided by the hospital which were verified as fake by Institute of Public Health.
However, the Uttara branch's Managing Director Mizanur Rahman filed a general diary with Uttara West Police Station on July 3, claiming that a vested quarter was taking money and collecting samples for Covid-19 test from suspected patients by identifying themselves as Regent Hospital staffers.
Rab said as the hospital authorities came to know that some people made complaints, they held a press conference a couple of days ago and filed a general diary against some staffers to pass the blame on them and avoid legal action.