Solar smile for farmers
Clean energy makes irrigation easy, cheap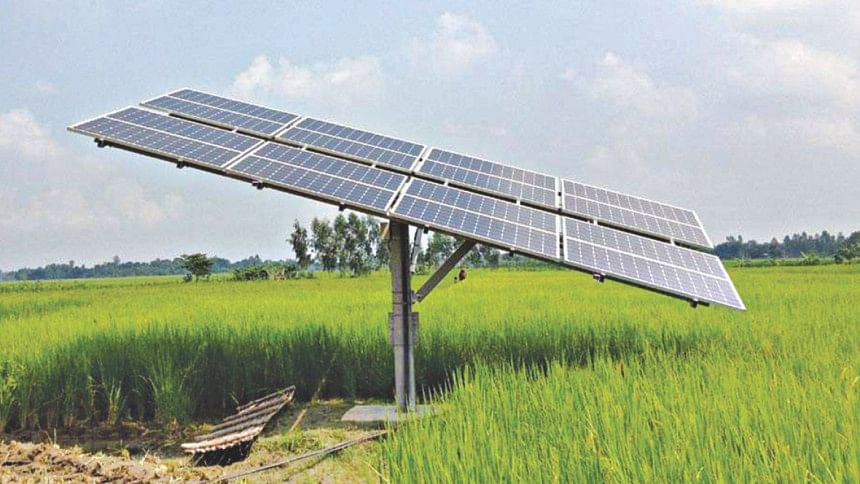 Even two and a half years ago, worry over water for irrigation would cast a shadow on Uday's hope for a good harvest.
In every Boro season, the farmer had to hire a diesel-run pump and buy diesel worth Tk 6,000 to grow crops on four bighas of land in Jhenidah's Hardevpur, a village which had no electricity until last month.
Yet, the machine could not pump out enough water due to depleting water level there, leading to poor yield.

READ MORE: Choice Organic 
Like Uday Shankar Biswas, some 300 other farmers suffered the same fate every Boro season but things changed drastically after several solar powered pumps were installed in that remote village in January 2015.
Now, the farmers spend much less to get the water they need. This year, a bumper yield and a good profit brought a huge smile to their faces.
"Can you imagine many of our farmers harvested up to 40 maunds of hybrid paddy from a bigha of land? Our famers had never been that happy before," said Uday.
Talking to The Daily Star, Nazmul Alam, another farmer, said the solar-driven pumps helped them grow three varieties of crop -- Boro, Aman and Robi and the cost was comparatively low. To use the pumps, a farmer has to spend Tk 5,000 during the Boro season, Tk 1,400 and Tk 600 during the Aman and Robi seasons, he added.
Like in Jhenidah, thousands of other farmers across the country are getting benefits from such pumps, which are becoming popular day by day.
With the world leaning towards renewable energy, the use of solar energy has also increased considerably in recent times in Bangladesh as the energy is environment friendly and comparatively cheap, say experts.
The use of solar energy in irrigation is gaining popularity owing to cost-effective financing and an innovative business model. It has opened up a new door in the agriculture sector as farmers can boost their farming yields through irrigation round the year, they said.
In addition to benefiting the farmers financially, the pumps contribute to reducing the gradually increasing pressure on power supply grids.
READ ALSO: Ruin nature, ruin planet
Experts say electricity is the key to economic growth and development for a country like Bangladesh. And to reduce the burden on the national grid, the country needs to develop solar energy to meet the demand for fuel without affecting the environment.
"The use of solar energy in irrigation has a good prospect in Bangladesh," said Siddique Zobair, member of Sustainable and Renewable Energy Development Authority (SREDA). "It [use of solar panel] is reducing the use of diesel and it is good for the environment."
"Solar driven irrigation models are usually run by experts and as a result, use of water for producing per kg of paddy is relatively lesser than other irrigation systems," he said.
Siddique said during the Boro season, the demand for water is high and solar irrigation could be of great help. He, however, said irrigation driven by electricity is cost effective compared to solar panels.
The SREDA member, however, said the country, like elsewhere in the world, has to go for renewable energy and better energy management.
According to the official data, Bangladesh's capacity of power generation is around 15,000MW, and generation is some 9000MW, while the target is 20,000MW by 2020 and 40,000MW by 2030.
Of the amount produced now, renewable energy contributes around 1.5 percent though the government has a target of producing 10 percent electricity from renewable energy by 2020, Siddique said.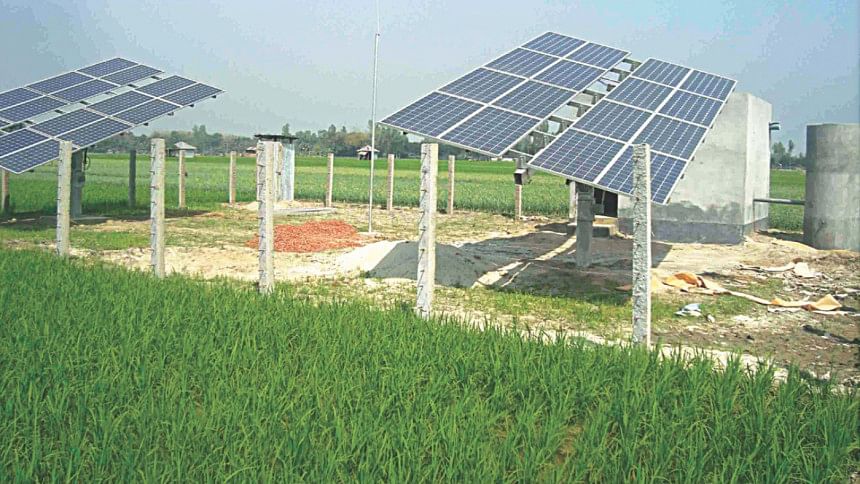 However, imposition of 10 percent duty on solar panel, as proposed in the budget for FY 2017-18, may strike a blow to the plan, he said.
"If the duty comes into effect, our efforts will face troubles. We have to renegotiate all the contacts we have signed so far. Price of solar panel-driven electricity will increase too," he said.
Abdul Matin, general secretary of Bangladesh Poribesh Andolon, an environment rights group, found the use of solar panel in irrigation "a very good initiative."
READ MORE: Same old story at Tangail Sal forest
"Solar energy is a dream for Bangladesh ... It is good for the environment too," he said. Matin, however, said there should be system for dumping batteries of solar panels, so that the environment was not harmed.
Solar energy-based irrigation project started in Bangladesh in 2010 and Infrastructure Development Company Ltd (IDCOL), a non-bank financial institution, bankrolls renewable energy projects.
IDCOL has so far installed 613 solar irrigation pumps and it has plans to install another 400 to 500 ones within this year, Md Enamul Karim Pavel, head of renewable energy of IDCOL, told The Daily Star yesterday.
"Demand for solar irrigation pumps is increasing day by day and we have plans to set up more than 1500 pumps within 2018," he said. Pavel, however, said imposition of import duty may create problem.
"The programme is intended to provide irrigation facility to those who run pumps with diesel and thereby reduce dependency on fossil fuel," he said adding that the World Bank and several other organisations were supporting the initiative.