Plant trees, save environment
PM urges all, opens nat'l tree plantation campaign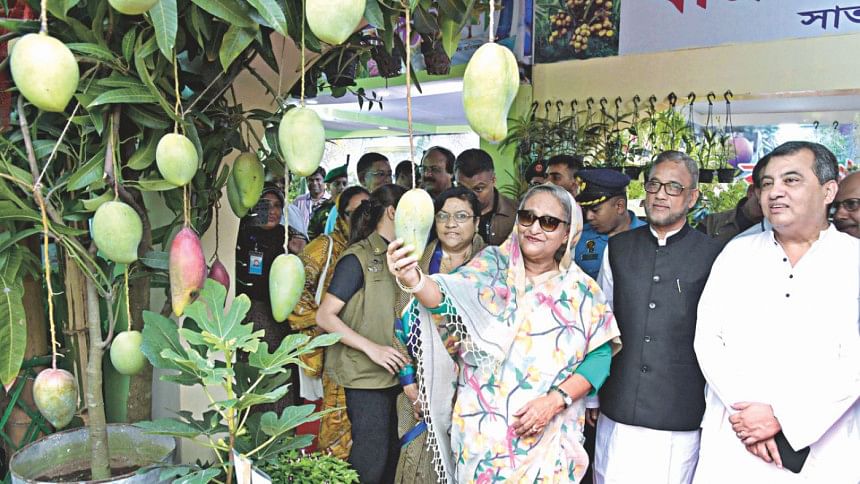 Prime Minister Sheikh Hasina yesterday urged all to plant and nurture saplings in their respective workplaces and houses in an attempt to protect the environment.
She made the call while inaugurating the programmes of the World Environment Day 2019 and National Tree Plantation Campaign 2019 at Bangabandhu International Conference Centre in the capital.
She also urged everybody to plant at least three saplings -- a fruit tree, a timber tree and a medicinal tree.
The theme of this year's World Environment Day is "Air Pollution" with the slogan -- Beat Air Pollution.
During the programme, the PM handed over the National Environmental Award 2019 to three individuals and two organisations under two categories for their contributions to the environment.
Chairman of Palli Karma-Sahayak Foundation Dr Qazi Kholiquzzaman Ahmad, noted Water and Climate Changes expert Prof Ainun Nishat and Scientific Adviser of Bangladesh Jute Mills Corporation Dr Mubarak Ahmad Khan received the environmental awards under the individual category.
Bangladesh Forest Research Institute and Envoy Textiles Limited received the environmental awards under the organisation category.
The Prime Minister also handed over Bangabandhu Award for Wildlife Conservation 2019 and Prime Minister's National Award for Tree Plantation 2018 at the event.
Hasina said her government's target is to bring 20 percent land of the country under forestation. The government is taking various measures to accomplish the target, she added.
The PM also asked the development planners to consider the protection of water bodies while undertaking any development project.
According to the World Health Organisation, some 4.2 million people die every year as a result of exposure of ambient (outdoor) air pollution, while 3.8 million die due to household exposure to smoke from dirty stoves or fuel, she said.
With the modernisation and rise in technology use, people damage and pollute the environment in many ways to make their lives comfortable, she said.
She asked the researches to consider the environmental damages caused by the use of modern equipment and technology in their study.