Take action against single-use plastic
Environment ministry urges govt offices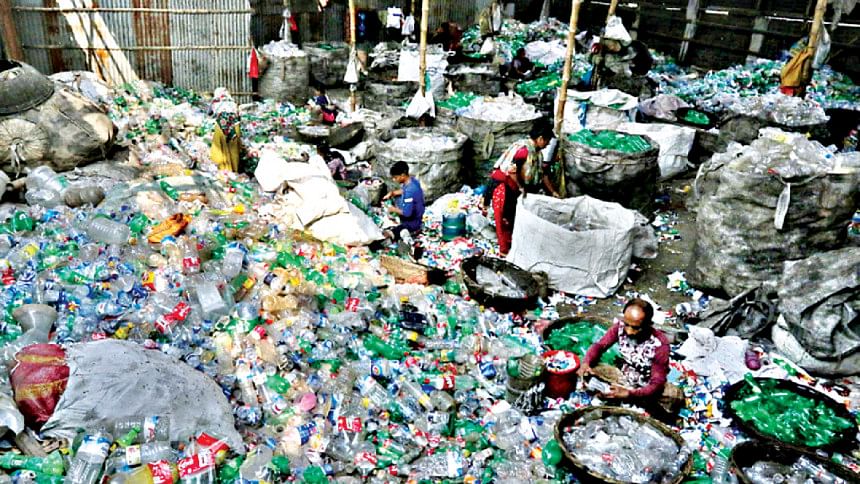 The Ministry of Environment, Forest and Climate Change has asked all government offices at the district level and coastal areas to take measures for stopping the use of single-use plastic.
Issuing a circular yesterday, the ministry requested respective offices to hold regular meetings with stakeholders to increase awareness about plastic and polythene pollution.
Contacted, Dr Syed Shahjahan Ahmed, deputy secretary at the environment ministry, said the ministry held a virtual meeting with deputy commissioners in January to curb the use of plastic and polythene.
In January 2020, the High Court issued a directive to the Department of Environment (DoE) to put an end to the use of single-use plastic in hotels, motels, and restaurants in coastal areas within two years.
A recent study by the civil engineering department of Chittagong University of Engineering and Technology (Cuet) says Chattogram city produces 249 tonnes of plastic waste every day -- 56 percent of which remains uncollected. Most of them are sachets, single-use utensils, and personal-care items.
The hazardous effects of plastic -- particularly single-use plastics -- on ecology, aquatic and marine life, soil fertility, agricultural production, and human health and safety are violating citizens' constitutional rights to life, health and environment, according to the rights organisations which filed the petition with the HC.
In the petition, they also said Bangladesh generates around 3,000 tonnes of plastic waste every day, quoting the DoE.
A joint study carried out by the DoE and Waste Concern found that 36 percent of plastic wastes are formally recycled, while 39 percent are dumped in landfills. The remaining 25 percent leaks into the environment, eventually flowing into the Bay of Bengal through the rivers.
Despite the January 2002 ban on polythene bags, throwaway plastic bags are freely available across the country.
Contacted, Deputy Commissioner of Khulna Khandaker Yasir Arefin said the district administration will take action in light of the ministry's directives.
"We conduct regular drives against polythene, and we plan to strengthen them," he added.
Seeking anonymity, an official said the environment ministry also requested the cabinet division to stop using single-use plastic in the government offices in Dhaka, including the secretariat.
However, no impact of the call was seen during recent visits to the secretariat.
In a separate circular yesterday, the ministry also asked the deputy commissioners to shut down all illegal brick kilns immediately to prevent air pollution.
"Directives are being issued to shut down all the illegal brick kilns, especially the most harmful ones on a priority basis… Deputy commissioners are asked to report to the ministry regarding their drives against the illegal brick kilns," it reads.