Heavy rain exposes city's poor drainage
Many areas remain waterlogged even 24 hrs after downpour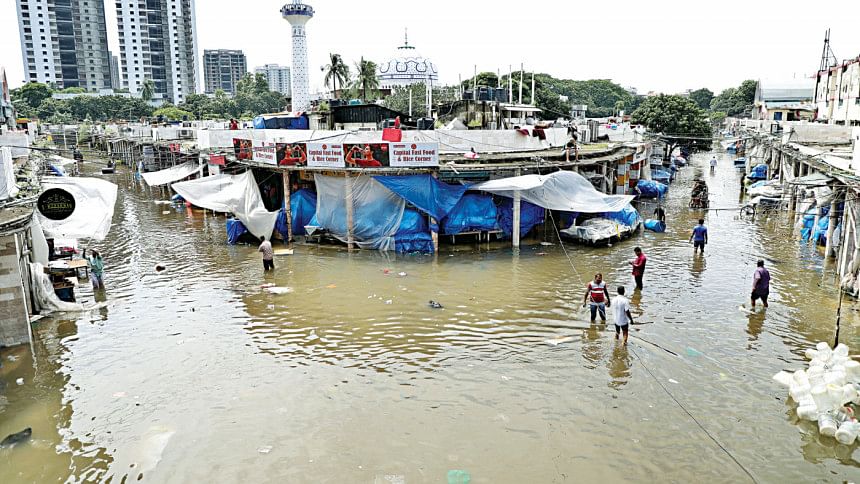 Thursday night's incessant downpour has exposed the capital's poor drainage system as different neighbourhoods remained waterlogged until last night.
The lives and business activities of thousands of residents were disrupted in many parts of Bangshal, Chankharpul, New Market, Panthapath and Kalshi areas that remained inundated in waist-deep water yesterday.
"This is an unlivable city. I don't know what the authorities are doing while rainwater remains stagnant on the streets. They are incapable of doing their work," said Bangshal resident Faruk Ahmed as he walked knee-deep in water that looked filthy and had a repugnant smell.
Shopkeepers in the area were seen draining water out of their shops and trying to salvage the wet grocery items until late in the afternoon.
Buses and three-wheelers barely operated in old Dhaka compounding the residents' sufferings.
Prof Mujibur Rahman who teaches civil engineering at Buet said the city's drainage system often proves to be inadequate during an ordinary rain. "It is no wonder that this system has utterly failed to drain the water after Thursday's torrential rains," he added.
The city saw 113 millimetres (about 4.45 inches) of rain from 6:00pm to 12:00am, the highest in a day this year, said Tariful Nawaz Kabir, a meteorologist at the Met office.
One mm of rain refers to the depth of rain that would be received in each square metre of space.
Many neighbourhoods in Rampura, Badda, Basahbo, Goran, Kazipara, Mirpur 12, and several dormitory premises on Dhaka University campus remained inundated until yesterday afternoon.
Dhaka Medical College Hospital's emergency section, morgue, and the police outpost remained flooded until yesterday morning, officials said.
Shops at New Market, which sees thousands of shoppers thronging on weekends, did not even open until the evening.
Ariful Haque, owner of Rumky Watch Garden on the ground floor of the market, said the shelves and fittings at his shop were damaged.
"What's more frustrating is that the authorities are not doing anything about our sufferings," he told The Daily Star.
Helal Uddin, president of Bangladesh Dokan Malik Samity, said the rains and subsequent flooding had presumably damaged goods worth crores of taka.
At many kitchen markets, traders could not open their shops even after the waters receded because the floors were covered in a thick layer of mud.
As incessant rains began to lash the city Thursday evening, the streets got inundated soon. Vehicles broke down in the middle of streets, resulting in congestion and gridlocks that in some places could not be cleared until the break of day.
People risked falling into manholes without lids as they waded through waist-deep water. Many were seen draining bucketfuls of water from their cars.
At a shop of retail chain RFL Best Buy in Shenpara, Mirpur, Mehedi Hasan, the manager, was draining water from his store after 3:00pm yesterday.
He said the electronics on the bottom shelves got damaged.
Grocery store owners in the area said their refrigerators went out of order because of the inundation.
Dhaka North City Corporation CEO Selim Reza said fixing the problem of waterlogging would take time because the canals through which water would have flowed to the rivers have been either clogged by garbage or filled up by encroachers.
Dhaka South City Corporation CEO Mizanur Rahman and Superintendent Engineer Khairul Baker could not be reached over the phone.