SUNKEN
Capital deluged in incessant rain; traffic chaos on waterlogged streets causes public sufferings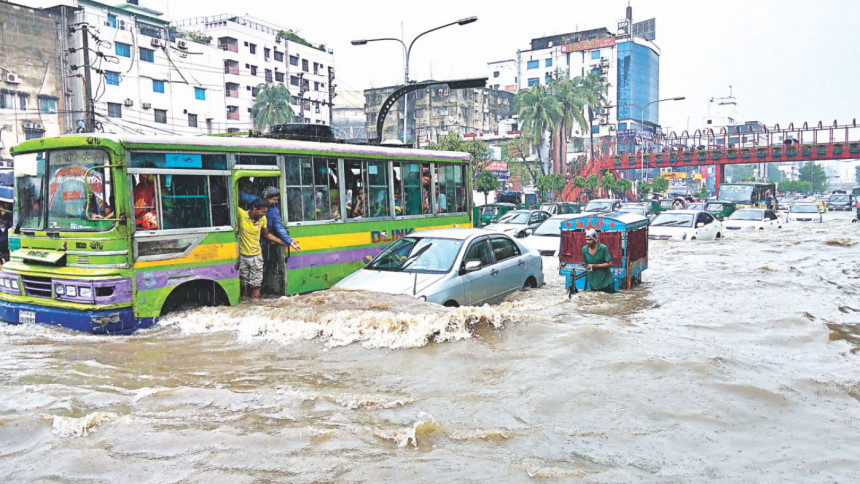 It was a city under water. North, south, east or west, there was hardly any thoroughfare, lane or by-lane that was not submerged.
This is what the city dwellers woke up to yesterday, as incessant rain turned the capital into a swamp, paralysing normal life and causing a traffic chaos.
The monsoon rain began in the early hours and continued till afternoon with brief pauses. The Met office recorded 64mm of rainfall in 12 hours from 6:00am yesterday.
City planners say it is the inadequate storm-water drainage system, not the rain, that sank the capital.
At places, human waste and dirt came out of sewers.
City dwellers suffered a traffic nightmare as they remained stuck in gridlock for hours in the rain. The waterlogging brought the city's traffic to a standstill.
Buses, cars and three-wheelers haphazardly inched forward throughout the day.
Traffic policemen, who were manning some important intersections, seemed helpless.
Students off to schools and people going to work braved rain and waded through the water on the streets. There was a dearth of transport as well. Hundreds of people, absolutely drenched, were seen waiting for vehicles.
Many guardians carried their children on their laps or shoulders to and from schools.
The authorities of Viqarunnisa Noon School and College sent text messages to the parents, notifying them that the institution would remain closed for the day "due to natural calamity".
Many passengers had to walk miles after getting off buses stuck in tailbacks in major thoroughfares, including Kazi Nazrul Islam Avenue, Mirpur Road, Manik Mia Avenue and Pragati Sarani.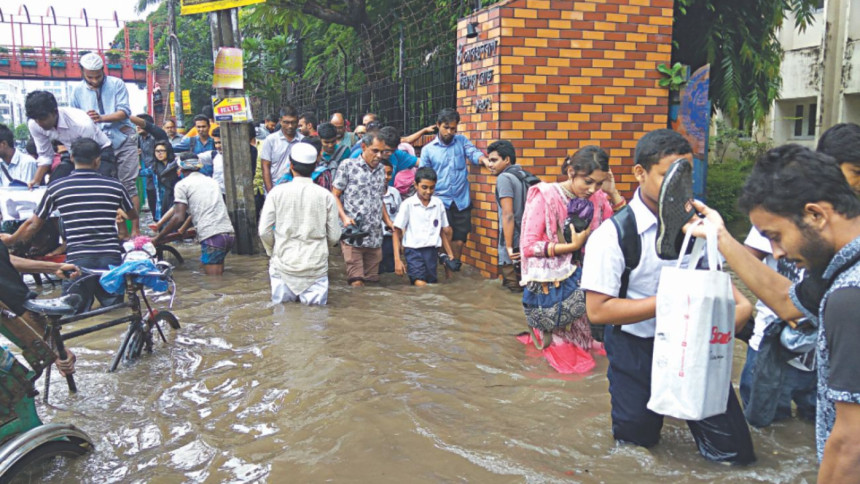 The sufferings of the commuters worsened due to the road digging works of different utility service providers in different parts of the city.
Maksud Reza, a private banker living in Dhanmondi-27 area, said he could not reach his office in time due to the traffic.
"I had to struggle a lot to get in a bus in the morning, but got stuck in jam for hours. It took more than three hours to reach my office in Banani where I found knee-deep water."
"The situation is becoming unbearable every day. I don't think the authorities are much worried about it," he said.
Farhana Ahmed, who works at a firm  in Farmgate, said, "I can reach my office from my home in Eskaton area in just 10 minutes. But today, it took over two and a half hours."
Schoolchildren, many of whom had exams, and women were seen negotiating dilapidated roads and footpaths smeared with filth.
Sharmin Deeba, who lives on Indira Road area in Farmgate, said she faced difficulties taking her son to school in Dhanmondi as all the roads in her area virtually turned into waterbodies.
"The moment we stepped out of my home we found ourselves in a deep sea. The road in front of my home was waterlogged. I literally had to beg a rickshaw puller to take us to Dhanmondi," she said.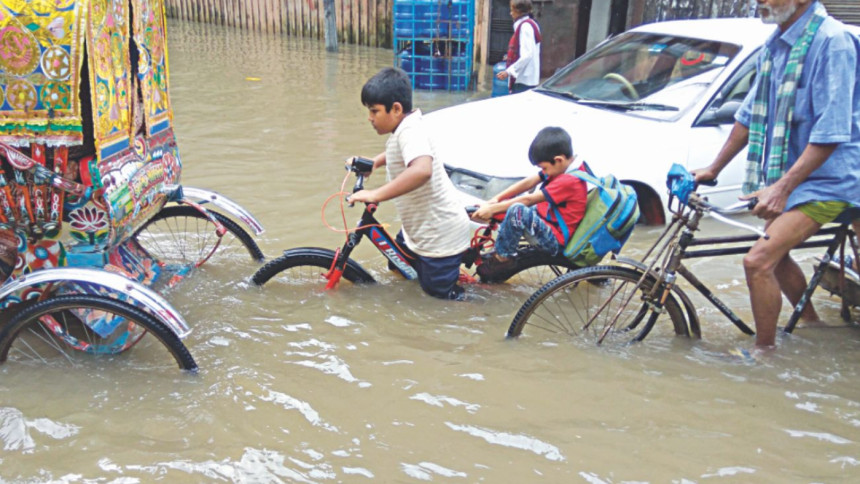 SM Rezaul, a private service holder, said, "It took three hours to go to Farmgate from Bashundhara Residential Area through Gulshan and Tejgaon. It usually takes an hour."
"Seeing the weather, I did not dare bring my car. I changed rickshaws five times to go to my office," he said.
Due to the torrential rains, many areas in Rajabazar, Kathalbagan, Bhutergoli, Kalabagan, Tallabagh, Dhanmondi, Sukrabad, Tejkunipara, Karwan Bazar, Green Road, Azimpur, Mirpur, Mouchak, Malibagh, Motijheel and Gulistan went under knee to waist-deep water.
The premises of the Secretariat on Abdul Gani Road and the area in front of parliament on Manik Mia Avenue were also flooded.
Emran Hossain, an official at the Cabinet Division, said, "I haven't seen such waterlogging here in the last 13 years."
People in Old Dhaka also had a terrible day. Areas including Postagola, Faridabad, Gandaria, Laximibazar, Tantibazar and Bangshal went under knee-deep water.
Meanwhile, many took to social media to talk about their sufferings or express their anger at the waterlogging.
"How long will it take for the authorities to wake up? How long we will have to suffer this way?" Akib Javed, who works at a firm in Mohakhali, wrote on Facebook.