New frog on the block!
Researchers discover new-to-science species from country's south-eastern forests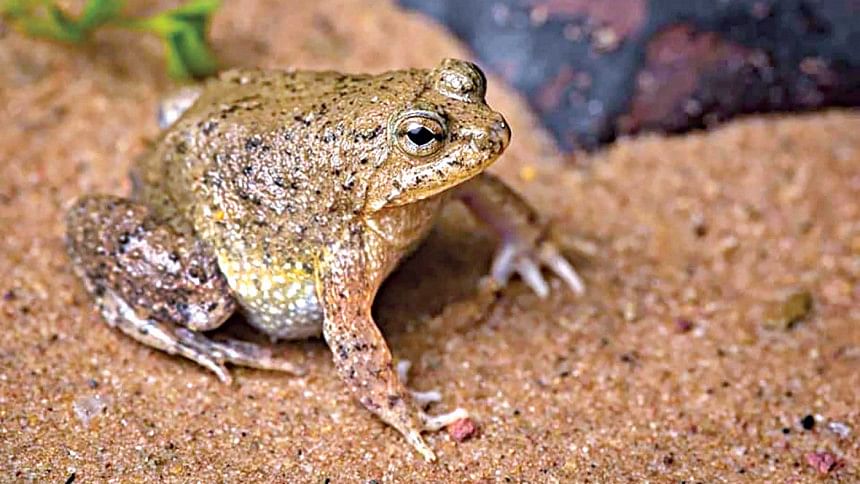 The worldwide scientific community is too often bombarded with bad news -- from first time ever rains at the Greenland ice summit to the Intergovernmental Panel on Climate Change's (IPCC) doomsday forecast, there is hardly ever a reason to celebrate.
Yet for Bangladesh's nature enthusiasts, there is cause to celebrate. Researchers have recently discovered and confirmed a new-to-science species of frog from Bangladesh's south-eastern forests -- Chattogram and Cox's Bazar.
It is a "ribbiting" story of a group of young researchers scouring the lowland, mixed-evergreen tropical forests of Bangladesh in the height of monsoon to collect specimens that they believed might lead to a new discovery. And their hunch was right.
The stocky, semi-aquatic frog, specimens of which were collected back in 2019, has been named Phrynoglossus swanbornorum or Swanborn's Puddle Frog in English and Chattgai ar gata bang in Bangla, according to the scientific paper titled "A new species of Phrynoglossus Peters, 1867; Dicroglossidae from southeastern Bangladesh, with comments on the genera Occidozyga and Phrynoglossus."
The paper was published in the international peer-reviewed journal PeerJ on the 19th of this month.
The authors are Creative Conservation Alliance's (CCA) Hassan Al-Razi, Marjan Maria, Shahriar Caesar Rahman Fahimuzzaman Nobel, Scott Trageser, and Jagannath University's Assistant Professor of Zoology Department Md Asaduzzaman.
"It has been named in honour of the members of the Swanborn family, who have been supporters of Creative Conservation Alliance's conservation efforts," says Shahriar Caesar Rahman, who is also the chief executive of CCA.
Back in 2019, the team collected specimens, with permission from the Bangladesh Forest Department -- four male adults and one female adult -- from Chattogram's Chunati Wildlife Sanctuary. They also collected photographic evidence and frog calls from Teknaf Wildlife Sanctuary situated in Cox's Bazar district.
It is hard to differentiate between species of frogs and oftentimes these croaky little creatures go misidentified. That was the case for Swanborn's Puddle Frog. All this time, it was thought to be another species called Occydoziga lima. But the authors knew Occydoziga lima's distribution was around Indonesia and this particular frog's call was different.
After collection of specimens, authors Hassan Al-Razi and Marjan Maria, got down to the nitty gritty. To confirm this indeed was a new species, they needed to have DNA confirmation.
"All the lab-work was completed in Bangladesh. This is because as signatory of CITES, we cannot easily send gene samples out of the country and to avoid any tardiness, we went about it locally," says Hasan Al-Razi.
The researchers finalised the DNA sequencing at a lab in Banani named Invent Technology, confirms Marjan Maria, another author.
They then submitted the DNA sequence to GenBank. The GenBank sequence database is an open access, annotated collection of all publicly available nucleotide sequences and their protein translations.
"After comparing the gene sequence with other species under both Occidozyga and Phrynoglossus, we could confirm that this indeed is a completely new species. Each species is designated a unique accession number and if a new species is determined, it gets a new one from the GenBank so no two numbers are the same," says Hasan Al-Razi.
The discovery has added a 13th species to the genus of Phrynoglossus, and has also added to the world's knowledge on amphibians.
Understanding and knowing the range and distribution of amphibians is crucial for the ecosystem as they act as important indicator of the health of that ecosystem, says Shahriar Caeser Rahman. He also emphasised on the need for further research as current data puts the newly discovered frog as Endangered according to a particular category of International Union for Conservation of Nature (IUCN).