"Went for fuel price hike as I don't want to exhaust funds"
Nasrul Hamid says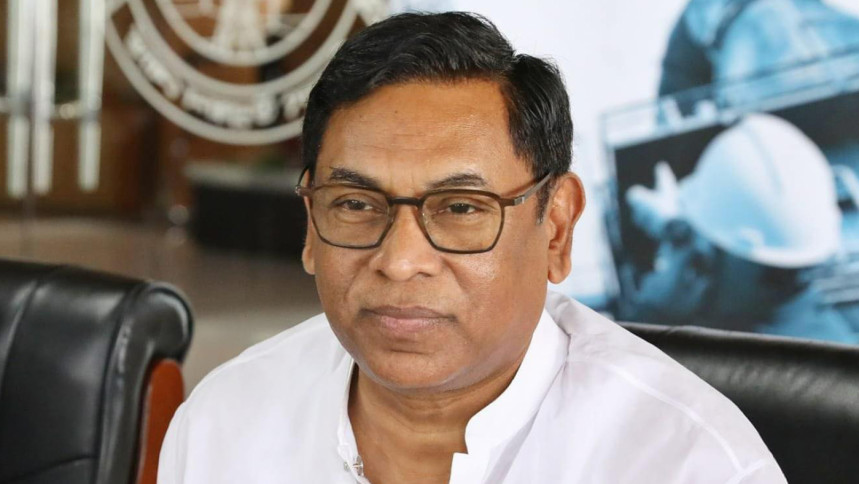 To justify the latest fuel price hike, the government has said prices in the global market are on the rise. However, in reality, the global oil prices are seeing a downward trend at present. The government also said it has to provide a huge amount of subsidy for fuel, while it receives a 37 percent tax from oil imports. Which means, prices at retail level include the 37 percent tax paid for the imported oil, and then the government says it provided subsidy.
Bangladesh Petroleum Corporation (BPC) also earned profits since 2014 when it did not adjust oil prices while global prices fell sharply. All that profit earned was later spent in government expenditures. And now, BPC says its funds will be exhausted if fuel prices are not increased.
In the wake of fuel price hike in the country, The Daily Star spoke to Nasrul Hamid, state minister for power, energy and mineral resources, to discuss the situation.
TDS: You have said fuel prices have been adjusted. You did not lower prices when global oil prices fell, but hiked prices when global prices increased. Why is that?
Nasrul Hamid: We will definitely lower the price when global prices will fall. The question is, at what price.
When price of diesel was 170 dollars, we did not adjust the price then. I was waiting, hoping for the situation to improve. In general, BPC starts incurring losses whenever fuel price goes higher than 79 dollars per barrel. The price went up as high as 170 dollars a barrel. BPC then told me, "Sir, we want to adjust the prices." If we adjusted the prices then, diesel price would go up from Tk 80 per litre to Tk 160 per litre. I told BPC to wait a while and then adjust the prices. BPC has already incurred losses of over Tk 8,000 crore from its own funds.
TDS: Own funds as in the profits earned by BPC?
Nasrul Hamid: The profits earned by BPC have been spent on different development projects. It also had to spend on subsidies, and in adjusting VAT and taxes. Even after the taxes and VAT adjustments, we still owe Tk 20-21 thousand crores to the government.
The point to be considered is, at what global price shall we lower the prices here. We have to keep in mind that the cost to BPC is 79 dollars. We import diesel the most, and there is not much concern about the rest. About 90 percent of our diesel imports are used in transport, irrigation and others. The government pledged to provide subsidies for irrigation, but there would not be any subsidy in the transport sector. So, we were waiting for the situation to improve. Then the dollar price began to rise, which meant there will be more losses. I proposed to lower the taxes paid by BPC and the VAT and taxes imposed on oil imports.
TDS: The government collects revenue from around 37 percent tax on fuel. If it were lowered then the prices may not have to be hiked.
Nasrul Hamid: I did propose to the government to lower the taxes. But the government refused, saying this revenue is used in different sectors. On the other hand, my funds are being exhausted. Meanwhile, per litre diesel price in India went up to Tk 114, while in Dubai it is Tk 122, and I was selling it at Tk 80 here. I said that we would not use diesel to produce electricity, and hence lowered power generation by 1,000 MW. Still the demand for diesel did not reduce. This means, if there is a difference of Tk 50-80 in per litre diesel price between India and Bangladesh, there is a chance of a huge amount of diesel being smuggled across the border.
TDS: So the step to conserve diesel use by shutting diesel-run power stations was not successful? 
Nasrul Hamid: We are conserving in our sector, but in the transport sector there was no conservation. About 90 percent diesel is used in shipping, transport and irrigation. We can leave out irrigation since there is government subsidy there. But in the other two sectors, I have been saying over the last one month to ensure austerity in fuel consumption by using cars less. In advanced economies, they are using one car for four persons. UK is asking people to use less electricity and gas.
TDS: Could you incorporate these measures such as using one car for four persons at the government level? Government officials who have more than one car at their disposal, are they using any less?
Nasrul Hamid: I am not overseeing the whole government, I can only speak about my sector, where we are trying to reduce use of cars. Nonetheless, if we all do not take responsibility, how far can a minister go alone? He won't be able to guard all the cars, right? Everyone has to do it. Germany has lowered their gas consumption by 20 percent.
The thing is, nobody listens here. We want to emphasise that the price we have adjusted is lower compared to the previous adjustment. We kept diesel price at Tk 114 to adjust it with India.
TDS: What about the possible price hike of essentials and transport fares following this fuel price hike?
Nasrul Hamid: We sat with transport owners' association a month back. BRTA has a committee to fix fares. We told the transport owners that with Tk 34 hike in diesel price per litre, their cost will go up by 26 paisa per passenger. Now, BRTA fixes price as per its formula, and if that enables transport owners to hike fares by Tk 5-10, that will be illogical. Shipping owners' association told me they would abide by BIWTA's directives.
But now I found they are suspending transport operations. This is bad. I don't think they should be blackmailing like this.
I spoke to Road Transport and Bridges Minister Obaidul Quader in this regard. He said he was going to hold a meeting in this regard in the afternoon (August 6).
TDS: The process to hike prices through administrative decision should follow a public hearing at consumer level, which is never carried out. Is that right?
Nasrul Hamid: The prices had to increased several times in the readjustment process, since the market is now volatile. Now, if we have to hold public hearing with a 90-day notice to increase price every time , it will become problematic.
TDS: As per law, BERC is supposed to be increasing or adjusting prices. Without having any discussion, you are raising prices from the ministry. Isn't that a violation of the rule?
Nasrul Hamid: In one sense it is a violation, but in another sense, it is not, since at present liquid fuel is kept under the ministry's jurisdiction.
TDS: Earlier when global oil prices fell to 40-50 dollars, there was hint of lowering domestic fuel prices. But you did not.
Nasrul Hamid: As I said, it was like pouring water on a drowned mouse. The government told us to manage paying back the funds we had taken previously.
I went for the decision to hike prices because I don't want to exhaust the funds. Hence, I told the government and BPC that we shall go for price adjustment. After all, we would have to import and maintain the supply chain.
TDS: So, will prices be lowered when the global price falls to 70 dollars a barrel?
Nasrul Hamid: Definitely we will.