A black day in the history of fuel prices
Record price hikes mark an anti-people policy shift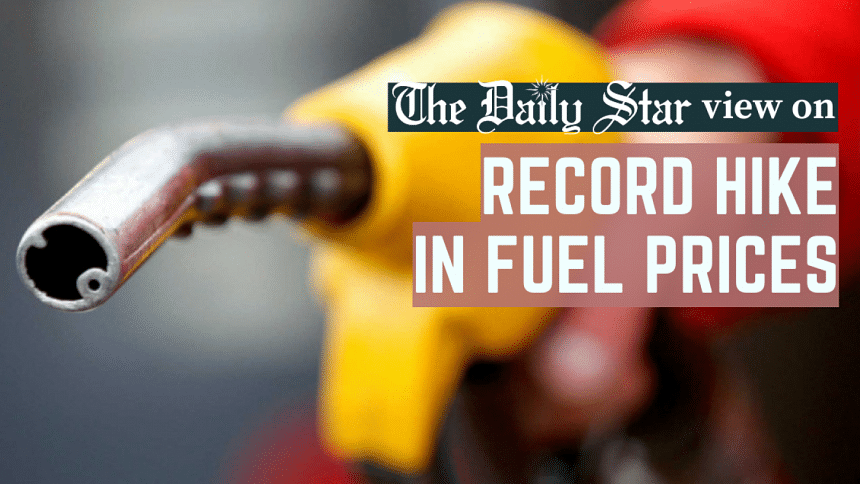 We're alarmed by the government's decision to increase fuel prices by up to 51.7 percent, the highest such increase in the country's history. At a time when people are already undergoing tremendous hardship because of sky-high food prices and galloping inflation, this will make life much more difficult for them. As per the new price chart that came into effect on August 6, each litre of octane now costs Tk 135 – an increase of 51.7 percent or Tk 46 from the prevrious rate of Tk 89. Each litre of petrol costs Tk 130 – an increase of 51.1 percent or Tk 44 from the prevrious rate of Tk 86. Meanwhile, the prices of diesel and kerosene reached Tk 114 per litre from Tk 80.
Officially, the reason cited for this extraordinary move is "price adjustment", which the government was "forced to do" since fuel prices in the international market were a lot higher than that in Bangladesh. A vague reference was also made to the threat of oil smuggling because of lower prices in the country. Unofficially, though, it has been suggested that this will help fulfil a key condition of the International Monetary Fund (IMF) from which Bangladesh is seeking a USD 4.5 billion loan or "bailout", as some experts called it, amid the ongoing economic crisis. The IMF loan is apparently contingent upon, among other conditions, the withdrawal of subsidies from the energy sector.
Whatever the reason, however, from the point of view of ordinary citizens, the government has struck an unbearable blow even though, mere hours before the announcement, the state minister for power and energy had hinted at a "reasonable" and "bearable" level of price increase. In recent times, the government has expressed increasing reluctance to bear subsidies in different sectors. In November 2021, it hiked diesel and kerosene prices from Tk 65 to Tk 80 per litre – which, however, led to a 27 percent increase in bus fares, and a 35 percent increase in launch fares. On June 5, wholesale gas prices were increased by nearly 23 percent. Last week, prices of urea fertiliser were hiked by 37.5 percent, in a blow to farmers, many of whom suffered losses from recurring floods and low crop yields. Prices of water, electricity and gas are likely to rise further soon.
Usually, when the government talks about the burden of subsidies, somehow it is always shifted onto ordinary consumers, as if it is their fault, even though the pressure can be largely offset by saving money wasted in corruption, mismanagement, "system loss" and ill-planned projects. The latest price hikes also make little sense because international fuel prices are currently on the decrease, a trend that experts say will continue. Why, then, would the government take this anti-people move? It will no doubt cause further inflation, shooting up already-high transport fares, prices of essentials, and production costs. People will have to further tighten their belts. And the pain that all this will cause is indescribable.
We urge the government to reconsider its decision and follow the suggestions of experts to undertake pro-people deficit adjustment reforms.