PM opens installation of 2nd reactor at Rooppur nuke plant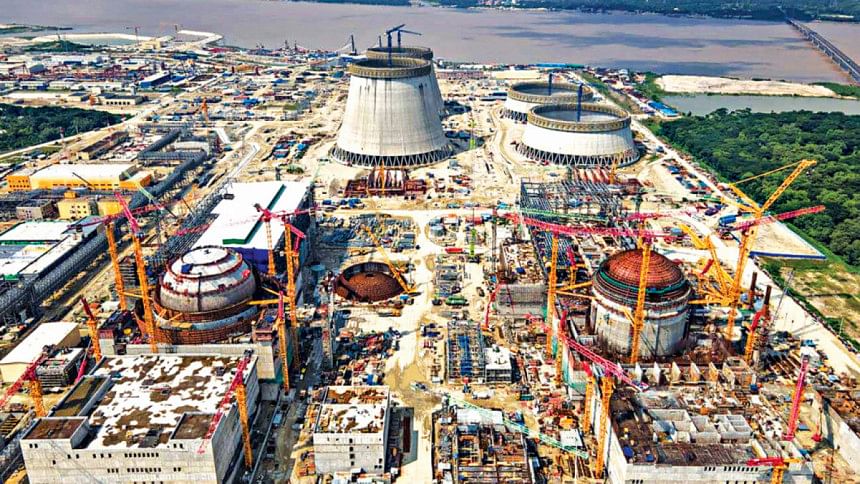 Prime Minister Sheikh Hasina today (October 19, 2022) inaugurated the installation of the second and final reactor at the country's first Rooppur nuclear power plant.
The reactor pressure vessel was installed at the second unit of the 2,400 MW Rooppur nuclear power plant (RNPP).
She joined the programme virtually from her official residence Gono Bhaban while it was held in Ishwardi of Pabna.
The country's lone nuclear power plant, being constructed at Rooppur in Ishwardi at a total cost of US$ 12.65 billion, has two units with a power generation capacity of 1200 MW each.
In October last year, the prime minister inaugurated the reactor pressure vessel of the plant's first unit.
According to the Rosatom, the Russian contractor of the project, the VVER-1200 reactor vessel passed the input control in accordance with all regulatory requirements before its installation today.
Rosatom officials said the operation to install the VVER-1200 reactor vessel of the second power unit in the design position was carried out in several stages.
A Liebherr-11350 heavy crawler crane lifted the reactor vessel onto the transport portal of the power unit.
Then, on a special transport trolley, it was moved to the central hall of the reactor compartment. Further, with the help of a polar crane, the reactor vessel was turned into a vertical position and installed on a support ring in the reactor shaft.
According to the RNPP officials, the first unit of the project has already made 70 percent progress in physical work, and with the installation of the reactor pressure vessel at the second unit the project will have overall 53 percent of physical work completed.
"With the installation of the reactor pressure vessel, the project's second unit's physical work will achieve over 45 percent of the target", Dr Md Shawkat Akbar, the project director in the country's biggest scheme in power generation, told UNB yesterday (October 18, 2022).
The government undertook the project in 2009 and after a long discussion signed an $11.385 billion credit agreement with Russian Federation on July 26 in 2016 to implement the project through appointing the Russian state nuclear energy firm-Rosatom--as its contractor.
In addition, on August 6, 2019, Bangladesh signed a nuclear fuel supply agreement with Russia for the project.