Record $10b foreign aid used last fiscal year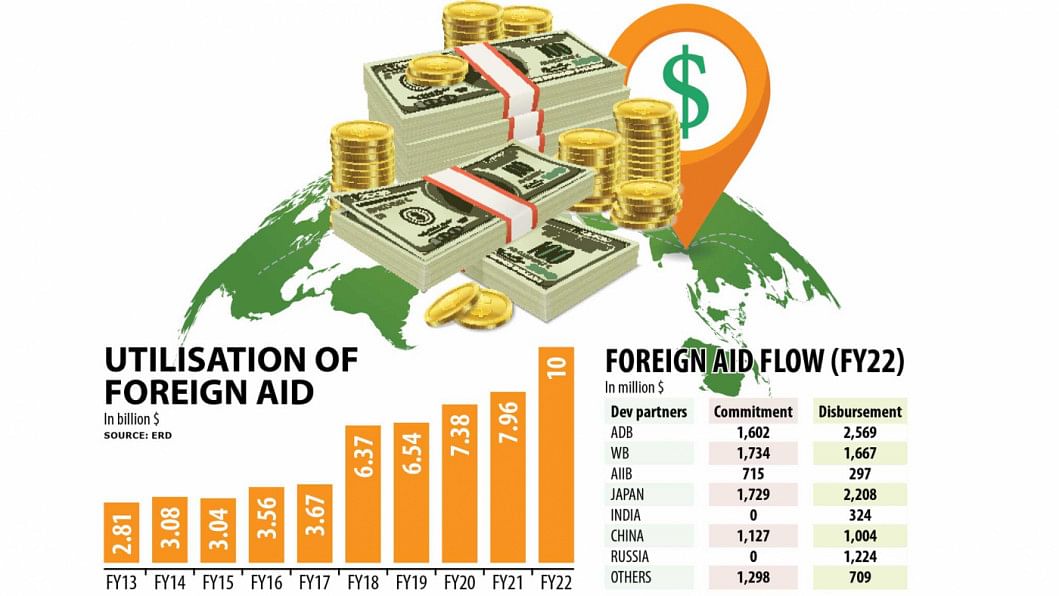 Bangladesh's use of foreign assistance reached a new record high of $10 billion in fiscal year 2021-22, primarily behind vaccinations, one-time budget support, economic recovery from the pandemic and implementation of mega projects.
This disbursement of development partners, the highest ever for Bangladesh, was 25.7 per cent higher than the $7.96 billion provided in the previous fiscal year, according to data of Economic Relations Division (ERD).
Despite the SWIFT ban on Russian banks over the war with Ukraine, Russia provided a loan of $1.22 billion, the fourth largest, the majority of which was spent on the Rooppur nuclear power plant project.
The funds from Russia are in the form of equipment and technology.
The plant is estimated to cost Tk 113,092 crore and Tk 55,689 crore has been spent up until last fiscal year.
The project is about 49.2 per cent complete as of June, the best performance exhibited among the mega projects as of last fiscal year. Progress has been as per schedule with a first unit to open by 2024 and a second one by 2025.
The project is being constructed on a build-and-finance deal with Russian state agency Rosatom, which is responsible for 76 per cent of global nuclear technology exports.
Asian Development Bank (ADB) topped the fund disbursement list with $2.57 billion.
The Manila-based development lender provided around $1 billion in assistance for Covid-19 vaccinations.
Besides, it has almost disbursed all its budgetary support for this fiscal year, as a result of which the total amount has increased.
Japan is the second biggest financial support provider with $2.20 billion.
Several mega projects funded by Japan, including that of the Dhaka metro rail, Matarbari port and coal-fired power project, are being implemented in full swing following the easing of the coronavirus restrictions.
The third highest amount, $1.67 billion, was lent by World Bank.
A good amount of funds has been disbursed by World Bank to support efforts aimed at tackling the pandemic along with regular loans.
According to officials, there was not much use of the World Bank fund initially. But necessity has arisen and the government spent a majority of the fund as Covid-19 support.
China came fifth, with the amount lent being $1 billion.
However, the amount of foreign aid for which new commitments were made reduced to $8.21 billion in fiscal year 2021-21 from $9.44 billion in the previous one.
Besides, the principal and interest payments of foreign loans are also increasing.
Last fiscal year, $2.01 billion was paid as principal and interest payments. It was $1.91 billion previously.
There was $48.54 billion in the pipeline in the form of foreign aid till June 30 this year and it was $ 50.34 billion in the previous year, the data shows.
Bangladesh has set a target to receive $12.98 billion in foreign assistance from the development partners in the current fiscal year.