Bangabandhu's vision was for entire region's prosperity
Says Modi as he terms the opening of Indo-Bangla pipeline 'a new chapter' in bilateral ties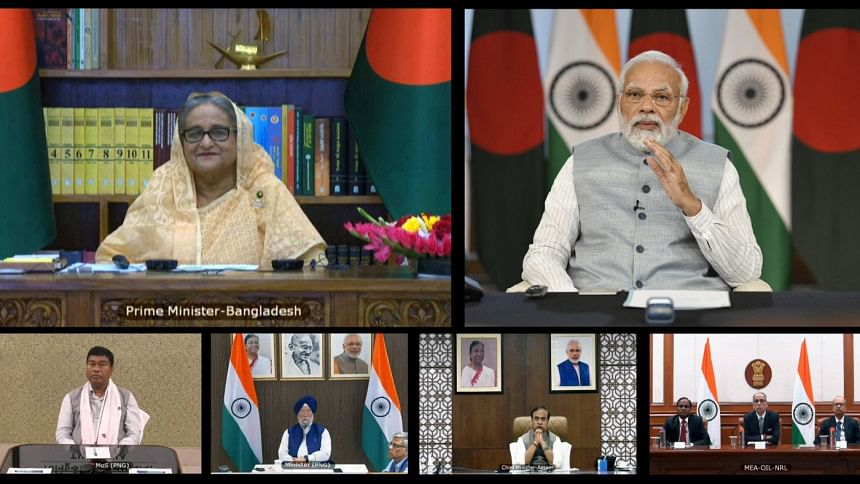 Indian Prime Minister Narendra Modi today termed Bangabandhu's Sonar Bangla vision a catalyst for the prosperity for the whole region as he inaugurated India-Bangladesh energy pipeline.
He also said the opening of the pipeline marked the start of a "new chapter" in bilateral relations between India and Bangladesh.
Speaking in Hindi after virtually launching the 131.57km cross-border pipeline along with Bangladesh Prime Minister Sheikh Hasina, Modi said, "In the last few years, under the able leadership of PM Sheikh Hasina, Bangladesh has made remarkable progress. Every Indian is proud of that and we're delighted that we've been able to contribute to this development journey of Bangladesh."
"I am confident that this pipeline will further speed up the development of Bangladesh and be an excellent example of the increasing connectivity between both the countries," our New Delhi correspondent quoted the Indian PM as saying.
India-Bangladesh Friendship Pipeline will enhance cooperation in energy security between our countries. https://t.co/rj6RA0jq3W

— Narendra Modi (@narendramodi) March 18, 2023
Modi thanked Sheikh Hasina for her constant guidance on the pipeline project and expressed his wish to continue working with her for the benefit of the people of the two countries.
The foundation stone for the construction of this pipeline was laid by the two prime ministers in September 2018.
Modi said it was pertinent to mention that the inauguration of the pipeline took place a day after the birth anniversary of Bangabandhu Sheikh Mujibur Rahman.
"What an auspicious coincidence that today's inauguration is taking place a day after the birth anniversary of Bangabandhu Sheikh Mujibur Rahman. Bangabandhu's Sonar Bangla vision was for the harmonious development and prosperity of the entire region. This joint project is a perfect example of that vision," the Indian PM said.
Referring to the progress in India-Bangladesh physical connectivity, Modi said, "I remember some years ago Prime Minister Sheikh Hasina had talked about her vision of restoring the pre-1965 rail connectivity. Since then, the two countries have made considerable progress in that direction. I heartily congratulate Sheikh Hasinaji for her farsighted vision."
He said rail links had helped the supply of oxygen from India to Bangladesh during the Covid-19 pandemic.
India's state-owned Numaligarh Refinery Limited in north eastern Indian state of Assam is supplying petroleum products to Bangladesh since 2015. This is the second cross-border energy pipeline between India and its neighbours, the first one being with Nepal, the Indian PMO said in a statement.
IBFP is the first cross border energy pipeline between India and Bangladesh with a capacity to transport one million tonnes per annum of High-Speed Diesel (HSD) to Bangladesh.