Cyclone Mocha now 'very severe cyclonic storm': IMD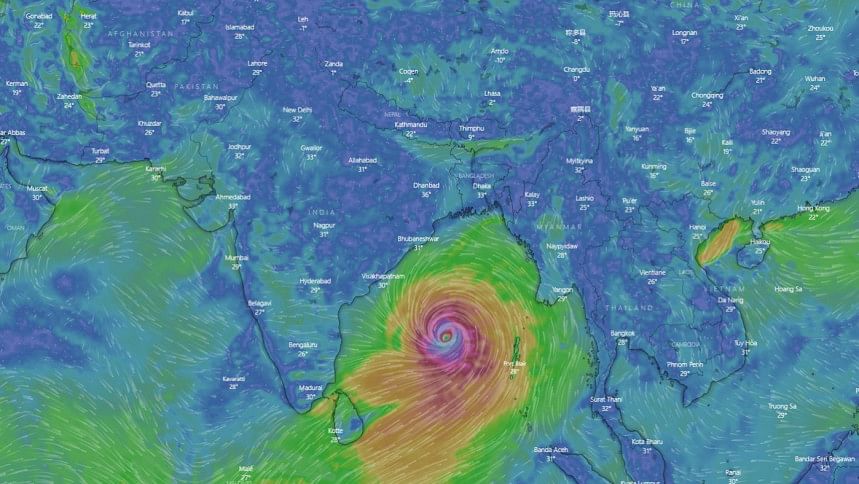 Tropical cyclone Mocha has intensified into a very severe cyclonic storm over the central and southeast Bay of Bengal.
The cyclone has moved northwards at a speed of nine kilometres per hour in the last six hours, according to the India Meteorological Department.
"The storm is 1010 km south-southwest of Cox's Bazar," the IMD said in its latest update on the path and movement of Mocha, reports our New Delhi correspondent.
All storm forecast models are not indicating any weakening of Mocha before landfall, the IMD said today, having projected a few days ago that the very severe cyclonic storm is likely to weaken slightly before making landfall.
Mocha is very likely to move north north-eastwards and intensify further over east-central Bay of Bengal.
It is likely to cross southeast Bangladesh and north Myanmar between Cox's Bazar and Kyaukpyu around noon of May 14 as a very severe cyclonic storm with a maximum sustained wind speed of 150-160kmph, gusting up to 175kmph, according to IMD.
The IMD enhanced the tidal surge alert slightly further due to the landfall of Mocha by saying that the height of the waves triggered by the very severe cyclonic storm may rise between 2 metres to 2.7 metres, up from the 2m-2.5m in yesterday's update.
This would inundate low-lying areas of south east Bangladesh, it added.