Cyclone Mocha shares characteristics with Sidr: BMD director
Mocha is expected to intensify into a severe cyclone by midnight and further strengthen into a very severe cyclone tomorrow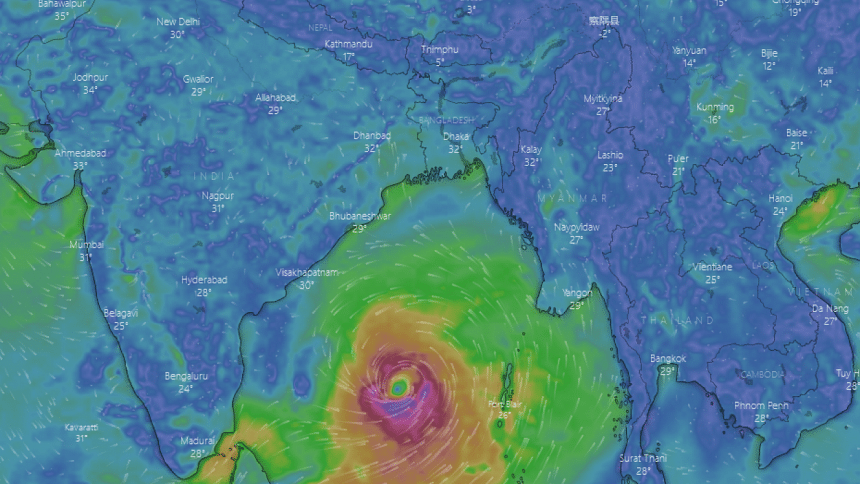 Bangladesh Meteorological Department (BMD) today said the approaching Cyclone Mocha shares characteristics with Cyclone Sidr, which devastated the country in 2007.
Mocha is expected to intensify into a severe cyclone by midnight and further strengthen into a very severe cyclone tomorrow, said the director of the Bangladesh Meteorological Department, Md Azizur Rahman during a press conference at his office in Dhaka this afternoon.
Asked whether Mocha was comparable to Sidr, Azizur said the two cyclones shared certain characteristics.
According to the director, Sidr possessed distinct branding and a particular eye formation, all of which are now being observed in Mocha as well.
The very severe cyclone is projected to have wind speeds ranging from 119kmph to 219kmph in gusts or squalls, while the severe cyclone will have wind speeds between 89kmph and 117kmph, the BMD director said.
The cyclone is expected to hit coastal areas including Chattogram, Cox's Bazar, Noakhali, Bhola, and Myanmar coasts, according to the BMD director.
In a special bulletin issued around 12:00pm, the BMD said that the cyclone was centred about 1,255kms south-southwest of Chattogram Port, 1,180kms south-southwest of Cox's Bazar Port, 1,220kms south-southwest of Mongla Port, and 1,185kms south-southwest of Payra Port.
The maximum sustained wind speed within 54km of the cyclone centre is about 62kph rising to 88kph in gusts/squalls, and the sea will remain very rough near the cyclone centre.
All fishing boats and trawlers over the north bay and deep sea have been advised to remain close to the coast and proceed with caution.
They are also advised not to venture into the deep sea.
Coastal areas can expect light to moderate rainfall and gusty winds after May 13 as a result of Cyclone Mocha. The timing of the cyclone's landfall with respect to the high or low-tide will determine the height of the tidal surge.
As a precautionary measure, the maritime ports of Chattogram, Cox's Bazar, Mongla, and Payra have been advised to hoist warning Signal Number 2.
Sidr made landfall on November 15, 2007, and claimed up to 10,000 lives, according to Red Crescent Society.