Floods worsening in Lalmonirhat: Dharla now flowing 14cm above danger level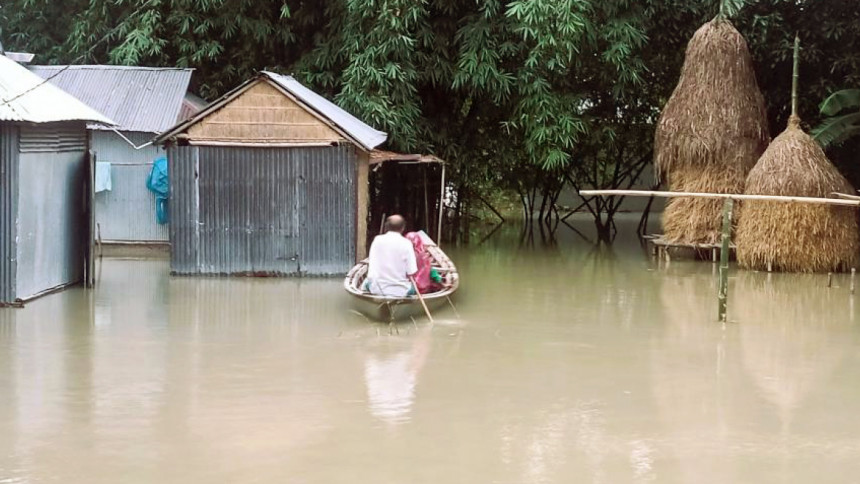 The people of Dharla River shoal in Lalmonirhat districts are now having to face another onslaught of floods as the river water is flowing above the danger level as of today (June 30, 2022).
The water of Dharla River is currently flowing 14 cm above the danger level at Shimulbari Point in Lalmonirhat Sadar upazila since 6am today as a result of onrush of water from upstream.
Meanwhile, the water at Teesta River has receded below the danger level at the Teesta Barrage point this morning after flowing seven cm above the danger level last night (June 29, 2022), our Lalmonirhat correspondent reports quoting officials of the Bangladesh Water Development Board (WDB).
At least 50,000 people of five upazilas in Lalmonirhat are in extreme distress due to the flood. The riverside villages are now being inundated by floodwaters forcing many people from flood-hit areas of Dharla shoal to leave their homes with furniture and livestock.
Mogholhat Union Parishad Chairman, Habibur Rahman, said, "The flooding has left the area with little to no work, and the flood victims are struggling financially. Families affected by the flood must depend on public and private support."
Mizanur Rahman, executive engineer of WDB in Lalmonirhat, said, "This morning, Dharla river water level is slightly lower than it was last night. Teesta River water is below the danger level while Dharla River water is still above danger level."
Lalmonirhat Sadar Upazila Nirbahi Officer (UNO), Mahmuda Masum, said that she went to the flood-affected areas and added that families affected by the floods in the first phase have received adequate relief aid. Preparations are now underway to distribute aid to the flood victims.