Flood situation worsens in Lalmonirhat: Dharla flowing 12cm above danger level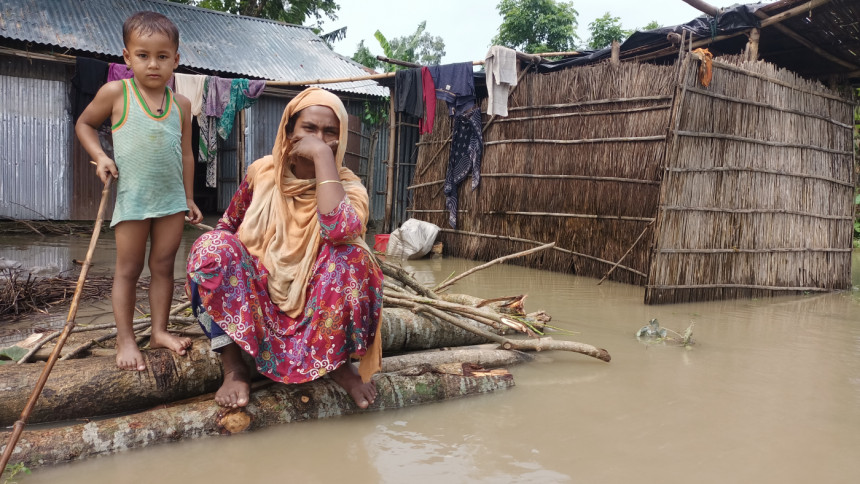 The people of Dharla River shoal in Lalmonirhat districts are affected by the second phase of the flood as the water is flowing above the danger level today (June 29, 2022).
The water level in Dharla increased by 70cm in the last 24 hours (till 6 am today) as a result of the onrush of water from the upstream, and it is currently flowing 12 cm above the danger level at Shimulbari Point in the Lalmonirhat Sadar upazila
Meanwhile, the Teesta River's water level has also risen by 65 cm; however, it has been flowing 5 cm below the danger level at the Teesta Barrage point. Water levels of these two rivers are still rising, reports our Lalmonirhat correspondent quoting officials of the Bangladesh Water Development Board (WDB).
At least 10 villages in Lalmonirhat Sadar upazila were flooded after water level increased. The riverside villages are now being inundated by floodwaters as well.
Chairman of Mogholhat Union Parishad, Habibur Rahman, said erosion had happened in a number of locations as a result of Dharla's rising water level. He warned that the rising river water might leave several thousands of people of his union stranded in a matter of days.
Mizanur Rahman, executive engineer of Lalmonirhat WDB, said the onrush of water from the upstream is continuing to come and it is also raining. As a result, the river's water level is rising quickly.
The flood control dam is under scrutiny. To avoid a dangerous situation immediate action must be taken, he said.