A week on, relief still elusive
42 confirmed dead in floods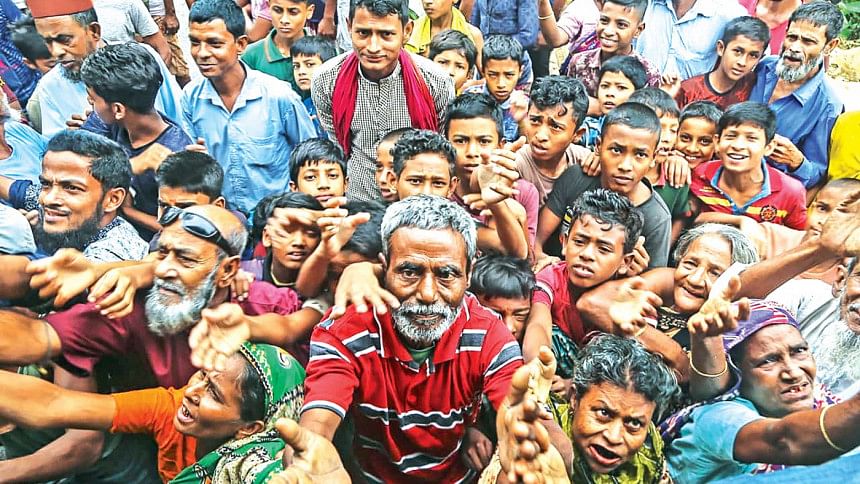 "I first lost my house in the floodwater and then the house we took shelter in was flooded. We are now barely surviving."
At least 42 people have died in the devastating floods that have hit the country's northern and northeastern districts, while lakhs are stranded as new areas are inundated every day.
The Directorate General of Health Services in a press briefing yesterday said 13 people died in Sylhet, five each in Sunamganj, Mymensingh, Netrakona and Jamalpur, three each in Sherpur and Moulvibazar, two in Kurigram and one in Lalmonirhat between May 17 and June 22.
Meanwhile, the cry for relief is intensifying in flood-affected areas as thousands of people are still awaiting relief materials even after more than a week of flooding.
"There has been chest-high water in our village for the last six days, but no one gave us anything. Give us something!"
This was the plea of a middle-aged woman from Majergaon village upon seeing a correspondent of this newspaper on Banglabazar British Road in Sunamganj's Dowarabazar upazila.
She finally received some relief around the same time the correspondent reached the spot.
"This is the first relief we received since we took shelter on the road."
It took five hours by boat to reach the spot form Gobindaganj area of Chhatak upazila. A Bangladesh Army speedboat with relief materials also reached the spot yesterday for the first time after a week of flooding.
But according to Debajit Singha, additional divisional commissioner of Sylhet, there are many villages in the bordering areas of Sunamganj where no help, even from the army, could reach.
"We could not reach remote villages or establish contact with them for the first three or four days. But now that mobile networks have are back up, we have learnt that no one actually went hungry as locals came forward with support and youths played an important role in standing beside the affected people," he said.
The flood situation is improving in Sylhet and Sunamganj, but deteriorating in Moulvibazar and Habiganj in the northeast and Kurigram, Sirajganj, Bogura, Gaibandha and Tangail in the north, according to yesterday's bulletin of the Flood Forecasting and Warning Centre.
"It's been seven days since we are in the flood shelter after our village was flooded, but no relief has reached us," said 65-year-old Nabir Hossain of Purbo Daikhawar char in Kurigram's Ulipur upazila on the bank of the Brahmaputra.
Azizul Haque of Bamongram village in Sirajganj's Shahzadpur upazila said, "I first lost my house in the floodwater and then the house we took shelter in was flooded. We are now barely surviving and in need of food and drinking water."
Jahurul Islam of Manik Bair char in Sariakandi upazila in Bogura said, "The swelling Jamuna river not only flooded but also eroded 200 houses. We have nowhere to take shelter and no safe place to go."
Meanwhile, in Tangail, many people were seen taking shelter on the embankment along the Jamuna.
"We do not know where to go and no assistance has reached us," said Jorina Begum of Konabari village of the district's Bhuapur upazila.
Rafiqul Islam, president of Moulvibazar's Kulaura upazila Awami League, said, "While visiting a shelter at Bhukshimoil union, I learned that around 40 families in the centre were going hungry for the last three days as they last received some dry food before that. I urge the government to allocate more for the flood-affected people."
While thousands of people are in dire need of relief, the local administration, even with the army's help, is struggling to reach remote areas due to adverse conditions.
Karim Mahmud Limon, a social worker of Purba Jaflong union in Sylhet's Gowainghat upazila, said, "There are many villages in the upazila where no government and private relief reached. Hundreds of local youths are working round the clock with the help of solvent people, but we have barely reached 10 percent of the flood victims."
Kabir Ahmed, a member of Paschim Islampur union of Companiganj upazila in Sylhet, said, "The villages located farthest from the main roads are suffering the most. For around 4,000 people in three villages in my ward, I received only 70 sacks of food aid and one tonne of rice, which is woefully inadequate. Relief from private organisations is also not reaching us as this area is remote."
Major AWM Hasibul Hasanof Sylhet region of Bangladesh Army said, "Strong current, excessive rain and the risk of losing navigability hampered relief works in the early days of flooding in Sylhet and Sunamganj. Now, as the water level has reduced in some parts, we are reaching the farthest areas with relief."
[Moudud Ahmmed Sujan, Dwoha Chowdhury, Mintu Deshwara, Mirza Shakil, Humayun Kabir, S Dilip Roy and Mostafa Shabuj contributed to this repot]