'Bangladesh remarkably successful in cyclone response'
Says State Minister for Disaster Management and Relief at Global Platform for Disaster Risk Reduction 2022 in Bali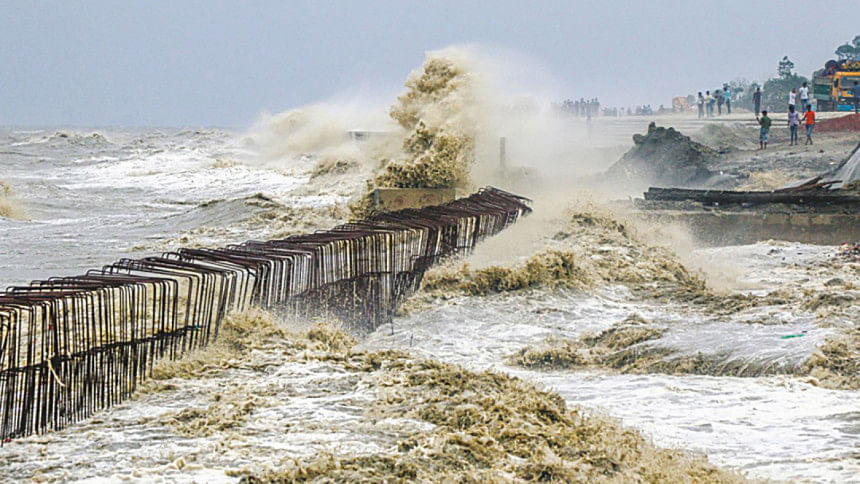 Over the decade, Bangladesh has earned the name of a role model in disaster management despite being one of the most disaster-prone and climate-vulnerable countries.
Bangladesh has achieved remarkable success in cyclone-related disasters, and the mortality rate during such natural calamities has fallen from seven digits to a single digit in the last 50 years, said Enamur Rahman, state minister for Disaster Management and Relief.
The state minister was speaking on the preparatory day of the Global Platform for Disaster Risk Reduction (GPDRR) 2022, jointly organised by the United Nations Disaster Risk Reduction (UNDRR) and the Indonesian government, taking place at Bali International Conference Centre (BICC) today (May 23, 2022).
The Indonesian Coordinating Minister for Human Development and Culture Muhadjir Effendy inaugurated the preparatory day meeting this morning. The discussion began with a session on post-pandemic recovery.
The post-Covid-19 pandemic recovery had become the main topic during the 2022 Global Platform for Disaster Risk Reduction (GPDRR) in Bali, the minister said.
Some 4,091 participants from 193 countries; 3,001 delegations participated in person, while some 1,096 would follow the five-day event through virtual platforms.
Some of the objectives they want to achieve include reaching a consensus on a pandemic mitigation plan and improving public awareness of the efforts to mitigate and overcome catastrophe risk. 
In the afternoon, the Bangladeshi state minister delivered his speech on "Addressing the recovery needs of women and girls, people with disabilities and other vulnerable groups".
According to the state minister, it was a watershed event when 90 percent of those killed in the 1970 hurricane were women and children. The gender ratio of mothers-children and men was 14:1. However, on recent occasions, it has been lowered to 1:1. This demonstrates how gender disparities in disaster risk management have been reduced. 
One of the most important parts of better preparedness is the effective and useful warning dissemination by community volunteers. According to Enamur, a recent study released by the Bangladesh Institute of Development Studies (BIDS) found that improved preparedness can minimise risk by 75%.
Regarding Covid-19 preparedness of Bangladesh, the state minister said, according to Bangladesh's National Preparedness and Response Plan for Covid-19, the humanitarian response was with the principle of "no one is left behind". 
Even Bangladesh is updating its disaster preparedness by preparing a National Strategy on Internal Displacement Management 2021, he added.
Bangladesh has emphasised risk-informed and gender-inclusive development for its LDC graduation process, said Enamur.
Nearly 100 delegation members including government officials from relevant ministries, local government representatives, development partners, officials from non-government organisations and volunteers are participating in the conference from Bangladesh.
Sharon Bhagwan Rolls, regional manager from Shifting the Power Coalition, and Nina Birkeland from Norwegian Refugee Council also spoke at the session moderated by Dr Rahel Steinbach of Disaster Risk Reduction at UN Women.