Climate Impact on Country's Coastal Region: 13.3 million at risk of displacement by 2050
A global World Bank report reveals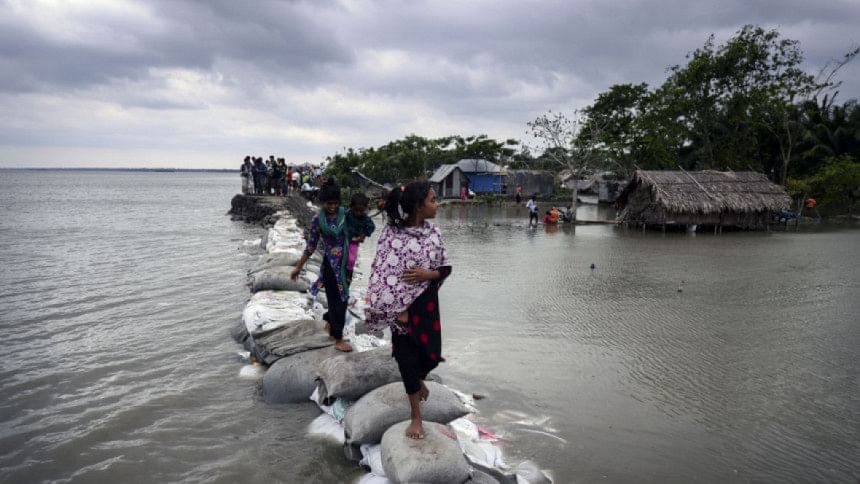 Salinity, rising sea levels and other adverse climate impacts could cause as many as 13.3 million people to leave their homes in the coastal areas of Bangladesh by 2050, a global World Bank report reveals.
The Groundswell report part II, unveiled on Monday, showed around 37 percent of all South Asian climate migrants will be from Bangladesh.
The report is an updated version of the first one published in 2018.
In the update, it said reduced agricultural production, water scarcity, rising sea levels and other adverse effects of climate change could cause up to 216 million people to leave their homes and migrate within their own countries by this period.
About Bangladesh, the report mentioned findings from the 2018 report which said climate migration could outpace other internal migrations which drives the pessimistic reference scenario of South Asia. The region is projected to have 35.7 million climate migrants by 2050 (around 1.6 percent of the total population).
"This reflects the region's high vulnerability to climate change impacts, particularly in coastal and deltaic areas facing sea-level rise and storm surges," reads the report.
In the first Groundswell report, Bangladesh was projected to account for a third of the internal climate migrants in South Asia by 2050 in the pessimistic reference scenario, due to its growing population and high vulnerability to climate change.
Model results showed that in all scenarios, urban and coastal areas could see dampened growth as climate out-migration hotspots, as sea-levels rise, augmented by storm surges, would make them less liveable.
The report also said both flooding and crop failure increased migration by women, who have less secure access to land.
Migration from rural to urban areas has led to shifts in traditional gender roles and, in some contexts, to more empowerment and opportunities for women in their communities and households.
"At the same time, migrants, especially women, can be at risk of exploitation, including sexual exploitation, human trafficking, and violations of their rights. Climate risks can also make it more difficult for women to migrate, due to structural issues."
The report added that people may be unable to leave at-risk areas due to pandemic-related mobility restrictions. For example, evacuation plans in response to Cyclone Amphan, which affected Eastern India and Bangladesh in May 2020, were complicated due to the need to follow strict precautions to prevent the spread of Covid-19.
The report acknowledged Bangladesh's Perspective Plan 2021–2041, saying that the factors in climate change as a driver of future for people living in the most vulnerable areas.
It also acknowledges the need for both incremental and transformational approaches to build resilience to climate change in key sectors, especially agriculture.
The Bangladesh Delta Plan 2100, adopted in September 2018, lays out a comprehensive strategy for managing risks, including those from climate change, in deltaic regions. The  has also adopted a strategy to develop secondary cities and towns and make them hubs of innovation, providing new economic, education, and employment opportunities.
Juergen Voegele, the World Bank's vice-president for sustainable development, said the data gives a "global estimate" of the scale of potential migration.
Without decisive action, there could be "hotspots" of climate migration that "will emerge as soon as within the next decade and intensify by 2050, as people leave places that can no longer sustain them and go to areas that offer opportunity," Voegele was quoted as saying in a report of AFP.
Citing WB, the AFP in its report said thatresearchers in 2018 released a report on the impact of climate change on migration in South Asia, Latin America and sub-Saharan Africa, and projected that 143 million people in those regions could be forced to move by 2050.
Breaking the data down by region, internal migrants due to climate change could hit 86 million in sub-Saharan Africa by 2050, 49 million in East Asia and the Pacific, 40 million in South Asia, 19 million in North Africa, 17 million in Latin America and five million in Eastern Europe and Central Asia, according to the WB report.
The updated estimate represents about three percent of the projected population of the regions covered.
"It's important to note that this projection is not cast in stone," Voegele said.
"If countries start now to reduce greenhouse gases, close development gaps, restore vital ecosystems and help people adapt, internal climate migration could be reduced by up to 80 percent -- to 44 million people by 2050."