Will watch 'Maa' in theatres with Rajya today: Pori Moni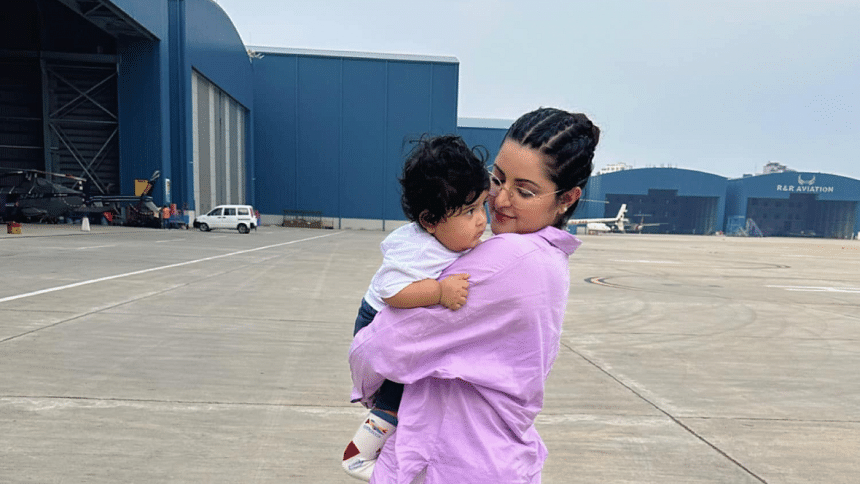 The Pori Moni starrer film, "Maa" was released on Friday. Starting from today, the film will be running at Star Cineplex in Bashundhara City. Today, Pori Moni will be watching "Maa" along with her beloved baby boy, Rajya. The actress confirmed the matter with The Daily Star earlier this morning.
Speaking with The Daily Star, Pori Moni said, "After its release, I went to see 'Maa' in theatres. However, I only got to see a bit of the film. Today, I plan on watching the entire film in the hall. I will be watching it with my son Rajya."
In response to a question, Pori Moni said  that no one could explain the word 'maa'. "The sweetest word in the world is 'maa'. The most loved word is 'maa'. I played the role of a mother, what could be better than that? I am happy that I got to play this character," shared the actress.
"Maa" has been directed by Aranyo Anawer. The film recently premiered at the Cannes Film Festival. In this regard, Pori Moni said, "It is a matter of great joy. This is a big deal for Bangladeshi cinema. I hope our film continues to succeed."
Expressing her excitement, she said, "I was so overwhelmed by the fact that 'Maa' went to the Cannes Film Festival. I'm really happy."
In "Maa", Pori Moni has played the titular role of the mother. Currently, audiences are showing a lot of appreciation for the actress' performance. To this, Pori Moni responded, "Those who have seen the film are appreciating my performance. Some have even shared their love for my character with me. They spoke about how immersed I was in my role. That's the greatest achievement."
"When everyone was so complimentary about how well I played Beena, it made me very emotional," shared the actress.
Continuing to speak about the film, Pori Moni said, "When I watched parts of the first show, I was accompanied by the child who played my infant son in 'Maa'. His parents were also there. A total of six people from their family came to see the screening. I had a great time that day."
The actress further added, "I brought everyone, including the child's parents, to my house that day. We ate together and shared many stories."
The nickname of the child who played Pori Moni's infant son in "Maa" is Pulak. Speaking about the child, Pori Moni shared, "Pulak doesn't even recognize me now. He doesn't remember that we acted together. How will he? He was just a child. I think Pulak is my other child. His mother calls me her sister. I want to send my love to all of them."
Finally, the Dhallywood star expressed that her only wish was that everyone should go to theatres and watch "Maa".