Who gave Hansal Mehta the right to make 'Faraaz'?
Abinta Kabir's mother retorts to Holey Artisan film
"I have lost my only daughter in the most gruesome way possible. When I met with Hansal Mehta and asked him what gave him the right to make the movie, he told me that he wanted to tell the people of Bangladesh why this kind of tragedy should be avoided. Who gave him the right to judge? Is he Bangladeshi? How come an outsider gets to make a business out of a movie that ruins the image of our country?" said Ruba Ahmed, mother of Abinta Kabir, who was killed by militants in the Holey Artisan Attack on July 1, 2016.
A press conference was held today by the Abinta Kabir foundation, on the release of the Indian film "Faraaz."
20 people, including the likes of Faraaz Ayaaz Hossain, Abinta Kabir, Tarishi Jain and Ishrat Akhond, among others, lost their lives in the incident.
Two movies were made on it, including Bangladeshi filmmaker Mostofa Sarwar Farooki's "Shonibar Bikel", Hansal Mehta's Hindi film "Faraaz." While Farooki's project has been in limbo at the censor board for years, its Indian counterpart is set for release on February 3.
Recently, the trailer of the movie was released which received mixed responses from Bangladeshi audiences. People questioned the filmmaker for capitalising on a country's personal tragedy, and making it in Hindi, which is not their native language.
The "Scam 1992" director was faced with severe criticism over the movie, but he defended the movie stating that it will 'shine light on the immense courage and talk about the importance of humanity over violence."
When the poster of the "Faraaz" was released last year, both Abinta and Tarishi's family sent a legal notice to the Delhi High Court. However, the court dismissed it, stating that falls under public domain.
"I don't understand the point of dragging a tragic incident from 2016, and making a movie about it. In the past 6 years, India has experienced many tragedies. Can't they make a movie about them? We first got to know from sources back in 2019, that Mahesh Bhatt wanted to make a movie about the incident and that he might have come during that time to research the film," said Ruba.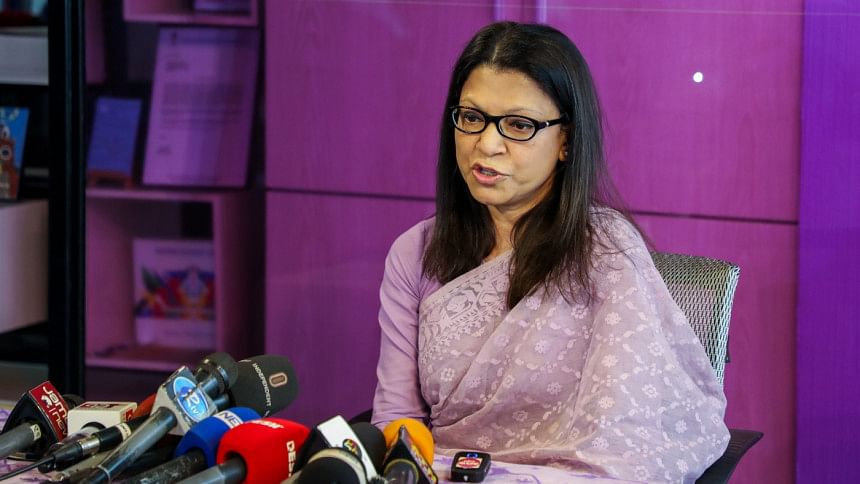 "However, he didn't contact me. We sent him a letter to him, and he replied that he respects my decision, and won't proceed with it. And then, suddenly in August, we got to see the poster for "Faraaz", which greatly hurt us," she said, visibly in anguish. "We were able to restrict the film for about 6 months, but then due to India's 'public domain' clause, we couldn't stop it. However, I have appealed to the Delhi High Court decision, and I will even go to Supreme Court. I will fight to ensure that the film doesn't get to come to Bangladesh."
"They changed Abinta's name to Ayesha, Tarishi's name to Tari, and my name to Rabeya. They have even used Tarishi's father as well, but I can't seem to remember his character's name. They showed a riot scene where my daughter's picture was also visible. Who gave them the right to invade our privacy," she said.
While Ruba Ahmed reflected a lot of anger towards the Bollywood film, she remained fairly tightlipped about Farooki's "Shoniber Bikel."
"I actually got to know about Farooki's "Shoniber Bikel" while I was researching about the Hindi film. I have also sent a legal notice to Farooki, and he also sent me a reply. The movie is currently stuck in censor board and so now it's completely upon the Bangladeshi government as to what they want to do with the film," said Ruba Ahmed.
The Abinta Kabir Foundation head pleadingly told the media that although she can't stop the release of the film, she will request everyone to not allow the movie to come to OTT.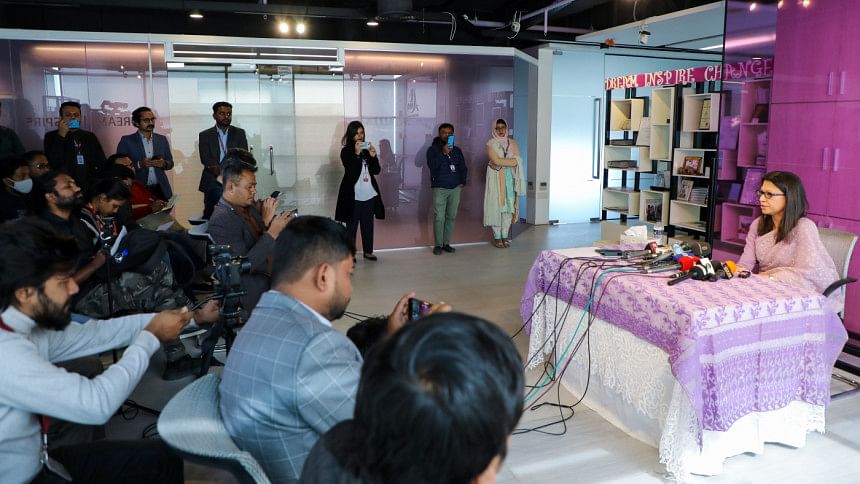 "Can you imagine the pain of witnessing your daughter's last moment on big-screen. This movie should not come in OTT for the sake of our country and for my child. Please don't let this movie come to Bangladesh. This type of personal tragedy should not be screened on Netflix or Amazon."
Recently, Bangladeshi journalist Nuruzzaman Labu claimed that "Faraaz" has been adapted from his book "Holey Artisan: A Journalistic Investigation," which was published in 2017.
When asked about the authenticity of the book, Ruba Ahmed was shocked, as she didn't even hear of it.
"Was he there during the actual attack, did he witness the killings? In order to write an account of a tragic attack, you need to ask questions to the victim's family. He didn't contact me. When I asked Ishrat's brother whether he was contacted by anyone regarding the incident, he said no as well," said an enraged Ruba Ahmed. "I have even sent letters to the Italian Embassy, Japanese Embassy, and even Bangladeshi Embassy in India, but nobody came to them to ask about the actual facts. Then, how can people make a movie with no actual authentic facts?"