'White Noise': Noah Baumbach filmed the most unfilmable book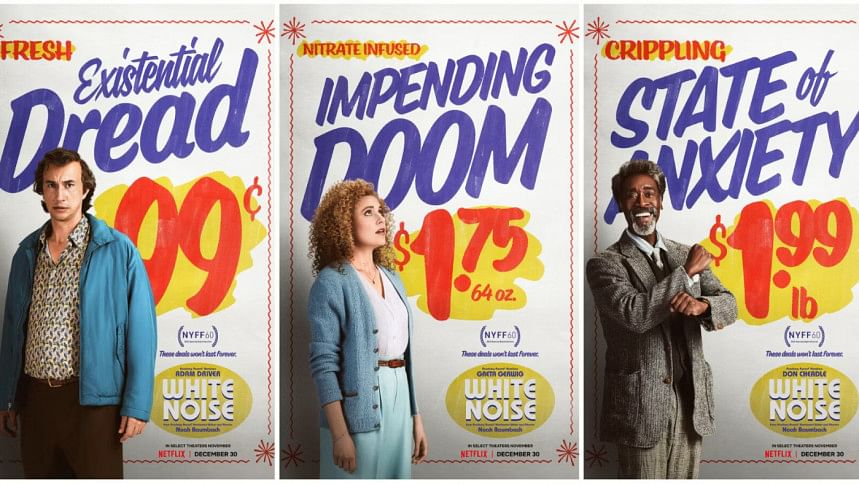 Noah Baumbach's audacious adaptation of a book that was written in the mid-80s, alludes to topics that are still prevalent in our culture today, it also brings together consumerism, conspiracy theories, and collective trauma.
White Noise is a puzzling, inconsistent, intermittent movie about the collective madness of 1980s America and a dry run for the end of the world,that was adapted from the beloved 1985 Don DeLillo novel of the same name.
 Three distinctly diverse chapters, each flavoured with sarcasm, build up the narrative. The first section provides a history of Gladney. In the second disaster film chapter, a terrible railway accident threatens their town with an "airborne toxic event" that compels them to leave for an evacuee camp. After that is resolved, the third noir-style chapter describes usage of the enigmatic drug Dylar, and the violence it causes.
Don DeLillo's novel, about a family, uprooted from their already precarious existence by an airborne toxic event, has resonance with the COVID era that he could not have foreseen. Though the source material in this case is intended to speak to a broader sense of trauma and fear—aspects that won't ever go away as long as death remains in our lives.
Jack Gladney (Adam Driver), a professor at a relatively nameless heartland institution who founded the controversial area of "Hitler studies," serves as the protagonist of the story. Jack engaged in a spiralling intellectual discussion with his friend Murray Siskind (Don Cheadle) at work to make up for his lack of genuine scholarship (he can't speak German), who is considering branching from car disasters to Elvis Presley. At home, Jack and his wife Babette (Greta Gerwig) cheerfully manage a lively, argumentative blended family. The infatuated couple argues over who is more afraid of dying, but Babette seems genuinely ill, and a dark cloud is literally forming in the distance.
Every camera movement and element of blocking is taken into consideration, and every frame is intriguing. The backdrop of White Noise is an elaborate tapestry that is bursting with colour, texture, and complexity.
 For a director who has previously only directed low- to mid-budget interpersonal dramas, Baumbach shows that he is more than capable of handling action set pieces.
Baumbach has a real gift for domestic realism, yet he's been captivated by the daring of the French New Wave his entire career. He appreciates its formal iconoclasm and contrast of tones, which range from the lyrical to the solemn to the ridiculous.
For around 90 minutes of Baumbach's adaptation of "White Noise," these difficult ideas are explored with a playful attitude, but in the last act, it's possible that the writer/director loses control of the darker subject matter. However, there is still a lot to admire about this odd pairing of a writer and a director that one might not necessarily think to go well together.
White Noise is now streaming on Netflix.