'West Meets East Screenplay Lab' winners announced
Earlier today, the 'West Meets East (WME) Screenplay Lab' came to a conclusion at the Alliance Française de Dhaka, as a part of the Dhaka International Film Festival 2023.
Afroza Hossain won the first place for "Song of Jhinuk" (Bangladesh), Nigam Bhandari took home second place for "Messenger of the Gods" (Nepal) and Ritvik Goswami placed third for "Swarnapuchhri" (India).
The 'WME Screenplay Lab' began on January 15. A total of 62 projects were submitted, from which 10 projects from four countries were selected by a five-member jury board. This shortlist of 10 projects included three from Bangladesh, four from India, two from Sri Lanka and one from Nepal.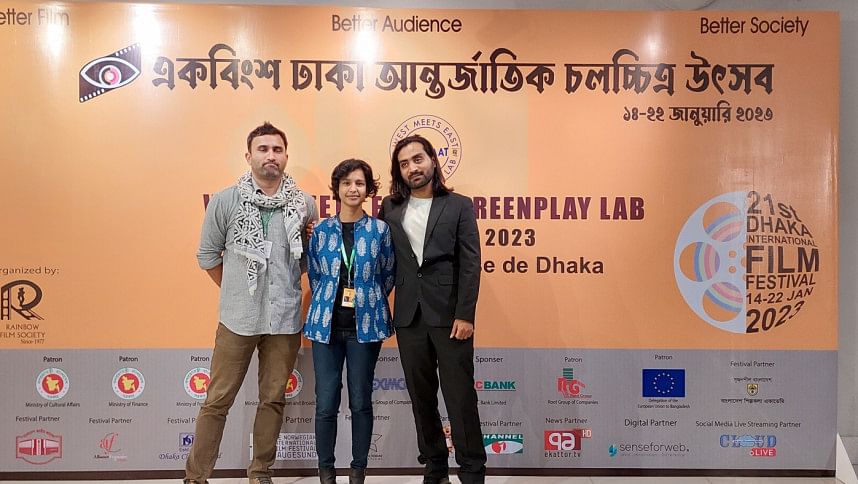 The shortlist included: "Song of Jhinuk" (Bangladesh), Afroza Hossain; "Fables of Forgotten Dreams" (Bangladesh) Laboni Ashrafi; "Necrophile" (Bangladesh), Zayed Siddiki; "Dhund Saleti -The Whispering Fog" (India), Jasmine Kaur Roy and Abhinash Roy; "Swarnapuchhri" (India), Ritvik Goswami; "Tale of a Yellow Bird - Halud Pakhir Kissya" (India), Sibasish Roy; "Hug me If you against War" (India), Upasana Banerjee; "46 Mondays" (Srilanka) Bavaneedha Loganathan; "Samosa" (Srilanka), Nipunika Fernandos and "Messenger of the Gods" (Nepal), Nigam Bhandari.
Today all of these participants, from across four countries, took part in the Screenplay Lab and finalised their projects at Film Hut, the South Asian film market. In the process, they also got the chance to meet many producers and mentors, with each participant getting five minutes to pitch their projects and tne minutes for a Q&A session.
Present at today's event were members of the jury board; Norwegian film producer and programme director. Gyda Velvin Miklebust; 47th Student Academy Award finalist and Croatian film producer, Dalia Alic; Bulgarian film director, screenwriter and journalist, Yana Lekarska; Bangladeshi film activist and producer, N Rashed Chowdhury and film producer and editor Sameer Ahmed.
Nina Lath Gupta, former MD of the National Film Development Corporation of India (NFDC), also joined as a mentor. Other mentors included Bangladeshi film director and screenwriter, Mostofa Sarwar; French screenwriter, director and producer, Pierre Filmon, and Iranian film director and screenwriter, Pouran Derakhshandeh.
The co-convenors of the event were AKA Reza Ghalib filmmaker and TV programme maker, and Sadia Khalid Reeti, screenwriter and film critic.
The top three projects will receive a cash prize, with the 1st place project getting USD 5,000, 2nd place getting USD 3,000 and 3rd place receiving USD 2,000.