'Surongo' celebrates a star-studded muhurat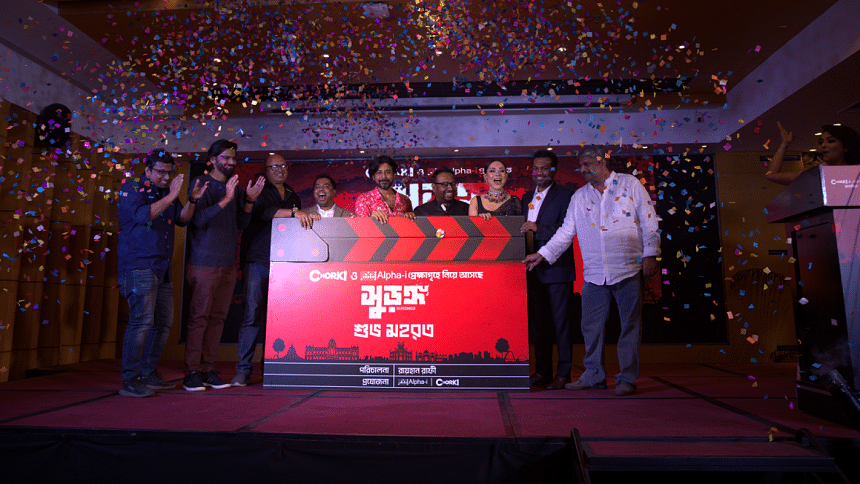 Raihan Rafi's much awaited film, "Surongo", kicked off its star-studded muhurat ceremony yesterday, at a five-star hotel in Dhaka. 
Afran Nisho, who set the benchmark for OTT and television in Bangladesh, will be making his silver screen debut—opposite the extremely talented and vivacious Tama Mirza—through this film.
Speaking about the film, the "Kaiser" actor beautifully explained why he thought "Surongo" would be the best film with which to make his silver screen debut. "I have had a wonderful journey with both Chorki and Alpha-i. It has always been a dream of mine to debut on the silver screen, but I was unable to find the right script. However, I really appreciated Rafi's work and I knew he had a knack for crafting unique stories," said the actor.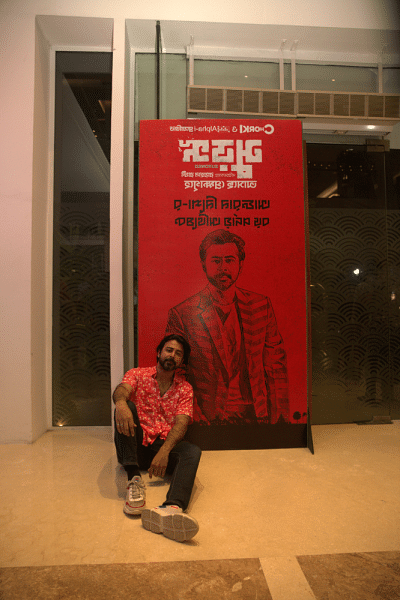 "Surongo" marks Nisho's first collaboration with both Raihan Rafi and Tama Mirza. This is also the first ever collaboration between Chorki and Alpha-i, to jointly produce a film for theatrical release.
"Although I have worked with Chorki and Alpha-i, this is the first time that I will be collaborating with them for a movie. This movie marks the first time for a lot of things, and thus there is a lot of risk there for sure. However, I am confident the final output will definitely be good, as the whole team has worked really hard on this project. I am hopeful that our dedication will pull audiences to theatres," added the actor.
The gorgeous Tama Mirza captured the attention of those in attendance at the muhurat with her glamorous black saree, which she topped-off with a traditional double-layered choker. 
Previously, Tama Mirza worked with Raihan Rafi on the web-films, "Khachar Bhitor Ochin Pakhi" and "Floor number 7", which were released on Chorki.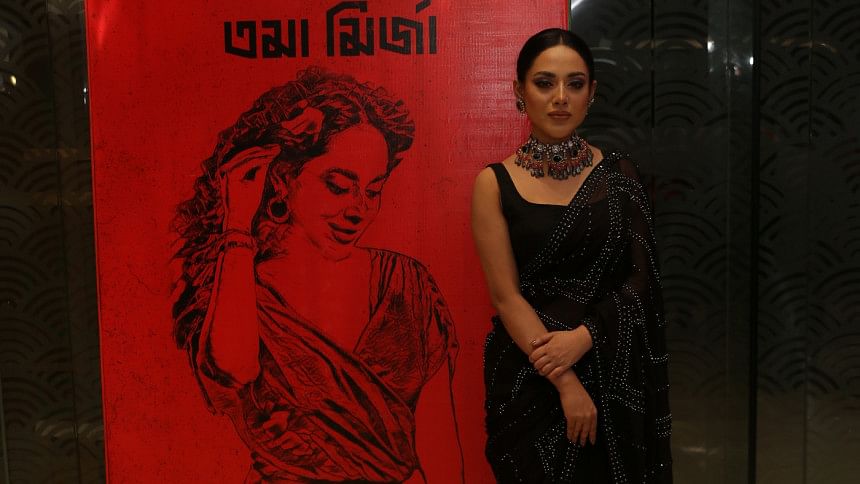 "I am forever grateful to Raihan Rafi for presenting me with Pakhi's character for "Khachar Bhitor Ochin Pakhi". The amount of appreciation that I have received for this film can't be expressed through mere sentences," said the actress. 
Tama Mirza was also full of praise for Nisho, as she announced that she is a huge fan of the "Kaiser" star. 
"This will be my first time working with Nisho bhai and I am a huge fan of his work. I really feel nervous talking about him as he is such a brilliant actor. Whenever I had some queries about the script, he would patiently answer my doubts and would explain it so beautifully that I would  become mesmerised by his words. I have a lot of things to learn from him. I am really fortunate that he decided to take me in as a co-star for his maiden film," concluded the actress. 
Director Raihan Rafi informed us that the shooting of the movie would start very soon, "The story of 'Surongo' is really special to me. I wanted to direct this movie for a long time but I had some limitations as I couldn't make it without the help of strong producers. Fortunately, I now have two big producers who understand my vision properly."
Raihan Rafi will commence the filming of "Surongo" soon. He wants to shoot the movie in one go, so that he can complete the film quickly. 
Popular directors and noted celebrities were also present at the event, including Shihab Shaheen, Tanim Noor, actor Mostafa Monwar, Shahnaz Khushi and Brindabon Das, among others.