Suborna Mustafa moved to tears by '1971 Shei Shob Din'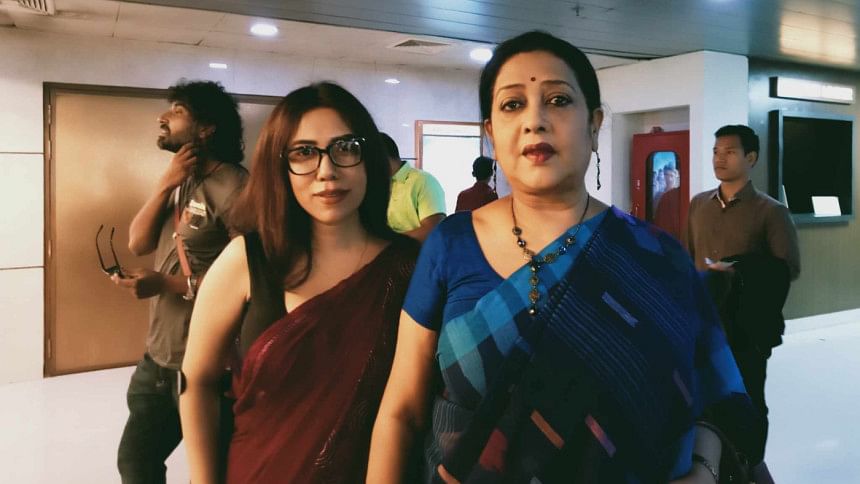 The directorial debut of noted actress Hridi Huq, "1971 Shei Shob Din", has recently premiered in multiple theatres across the country on August 18. The government-granted production portrays the dreadful experiences of a family during the Liberation War.
Among other celebrities, noted artiste Suborna Mustafa, along with Sazu Khadem, Hridi Haq, and Ferdous, also experienced the cinematic journey with the audience.
The "Aaj Robibar" star had a profound emotional experience while watching the film. After leaving the theatre, the veteran actress embraced Hridi Haq, bursting into tears.
"Hridi Haq did a brilliant job. She masterfully captured the essence and emotions of our Liberation War," shared Suborna Mustafa.
The film will take the audience back in time to the era of the Independence War. "It will evoke tears and contemplation about those significant days in our history," she remarked.
Meanwhile, Hridi Haq expressed, "Witnessing Suborna Mustafa's emotional reaction after watching my film has shaken me to the core. I am really happy."
Apart from directing, Hridi Haq herself features in "1971 Shei Shob Din", alongside a talented ensemble cast comprising Mamunur Rashid, Jayanta Chattopadhyay, Munmun Ahmed, Shilpi Sharkar Apu, Ferdous, Tareen, Litu Anam, Saju Khadem, Sanjida Preeti, and many more. Notably, Litu Anam makes a remarkable comeback to cinema with this film after a hiatus of 15 years.