Shyam Benegal shares story of Shuvoo's transformation in 'Mujib'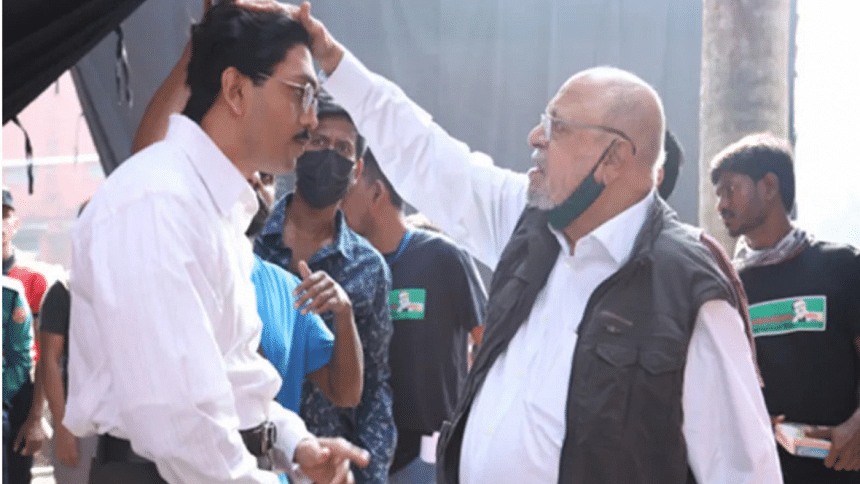 "Mujib: The Making of a Nation" is a movie in Arifin Shuvoo's career, in which he has invested a lot of time and effort.
From the preparation phase to shooting, dubbing, and post-production, he is tirelessly working towards its release.
After the premiere of the movie at the 48th Toronto International Film Festival, Shuvoo shared a video on social media. In this 90-second video, he revealed how he prepared for the film and what led up to the movie's premiere.
In the behind-the-scenes video clip, "Mujib" director Shyam Benegal talked about Shuvoo, saying that when he first saw him at an audition in Kolkata, he advised him to gain some weight, and not go to the gym.
Shuvoo had transformed his physique by bodybuilding up until that point, and Benegal was concerned whether the actor would be willing to make that challenge. However, without any questions, Shuvoo agreed to the suggestion.
Shuvoo mentioned, "I didn't want to know the script of this film. Because for me, its director Shyam Benegal and Bangabandhu Sheikh Mujibur Rahman were enough reasons to consider it a significant project."
"Mujib: The Making of a Nation" is a joint collaboration between the governments of Bangladesh and India. Arifin Shuvoo portrayed Bangabandhu Sheikh Mujibur Rahman, Nusraat Faria played a young incarnation of Prime Minister Sheikh Hasina, and Nusrat Imrose Tisha took up the role of Bangamata Sheikh Fazilatunnesa.
In January 2021, the first phase of shooting for the film took place in Mumbai's Dada Saheb Phalke Studio. The film has the collaborative direction of Dayal Nihalani, with a screenplay by Atul Tiwari and Shama Zaidi. Nitesh Rai is responsible for the artistic direction, and costume design is handled by Pia Benegal, the daughter of Shyam Benegal.