Screening of 'Pett Kata Shaw' held at Rotterdam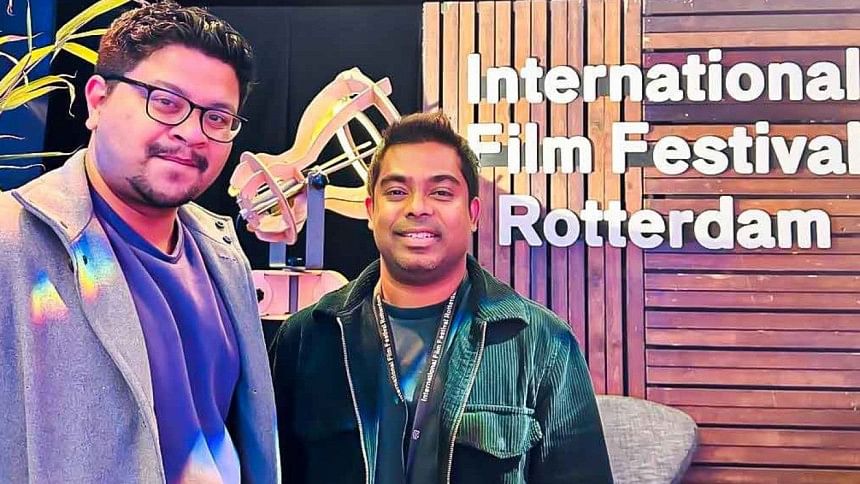 The first show of Nuhash Humayun's anthology horror series, "Pett Kata Shaw" was held at Cinerama Hall at the International Film Festival of Rotterdam yesterday at 9:30 pm local time. Earlier, the anthology horror series received an official selection at the International Film Festival of Rotterdam in December.
The host of the event, Helen Westrick introduced the director Nuhash and producer, Redoan Rony to the audience. At the end of the show, Nuhash Humayun took part in a question-and-answer session with the audience. The audience were delighted and excited to witness such a good series.
After the screening, Helen Westrick handed Nuhash the Rotterdam logo 'Tiger' shaped chocolate as a souvenir.
 "It is as much a joy for me as it is for the country. It is matter of great happiness that local content is now being accepted by global audiences. The audience was very interactive throughout the whole screening," said Nuhash Humayun.
"Pett Kata Shaw" is an anthology of supernatural stories based on our folklore, I would not call it horror, per se. They contain psychological and paranormal layers – ghost stories that explore the human condition," said Nuhash Humayun in an interview with The Daily Star.
The anthology series casts Sohel Mondol, Shirin Akter Shila, Afzal Hossain and Chanchal Chowdhury in leading roles.