This is a record for 'Jinn': Shajal Noor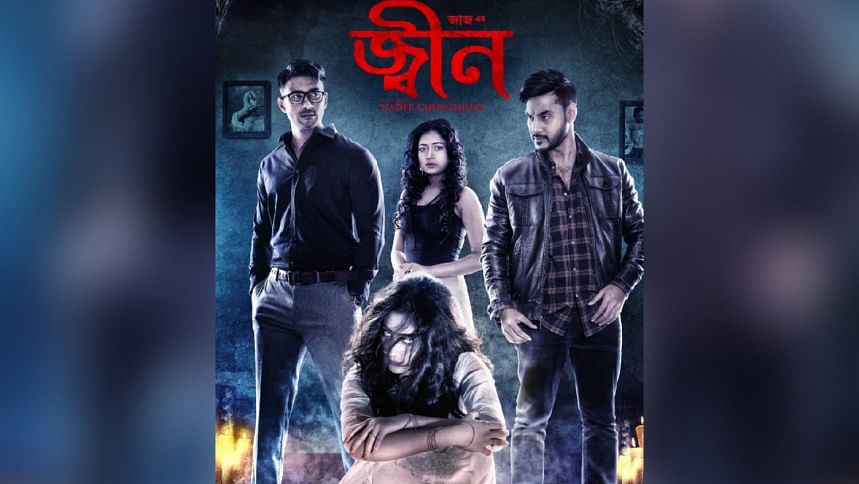 The Shajal Noor and Puja Chery starrer "Jinn" greeted the audience this Eid-ul-Fitr. The Jaaz Multimedia production was screened in multiple halls in Dhaka and other districts. Now, according to the "Jinn" team, the film has been doing quite well in cinema halls even on the 10th day after its release.
Nader Chowdhury, the director of the film shared with The Daily Star, "This is a record for 'Jinn'. The halls are continuously running houseful. This is a sign that the industry is slowly beginning to be come out of the drought it was facing."
Similarly, "Jinn" star Shajal Noor said, "I am extremely grateful to the audience and my team. 'Jinn' was running houseful in Dhaka's Cineplexes yesterday, while tickets for today and tomorrow are already sold out. This is really a record for 'Jinn'."
"The cineplexes are already increasing the number of 'Jinn' screenings on their end. Now, there will be 19 shows per day for 'Jinn' in Dhaka," added Shajal. "Moreover, combining Dhaka and Narayanganj, the film has 33 shows per day in the cineplexes. The audience are getting more and more interested in our film."
"This is the age of online, and anyone with a smartphone can verify if they want—there are no tickets for today or tomorrow. This is quite a pleasant news for Bangladeshi cinema," mentioned Nader Chowdhury.
He continued, "It really good to see such a response for 'Jinn'. The film was well-received by audiences from all walks of life. To be honest, while shooting, I once told my team that you will see the results of your hard work in the cinema halls. And now they can see the fruits of their labour. I am grateful to the entire team and of course to the audience as well."
"Everyone has whole-heartedly supported 'Jinn' till now as the film's second week of screening is underway. Me and my team are truly overwhelmed by everyone's love and hope that the audience will continue to support 'Jinn' in the cinema hall the same way, on the third week," concluded Shajal.