Directing 'Jinn' made me happy: Nader Chowdhury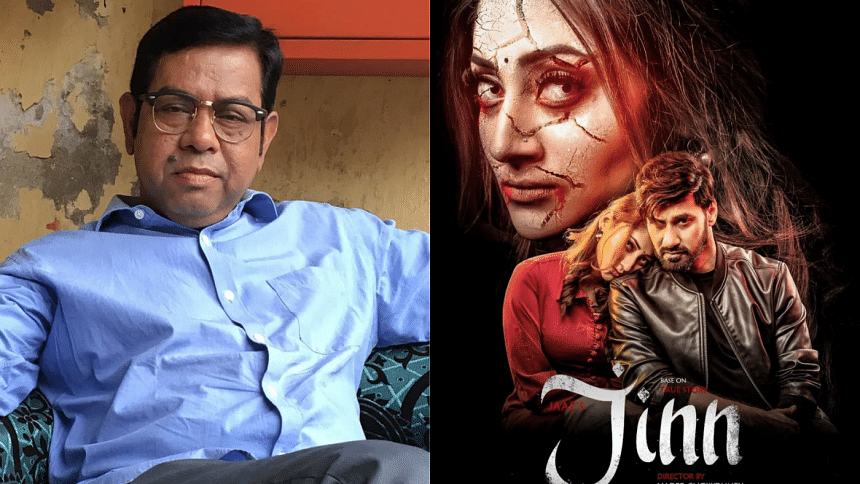 Renowned actor and director Nader Chowdhury has made his place in the entertainment scene via his powerful performances on screen. Having started his acting career on the theatre stage, the actor made his way into the television and cinema screens, acting in numerous tele-fictions and films. As a director, Nader Chowdhury has also helmed three films so far, including "Lalchor", "Meyeti Ekhon Kothay Jabe" and "Jinn", which was released this Eid.
 Three weeks into the film's release, "Jinn" is still going strong in the cinema halls, both in the capital and around the country.
In a casual chat with The Daily Star, the actor and director shared his thoughts on the film.
As the director, what are your thoughts on the audience's response to "Jinn"?
Not as a director, or an artiste, but as a citizen, I want to say that "Jinn" is doing well among the Eid releases this time. I have been to several theatres in Dhaka since Eid day. I have seen a lot of responses from the audience. Such an overwhelming response from the audience makes me immensely happy as well, as the director.
Shajal and Puja paired up for the first time in your film, what was that like?
Both Shajal and Puja have given their hundred percent efforts and have done exceedingly well. As an actor and a director, I want to say, you will get back just as much love and effort you invest in your character. "Jinn" is a result of that theory. Moreover, I want to add that making a film is always a team effort rather than an individual one. I have always believed in the team spirit. My team has put in the effort and has done really well.
What is next on your journey as a director?
I was quite conflicted with "Jinn" before its release, how the audience will receive it. However, my doubts have been cleared. Seeing such a response has piqued my confidence to direct more projects. Hopefully, I will soon announce my new film in the near future. With everyone's love, I wish to continue making films.
Horror films haven't been done as frequently before. What made you choose this story to depict?
Our audiences love to hear lores, and very much like to see those stories on screen. We are all more or less aware of what Jinns are. I wanted to present something new and offer the audience healthy entertainment simultaneously. Hence, I chose "Jinn". Youths and families alike came together to enjoy the film.
Do you think importation of foreign films will incite competition?
Competition is good. Everyone has a television at their home, and can watch any film, of any language whenever they want. Indian films are already competing with film of various languages on a global stage. This way, only the talented and good will survive in the industry.
We used to watch films of different languages alongside our Bangla productions, when we were little. Back then, our domestic cinema was also keeping up and doing good.
Do you think the audience's love for domestic cinemas has increased?
Definitely. This Eid's releases are proof of this. I have surveyed many cinema halls around the capital—they are doing quite well. On the other hand, only a few halls did well last Eid. Therefore, there is no alternative to making good films. The audience will always side with good productions. If we do a bit better, we would easily get housefuls.
What do you think is your greatest achievement throughout your long career?
Love and respect. I came to this line of work due to my love for art, and I am still working with all the love and passion in my heart. Acting and the television have brought me a lot of love and respect. I want to continue living with this for the rest of my life.