Raj Kundra drops mask at UT 69 trailer launch, reveals the mystery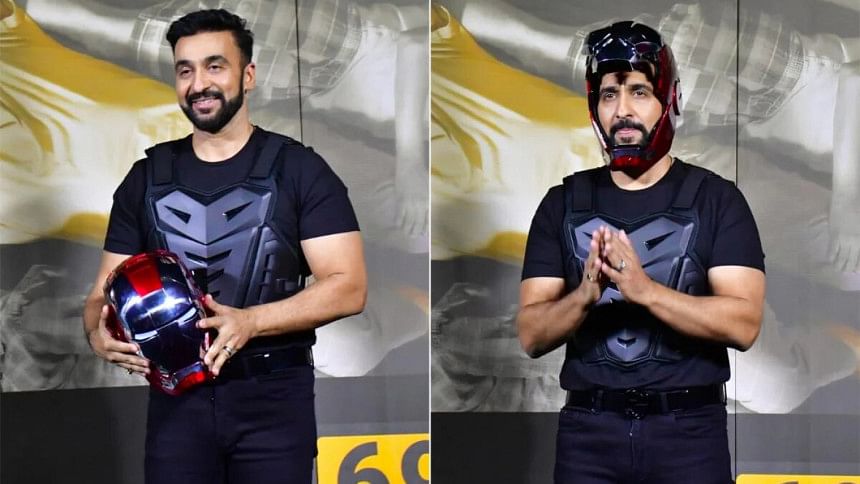 Shilpa Shetty's husband Raj Kundra made headlines when he announced that he would be producing a film on his days in Arthur Jail, starring himself in the movie "UT69". Yesterday, the producers held a press conference when they unveiled the trailer and, as a special treat, Raj Kundra finally revealed his face to the world by removing his mask. 
Directed by Shahnawaz Ali, the film revolves around the true story of Raj Kundra who was imprisoned in jail related to generating pornographic content.
Raj Kundra arrived at the press conference wearing a helmet-style mask. 
He later removed it in front of the reporters. Raj Kundra also explained why he had been wearing a mask for months. "I wore the mask out of pain," Raj Kundra remarked at the event. 
"The media trial was excruciating. It was more agonising than my current legal proceedings. I don't blame you (addressing the media) because you were just doing your job. But it was so painful that I just wanted to hide it. I don't want to be found out. I don't want to be clicked," said the actor. 
Regarding the trailer, it begins with 'breaking news' regarding Raj's arrest in 2021. 
The trailer highlights his struggles to adjust to continual criticism by other inmates and police employees inside the jail. Everyone in jail either recognise him as Shilpa Shetty's husband or a 'Bigg Boss' contestant. Raj, who makes his acting debut in the film, is also caught in a stampede at one point. The trailer also depicts his unexpected friendships inside the prison.
Raj also revealed how Shilpa Shetty reacted to news about him wanting to act in his film, and how she was unsure whether he would be able to perform in the film. 
Raj also revealed how he persuaded Shilpa following a narration by director Shahnawaz Ali. "He gave her a brief story. She considered it and realized that it had little to do with the case against the system. She thought it was a touching story. She asked me whether I would be able to act and I told her I'd be able to because I'd done some method acting by going to jail," said Raj. 
For context, Raj Kundra was sentenced to jail for producing pornographic content in July 2021. He was charged under the Indian Penal Code, the Indecent Representation of Women (Prevention) Act, and the Information Technology Act. He had to spend a brief period in Arthur jail till a metropolitan magistrate court granted him bail in September 2021. 
"UT69 takes a satirical look into the real-life incidents of businessman Raj Kundra's days spent in Arthur Road jail," the directors wrote alongside the teaser on YouTube. 
Raj Kundra tried to keep a low profile after his release from prison. During these months, he was primarily seen wearing a mask. Everywhere he went, he wore a mask and pretty soon he was called 'Mask man' in showbiz. Recently, the couple were spotted on a dinner date where both of them were wearing masks. The two posed for photographers while wearing masks. The press dubbed them the "power ranger couple."