Pori Moni's son gets a new name, stirring speculation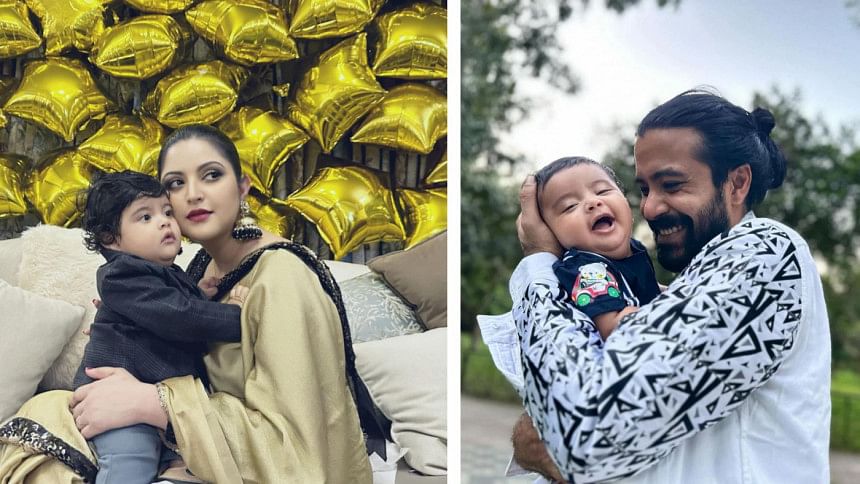 In a surprising turn of events, popular actor Pori Moni has caught the attention of the media and fans alike by apparently making an alteration to her son's name. Rajya, the son of Dhallywood actors Pori Moni and Sariful Razz, is now being referred to as "Poddo".
The couple, known for their tumultuous relationship journey, has frequently made headlines due to the ups and downs of their married life. However, this time, it's not their relationship that's in focus, but the identity of their child. As Rajya approaches his first birthday on August 10, this sudden change in his name has sparked speculation and curiosity, leading many to wonder about the reasons behind it.
Razz and Pori Moni have had a tradition of celebrating their son's milestones together, despite their separation. Their son's 10-month birthday was marked by a small, shared celebration, where the couple were spotted cutting a cake together. However, Sariful Razz was absent at Rajya's 11-month birthday celebration due to a pre-planned solo trip to the Maldives.
Pori Moni's recent use of the name "Poddoful" on social media for her son has brought the name change to the forefront. Initially perceived as a tender expression of maternal love, it now appears to carry deeper significance. A post by producer Abdul Aziz further fueled the curiosity when he shared a picture of Rajya and referred to him as "Poddoful", questioning the new name. Pori Moni seemed to indicate a name change when she commented her son's full name as "Shahim Muhammad Poddo" on the photo, leaving the omission of "Rajya" unaddressed.
While Pori Moni has not explicitly stated her reasons for the unexpected change in Rajya's name, there are speculations that it might be a hint at a possible alienation from his father, Sariful Razz. Their complex relationship dynamics and history of separations could be a driving factor behind this decision.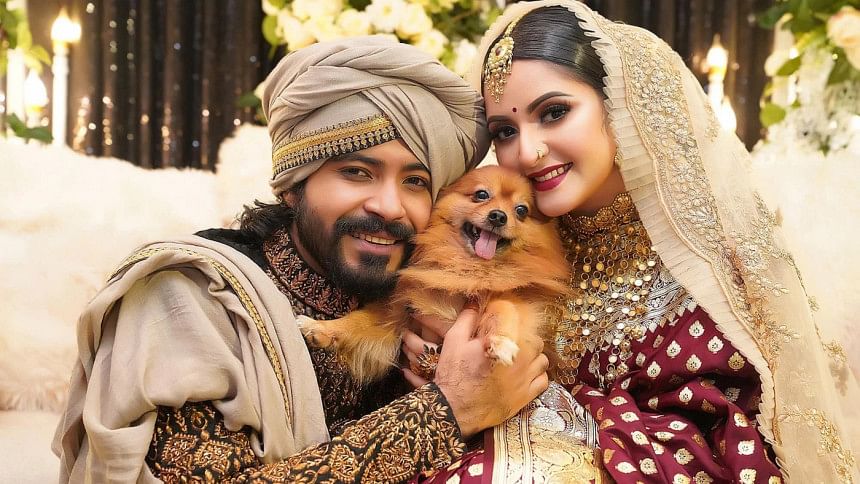 The story of Sariful Razz and Pori Moni's relationship began on the sets of "Gunin", a film directed by Gias Uddin Selim. After a week of their initial meeting, the couple secretly tied the knot on October 17, 2021. The news of their marriage and impending parenthood became public on January 10, 2022. Following a family arrangement, they formalised their union on January 22 the same year, which was soon followed by the birth of their son, Shahim Muhammad Rajya, on August 10. Pori Moni had previously mentioned that she named her son in accordance with Razz's wishes.
As their son's first birthday approaches, plans are underway for a special celebration at a city hotel. However, Pori Moni has made it clear that Razz is not invited to the celebration due to his apparent indifference toward their child.
Earlier in June, Pori Moni demanded a divorce within 24 hours while attending an interview, stating, "I want Razz to give me a divorce within the next 24 hours. I no longer wish to be his wife. I aspire to be the mother of the Rajya, an identity that gives me respect and peace."
In the same vein, Sariful Razz responded by asserting that their conjugal life is irrevocably over. While he claimed to be unaware of Pori's statement, he maintained that there was nothing more he could add to the discussion.
All of this started when several photos and videos from Razz's personal Facebook account went viral on the social media site. The videos featured actresses Sunerah Binte Kamal and Tanjin Tisha. After the incident, both actresses shared posts on Facebook addressing the issue.
Razz and Pori Moni have been separated for about two and a half months.