'Pathaan' earns BDT 65 lakh on second week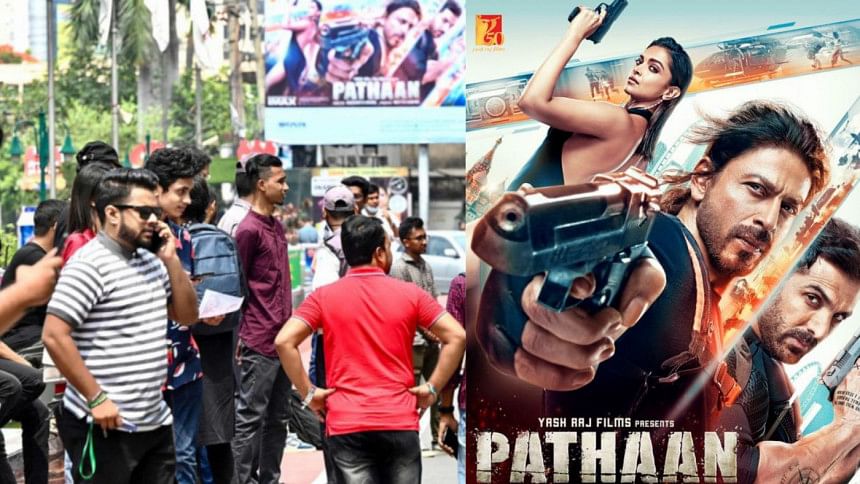 After having its theatrical release in Bangladesh on May 12, Shah Rukh Khan starrer film "Pathaan" was screened in 41 halls, with 206 shows running every day. Currently, the spy-thriller has just ended its second week of screening in Bangladeshi cinema halls and cineplexes and stepped into the third week.
After a successful second week, "Pathaan" is now being screened in 40 halls, with 175 shows per day in the third week. Tracing back the Hindi film's journey till now, it did not gain much response on single-screens. However, it is doing well in multiplexes.
Bringing Hindi films into the cinema halls of Bangladesh has been a long-awaited requirement for film exhibitors, which was fulfilled by "Pathaan".
The spy-thriller's distributor in Bangladesh, Action Cut Entertainment representative Anonno Mamun told The Daily Star, "This is the third week of 'Pathaan' in Bangladesh. The film is being screened in 40 halls, with 176 shows running every day. However, shows have indeed decreased a little since our initial beginning."
"So far, 'Pathaan' earned BDT 85 lakh at the Bangladeshi box office in its first week and BDT 65 lakh in its second week," added Mamun. "I believe the audience will enjoy 'Pathaan' for a few more days. Moreover, the audience will also get to see many more famed Indian productions through us in the future."
Directed by Siddharth Anand, "Pathaan" stars Shah Rukh Khan, Deepika Padukone, and John Abraham in the central roles. The film was released on January 25. "Pathaan" left its mark on the annals of Indian film history by enlisting among the elite Rs 1000 crore box office scorers, just a month after its release.