'This is overwhelming'
Jaya Ahsan on her hat-trick Filmfare win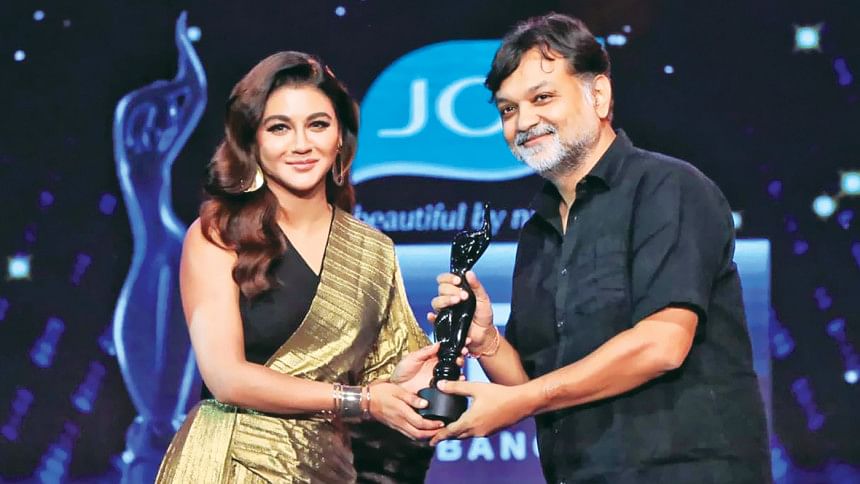 Jaya Ahsan recently won the Joy Filmfare Award (Bangla) for Best Actress in the popular category for her performance in Atanu Ghosh's "Binisutoy". It is Jaya Ahsan's third Filmfare Award.
The actress' achievement was lauded on social media, bringing her into the conversation for perhaps being one of the greatest Bangladeshi actress of her generation.
She previously won the Bangla Filmfare Award for Best Actress (Critics') in 2021 for her efforts in "Bijoya" and "Robibar". In 2018, she won award for Best Actress in the popular category for her performance in "Bishorjon".
"Binisutoy" has been creating quite a stir amongst moviegoers since its release.
"All this is too overwhelming," Jaya Ahsan told The Daily Star. "I am completely speechless and grateful. We had an incredible team of people working on this film. We are very happy with the outcome."
The actress also thanked the jury board for their decision. 
"It honestly feels great to win in the 'Popular' category, which means that the audience themselves chose me as their favourite," says the emotional actress, who is equally beloved on both sides of the border.
Jaya believes that the filmmaking style and powerful story of "Binisutoy" drew audiences to the movie.
She is currently shooting for her upcming movie, "Kalantar" in Jharkhand, India. On the other hand, renowned Indian director Suman Mukhopadhyay has cast Jaya Ahsan to play Kusum in a film based on eminent Indian litterateur Manik Bandopadhyay's novel, "Putulnacher Iti Kotha".