This is my first time appearing in an August 15-centric project: Afzal Hossain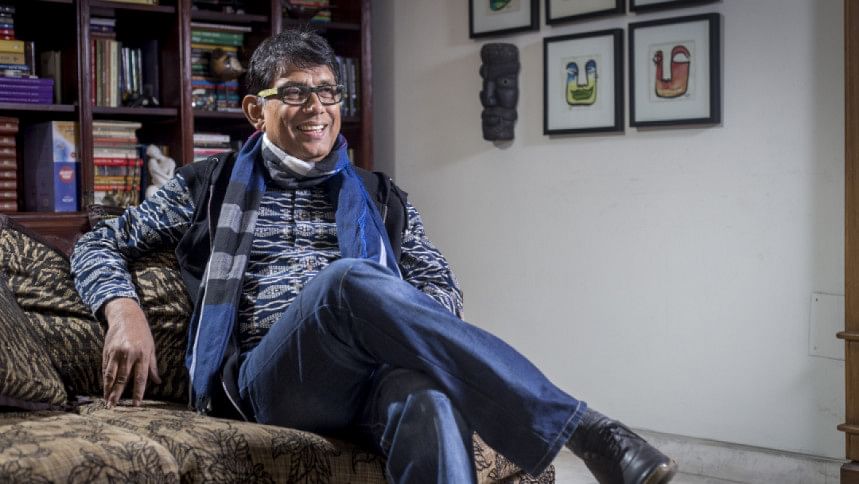 Renowned artiste Afzal Hossain has always charmed the audience with his excellent works be it as an actor, writer or director. The famed artiste has been a part of many timeless tele-fictions and productions throughout his career.
This time, the actor is all geared up to appear in Animesh Aich's upcoming tele-fiction "Abar Ashibo Phirey", which will be premiering tomorrow on August 15.
Speaking to The Daily Star on about his latest production, Afzal Hossain shared his thoughts and experience.
He shared, "Animesh Aich is a marvelous director. When I first got the script for 'Abar Ashibo Phirey', I asked him—how should I do this work? I asked because we often face many limitations during the shoot. However, during the shoot for this production, we didn't encounter any limitations and were able to adequately provide everything necessary for this tele-fiction."
Afzal Hossain's last appearance on Bangladesh Television (BTV) was in a talk show. Now, the artiste will be re-appearing on the BTV screen through "Abar Ashibo Phirey". The actor said, "It's been a long time since I appeared on BTV. The audience will be seeing me back on the BTV screen after a 3-4 years long break."
The "Karagar" actor added, "The narrative of 'Abar Ashibo Phirey' is centred around the dreaded history of August 15. It's a story filled with emotions. Moreover, everyone has poured their heart and soul to make this production."
"This is my first time appearing in an August 15 centric project, I will be portraying the character of a village chairman in 'Abar Ashibo Phirey'," said Afzal Hossain.
The tele-fiction also features Dolly Zahur, Faruque Ahmed, Shuvasish Bhowmick, and Ashna Habib Bhabna among others.
Sharing his experience during the shoot, Afzal Hossain mentioned, "We have had to shoot the tele-fiction in a rural village named Ambalpur. The local residents there had aided us quite a bit in completing the shoot. Be it in shooting scenes inside their houses or while we were shooting beside the river there. Furthermore, I quite enjoyed the hospitality of the locals there."
"Making a tele-fiction isn't just about telling a story, going outside Dhaka for the shoot, working with everyone there, and so on—all in all, it was an amazing experience," added Afzal Hossain.
"From acting to blending in the character, and screenplay, overall, this was a tough job for the director. That's why I asked Animesh 'how should I do this work?" shared Afzal Hossain. "This is also a reason why Animesh is a good director. Furthermore, Animesh's works always possess a perfect harmony between creativity and portrayal. The audience will also find this trait in 'Abar Ashibo Phirey' as well."
The "Ladies & Gentleman" actor will be appearing alongside Dolly Zahur on screen after a long time. The two were last seen together back in the 1980s.